Although this band looks and sounds like a pack of psychedelic outlaw bikers heavily influenced by the Doors, the members of Fraction were actually working class Christian rockers from LA. The entire album was cut live in under three hours at the Whitney Recording Studio in Glendale California back in 1971, and released on a tiny Christian music label named Angelus. First takes, no overdubs, live and on fire.
My favorite track is "Come Out Of Her," an epic of fire-and-brimstone biblical proportions about an exorcism. "Extend your thumbs and burn the darkness out of her/ Come out of her!" After singer Jim Beach wails those words and the vocal trails off over a chasm of old testament guitar horror, you'll be picking your mortal jaw off the floor. Loud please!
I first captured this psychedelic beast of an LP in the early 80s in an apartment near Sixth Avenue and Bleecker Street. A friend who managed bands was downsizing his record collection and moving west. The collection was about 1000 LPs. I started in the Z's and worked backwards pulling Yardbirds, Nazz, and nothing more obscure than that.
Then I hit the F's. the instant I pulled Fraction off the shelf I was overcome with that rush archeologists get when they uncover a tomb full of gold. No way this isn't a big one. When my friend dropped it on the turntable I realized I'd actually underestimated how big.
There were only 200 copies made. My buddy had one because he managed a later country rock band that the bassist, Vic Hemme, was in. He offered it to me for $60, which was a hefty sum at that time for an unknown LP. After a couple years passed I'd still not heard of another copy, so in 86 I tracked down one of the guitar players, Bob Meinel, and got four sealed copies from him for $100 each. I wish I had them now: sealed copies could easily pull $5000!
The red plastic window sleeve was directly influenced by the Doors' "L.A. Woman," which came out the same year. A bit of Jim Morrison's "L'America" is quoted on "Moonblood," and the heavy Doors vibe is undeniable. Remember, this is a genuine Christian band, but there are no smiley face hymns: this is dark and human. The message here is delivered in hard rock psych language, and it matches any guitar band of the era. When I asked Meinel how they came up with the name he said it was humility in the presence of the divine: "We're just a fraction of that."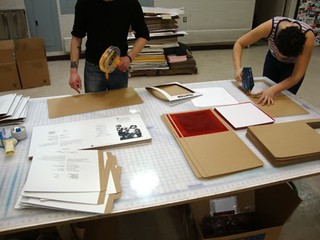 Assembly line production of the Fraction reissue, handmade with love at the Mexican Summer headquarters.
After numerous bootlegs over the years, an official reissue with a bonus 10-inch disc has been issued through Mexican Summer. More people probably hear Fraction on one day in 2012 than did during their entire run in the early 70s. It was even playing as I walked into a bar in Helsinki last year.
This is generally considered the Holy Grail of all Christian psychedelic rock LPs. For proof, head to the peaks of the longest track on the record, "Eye Of The Hurricane." You'll be looking around the room to assess the damage.
Paul is in the deeply heavy psych/fuzz rock band Endless Boogie. They are the secret favorite group of every good musician in New York.
Previously - Morgen is NYC's Ultimate Heavy Guitar-Psych Monster