People always ask why Beach Slang took off so quickly. With nothing but a pair of EPs under their belt, the scrappy Philadelphia three-piece was able to get themselves booked on festivals and tours alongside bands like Cursive, Knapsack, Modern Baseball, and The Hotelier, not to mention a label deal with indie stalwart Polyvinyl Records. But it's not hard to crack the code of the Slang's appeal. There is a timeless universality behind Beach Slang's lyrics, one that celebrates the idea of being young and carefree (regardless of how old you actually are). Throw a dart at any of their insert sheets and you'll no doubt nail a lyric about turning the stereo up, singing along with your best friends, and feeling alive.
Now, after a seemingly endless wait, Beach Slang are finally, finally ready to unleash The Things We Do To Find People Who Feel Like Us, their long-anticipated debut album. Though they've got a few new tricks in their arsenal, including additional guitarist Ruben Gallego, the album is more of the same, thematically, from the Slangers. The album's first single, "Bad Art & Weirdo Ideas" is a pretty good example of where they're at. It packs in their trademark hopeless romanticism and a lust for nostalgia over emotional vulnerability. "I've always felt stuck, alone, or ashamed!" James Alex sings with a hushed scream, before giving way to the "ah-ah-ahs!" and "ooo-oohs!" that you'll no doubt be shouting back instantly.
So here it is, the first taste of one of the most anticipated records of the year. Let its chords dig into your brain. Turn your speakers up, and feel this song—the soundtrack for the angry, young, and wild.
The Things We Do To Find People Who Feel Like Us is out on October 30 from Polyvinyl. Pre-orders are gonna go faster than you can finish this sentence so order one immediately. Catch Beach Slang on tour. Dates below the album artwork.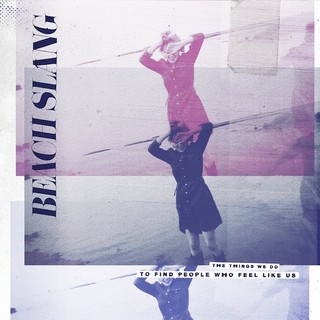 8/5 - Baltimore, MD - The Metro Gallery
8/6 - Columbus, OH - Rumba Cafe
8/7 - Nashville, TN - EXIT/IN w/ Braid
8/8 - Atlanta, GA - The Masquerade
8/9 - Carrboro, NC - Cat's Cradle Back Room
8/10 - Washington, DC - DC9
8/23 - Pittsburgh, PA - The Mr. Roboto Project
8/24 - Cleveland, OH - Now That's Class
8/25 - Indianapolis, IN - Hoosier Dome
8/26 - Kansas City, MO - Davey's Uptown Ramblers Club
8/27 - Omaha, NE - O'Leaver's Pub
8/28-30 -- Denver, CO -- Riot Fest
8/31 Wichita, KS - Barleycorn's
9/9 - Fort Wayne, IN - The Brass Rail
9/10 - Green Bay, WI - Lyric Room
9/11 - Milwaukee, WI - Club Garibaldi's
9/11-13 - Chicago, IL - Riot Fest
9/12 - St. Paul, MN - Turf Club
9/23-27 - Urbana, IL - The Red Herring @ Pygmalion Festival
9/25 - Cincinnati, OH - Midpoint Music Festival
10/15 - Patchogue, NY - The Emporium
10/16 - Clifton Park, NY - Upstate Concert Hall
10/17 - Lancaster, PA - Chameleon Club
10/28 - Ybor City, FL - Pre-Fest
10/30 -11/1 - Gainesville, FL - Fest