This article originally appeared on Noisey Canada.

Imagine a party where everybody is your friend, no one is judging you for the weird wardrobe choices you made that night, and all the people around you are on the same astral plane of rave-induced zen as you thanks to the music. But this isn't Coachella, or Bonnaroo, or Glastonbury—this isn't even a festival—it's just a regular Saturday night gig at a dingy downstairs bar on the east coast of Canada. The band is Dub Kartel, and they just wrapped up their second annual self-started festival. They're also selling weed grinders and papers at all their shows and are currently in the studio working on their first full-length album, making them the hardest working group with the most relaxed aesthetic. The Halifax-based reggae/hip-hop/dancehall outfit have been making a name for themselves since starting up a few years back, and have one tour and one EP under their belt, along with a massive fan following. Not bad for a group so far removed from the roots of the music they're making.
Sewn by the seeds of good times, a love for music and a shared adoration for ski culture, Kyle, Charlie, Teddy, Richard, Tom, Charlie and Badger have created not only a fresh sound, and an absolutely stellar live show—they've birthed a subculture in the Halifax music scene. "It was pretty easy to convince all our friends to come out," the band says about playing their first show. "And because it was consistently good parties, it became something people just wanted to do," they tell me over a pint at a pub in downtown Halifax. "Inclusivity has always been huge, we got really well known for hosting the most epic after parties. [The] cops came to the last one—Dead Horse Beats played until 7 A.M., Sticky Buds played until 5." Dead Horse Beats—the Halifax-raised, Montreal-based DJ—also has a hand in the band's upcoming album. "[He's] producing it—it'll be a mixtape style of album," the band says. "We want to put out something that is very true to that style, but with a live band feel. I definitely envision, like, Drake and The Chronic 2001 with cool skits between songs. It's not just gonna be tracks and tracks—it's gonna be sort of fluid." But the guys are pretty cautious not to fall down the slippery mixtape slope of being a little too fluid. "It'll be the perfect amount of music so you're not like 'oh fuck, how long have I been listening to this?'"
Along with the hip-hop inspiration, Dub Kartel get their influences from a lot of places—party vibes, Beenie Man, sensi—a sample trio not uncommon for a modern reggae group, but they're not phased about fitting into any cliches. "It's a cliche for a reason," they say, defending weed as their sticky green muse. "Because getting baked and playing reggae is just awesome, and getting baked and listening to reggae is awesome too." If Dub Kartel were one person, he would be a pretty hype guy. But it's not one person. It's seven.
From winning a handful of local titles, including Best Band, and Best Band to Get Trashed To ("That's the one we were really gunning for, we really hold that in our hearts"), starting their own annual music festival, and smoking a joint with Basia Bulat, the guys of Dub Kartel have been kicking down the walls of mediocrity and upping the ante on what it means to be a band since they entered the music game. "We opened for Beanie Man last summer," they say. "He was like seeing James Brown or The Stones or something for a classic rock enthusiast—he totally killed it. He's been such a big influence. He's just so good." Their tight, tangible sound radiates through the audiences at their shows, whether its their main monthly gig or a tour date in Tofino. Despite the blood, sweat and smoke-filled lungs these guys put into their music, the group of mid-twentysomethings really doesn't give a shit about the money-making side of things. "If we could just tour and go to crazy parties all the time, that's ideal. When you're a seven piece band, you have to make a lot of money to live off it. As long as I get my drink tickets, I'm happy." In fact, the boys end up spending the few bucks they do make on the main topic of all their songs. "We should make a trap song about how broke we are instead of bragging about how much money we make," jokes drummer, Teddy. "'…I make a little money and I spend it on dope.'"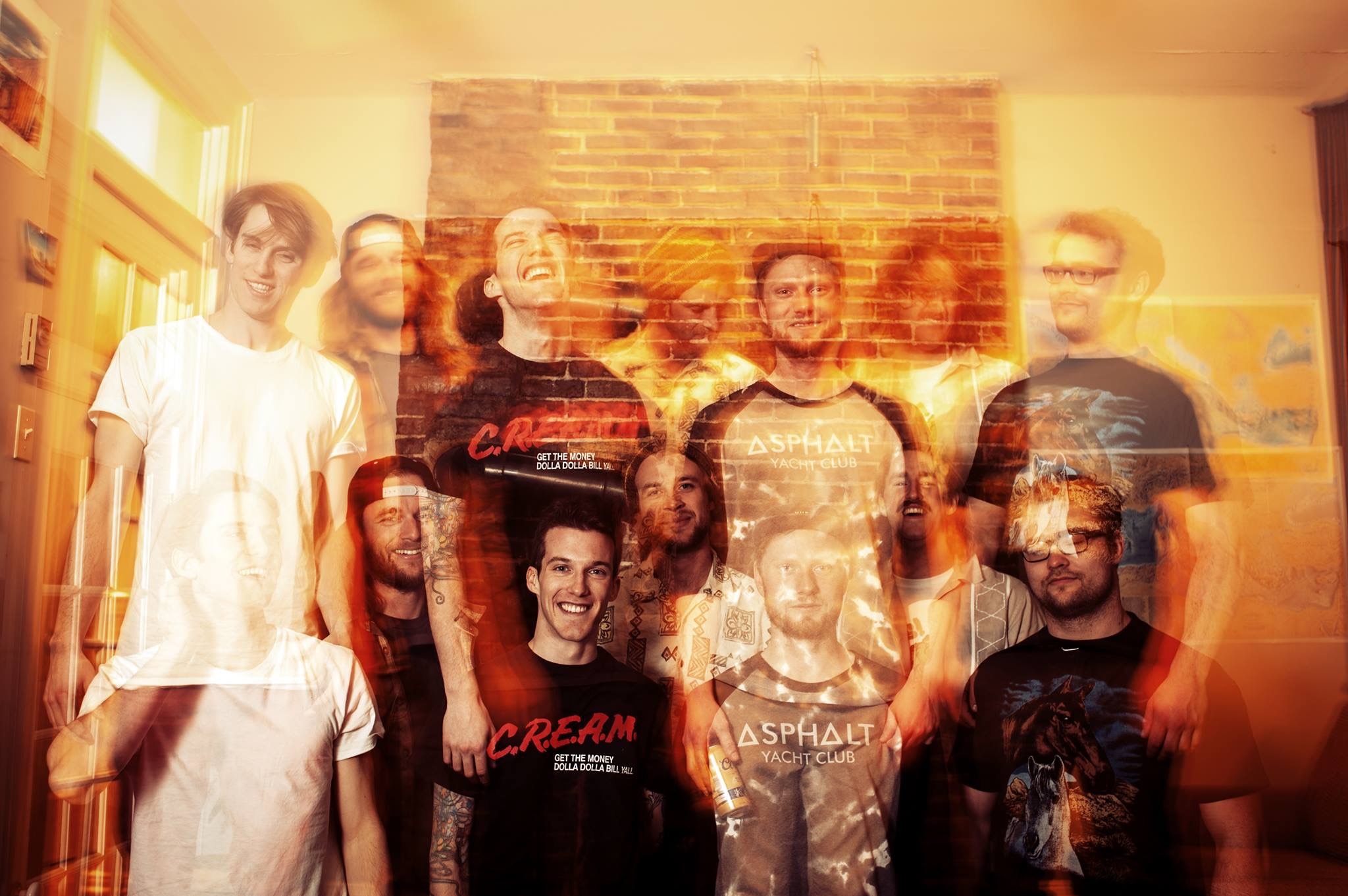 After three years, one tour, and many, many shows, the guys have created a name for themselves unlike any other band in the east coast scene. Cold Smoke—their self-started festival—has attracted hundreds over the past two years and has showcased the likes of Cam Smith, Dead Horse Beats, The Caravan, Coyote, Glory Glory, and more. "We got a huge amount of bands to play the venue, most of them are from Halifax, and it's all people we think are totally sick and won't be able to get next year," they tell me. "We're basically trying to rip off [Halifax] Pop Explosion." As for the new album? You can expect that to surface sometime over the next few months, with a tour to follow. "We want to play music for a living and tour for a living. This summer, the ideal is that we're going to try and play as many festivals as we can. We're gonna try and party harder than last summer, but still not die somehow." In the meantime, keep your ear to the ground for a 4/20 show, which, Dub Kartel's grown accustomed to playing. "This years gonna be on a Monday, so we'll have to fit it in."
Hillary Windsor is a writer living in Halifax. She wants to know more of Basia Bulat's secrets. You can find her on Twitter @hillarywindsor.