The New Highway Hymnal Isn't Afraid To Freak (You) Out
Download their brand new track, "Out With The Lights."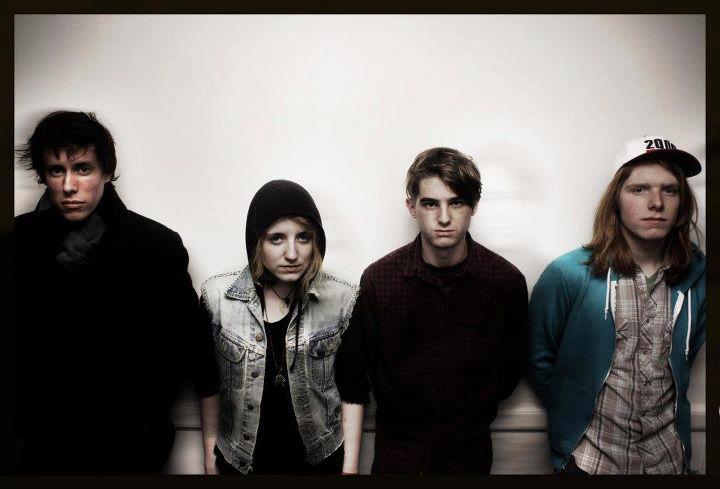 There isn't much to see in Haverhill, MA. Like a lot of the once-proud industrial centers you find along the state's waterways, it fell into a depression in the early 20th Century, and never really got its shit back together.
"There's a lot of abandoned buildings that were factories. There's not a whole lot there," Hadden Stemp, singer and songwriter of the neo-pysch rock outfit New Highway Hymnal tells me. "There's a lot of crackheads too," he says.
"They're trying to build it up and make it nice, but it still has that seedy quality to it," bass player Amelia Gormley adds.
That works as a description for the band's music too, as does the overarching sense of entropy and crumbling chaos embodied by their home. It's on display on their new single "Out With the Lights," released this week on Boston's Vanya Records, their second release after February's Blackened Hands 7-inch. It's a horrific sprint through an isolated landscape, with guitars that roil and swarm like a kicked hornet's nest, punctuated by Stemp's tortured, soulful shrieks alternating with a J&MC leather-and-shades-posturing cool.
"A freakout in the desert wouldn't be far off I guess," Stemp says of the song's evocative imagery.
"I kind of picture it like a gang of people running through the city at night causing destruction," says Gormley. Either one will do, as long as you're a little tweaked-out.
Isolation and spookiness are a recurring motif in the young band's stories as well. On their trip to SXSW earlier this year, they rode in a repurposed prison bus with their labelmates, the disco-pop standouts Bearstronaut. Naturally, there were more than a few mishaps along the way.
"We broke down a lot," Gormley says. "We broke down in the middle of nowhere Virginia and had to have this farmer guy with a pickup truck bring us to the nearest gas station." One of the places they broke down may well have been pulled straight from their songs. "We broke down by this abandoned house. There were holes and shit in all the floors," he says. One room was filled completely with tires. Being a young rock band they did what came naturally: got drunk and started throwing stuff around.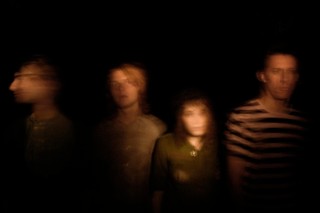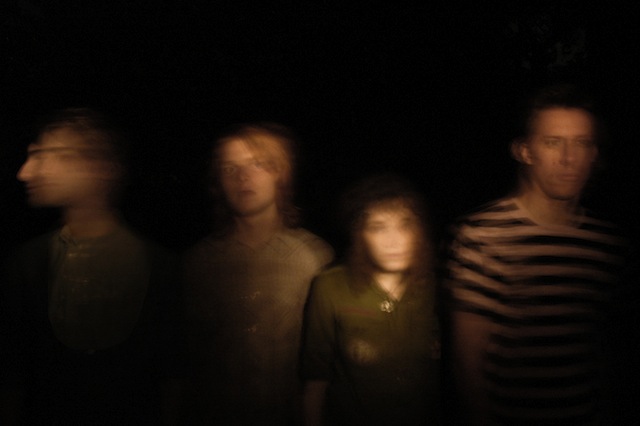 Amidst the cacophonous noise and feedback freakouts of their music, there's an intense contrasting focus as well—a bass and rhythm groove that anchors all of the heady trip-outs to the dirt.
"I think most of our songs are very groove-based," Gormley says. "That's what we all like about everything that we listen to." Everything from the bands you'd expect—Brian Jonestown Massacre, The Black Angels, Black Rebel Motorcycle Club—to forerunners 13th Floor Elevators and rootsy delta blues. "We're all really into the Grateful Dead too. That always surprises people," she says. "And Hadden and I listen to a lot of hip hop—Dr Dre and Jay Z—so we're very into the rhythm aspect of having the bass and drums holding down the song."
More songs in that vein, aside from the handful online, are on the way in September with their first full-length. The band recorded it, as band's like this do, to an old 60's two-inch tape machine, and on an ancient board, with old amps and mics, mostly done live in one room.
Could the band just as well have existed in the 60's, then? "I think we definitely try to add something new whenever we write," Gormley says. "We always try and take into account all the things from the past that we love, but we try and make it different and make it new in some way. Because, I dunno, if you want to listen to that old stuff just go back and listen to the old stuff."
Grab a download of "Out With The Lights" below, and look out for The New Highway Hymnal's debut LP in the fall.