The Scenes of Lollapalooza, Day Three
There was mud, more mud, and dancing on day three, with performances from London Grammar, Flosstradamus, and Chance the Rapper.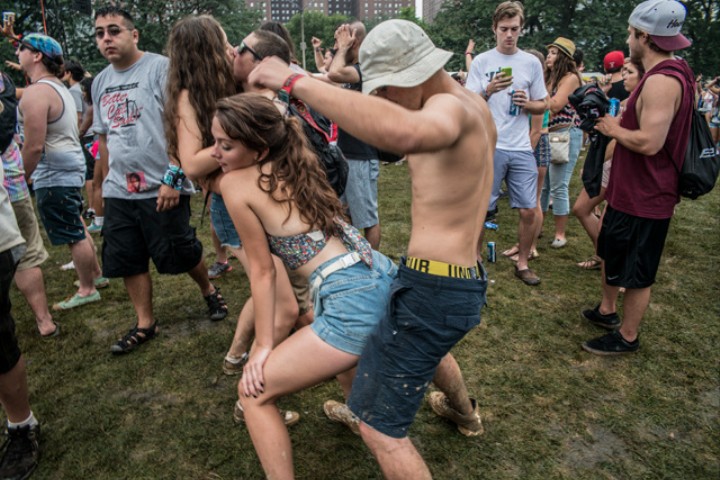 Photos by Petya Shalamanova
After two days of relatively nice weather and performances from big-ticket visiting acts like Outkast, Eminem, and Lykke Li, day three of Lollapalooza fulfilled the more or less annual tradition of rain, and the festival turned real muddy, real quick. While some fans were busy slipping and sliding in the muck or breaking out some equally dirty dance moves, plenty others were losing their shit as acts like London Grammar, Run the Jewels, and Skrillex hit the stage. Hometown favorites Flosstradamus got everyone incredibly plurnt, and Chance the Rapper closed out the night on the Perry's stage with a set worthy of any headliner. Photographer Petya Shalamanova was on the scene capturing the mud and the music.
LONDON GRAMMAR

FLOSSTRADAMUS

CHANCE THE RAPPER

Petya Shalamanova is a photographer living in Chicago. Find more of her work here.
--
Want more Lollapalooza? Check these out:
Eminem Did the Unexpected and Gave Lollapalooza Exactly What They Wanted
I Only Learn: Lykke Li's Power Ballads Keep Getting More Powerful
Summerplayalisticadillacmuzik: Outkast is a Soundtrack for All of Us
Chance the Rapper and Vic Mensa Took Over Lollapalooza and Gave the Festival What It Needed: Chicago
The Scenes of Lollapalooza, Day One
Stories