Ryan Boldt Ventures Out of The Deep Dark Woods to Go Solo
We talked to singer-songwriter Ryan Boldt about branching out from his old band, Deep Dark Woods, for his solo debut, 'Broadside Ballads.'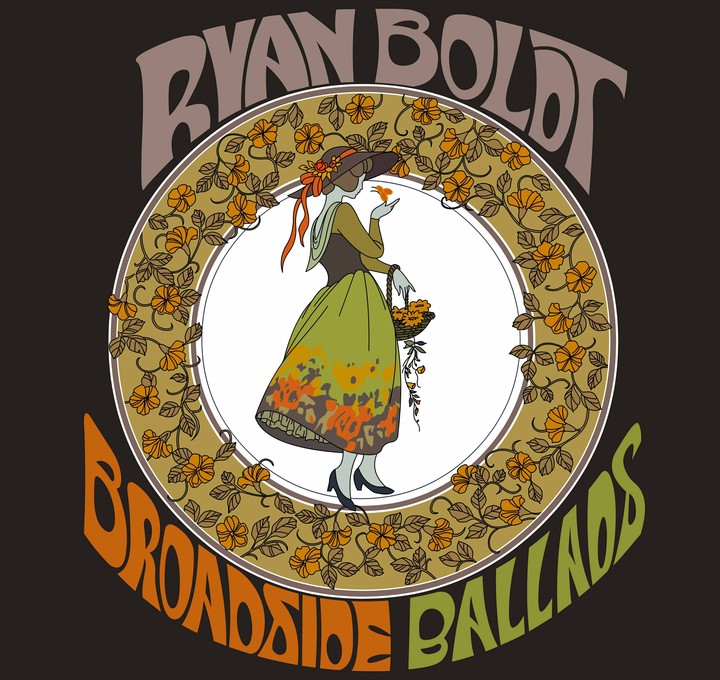 For years, haunting ballads and rousing stompers that sound like they've been pulled from the darkest depths of history have been the bread and butter for Saskatchewan quintet Deep Dark Woods. With each successive album, including 2013's critically acclaimed Jubilee, the band's chemistry seemed to grow as the five members created brooding, show stopping performances on stage and in studio. However, much of the vision is a product of lead songwriter, vocalist, and guitar player Ryan Boldt.
On stage, Boldt affects a droll, mumbling manner when forced to engage in banter. But when singing of tragedy and lost love or while in the throes of a Crazy Horse-inspired guitar solo, he embodies a presence far larger than his towering, scarecrow-like frame suggests. It's almost as though the characters in the songs he is performing are living, hurting, failing, and crawling back for more through him. There are no doubts among audience members who've caught the Deep Dark Woods over the years that Boldt and company are as serious a group of musicians performing roots music as there is to be found today and that they are not among the johnny-come-lately outfits of bandwagon hoppers who have flooded folk festival stages in these dark, post-Mumford years. And now, for the first time, Boldt, the dark heart of the Deep Dark Woods, is preparing to release a solo album. Made up of traditional folk songs, Broadside Ballads will appear on the small, Brandon, Manitoba-based Dahl Street Records in November. And while pulled deep from the traditional well, each song is given the contemporary twist that has become Boldt's hallmark.
"I've been meaning to do this since before the band, but never got around to it," Boldt told Noisey when the Deep Dark Woods were in Winnipeg performing at the Western Canadian Music Awards. "I just love the storytelling in those old traditional songs, murder ballads. Shirley Collins is a fantastic singer of those songs. She's a beautiful lady that everyone should know about."
Ryan Boldt has always championed the work of contemporary folk artists like Collins and Bob Dylan (the Deep Dark Woods regularly perform a rousing rendition of "Absolutely Sweet Marie," among other Dylan classics), yet he's equally a student of the craft of folk music and its long, bloody history. And now, much like Collins and Dylan before him, Boldt has an opportunity to explore that rich tradition by way of making some staples of the genre his own. Just before the band's performance at the WCMA gala event, I sat down with Boldt during soundcheck to talk about the new record, his recent relocation to the West Coast, and life as a newly married man.
Noisey: Deep Dark Woods have just finished a busy few years, as you mentioned, with the last couple records. Any indication of what comes next for the band?
Ryan Boldt: I've got probably 14 new songs, so it's just a matter of time before we go back into the studio. I'm not exactly sure when. This has been a really busy year, so we're ready to take a bit of a break. Chris [Mason, bass] is having a kid, so we need a couple months before we start in again. Once you make a record, you're done for a year or two, you really can't do anything. And I just got married. Which is pretty awesome, just having a friend around all the time.
You moved back to the West Coast recently, is that right?
Yeah, I'm back on the West Coast now, living in Victoria. My wife's going to school out there. It's not a bad place to be. My parents are close to Victoria, too. So that's awesome. When I got here this weekend, I was cold as hell. It was 21 degrees when I left. I'm glad I brought my jacket. But it's kind of funny seeing these people running around in their fancy felt jackets.
You perform solo here and there, but this is your first solo record away from the Deep Dark Woods. Is this something you've been wanting to do for a while now?
Yeah. I did this sort of thing before the band. When I was living out in BC, I did solo shows all the time. Then I moved back to Saskatchewan and started the band with the guys. But whenever I have downtime I do solo shows. I did Vancouver two weekends ago and got some shows in Victoria and Saskatoon. Whenever I'm in a town, I try to do a solo show.
How does working on a solo record like this, or playing shows on your own, work in helping you develop the tunes you bring to the table for Deep Dark Woods?
I think in order for a band to last you need to take breaks and do your own thing every now again. I've always started playing songs solo before bringing them to the band. It helps me figure out musical and vocal arrangements. I need to play the songs in front of people before I can fully complete the song, figure out how I can make it better and what not. You can only do so much when you're playing the songs alone in front of nobody.
The songs on Broadside Ballads are all traditional, correct? What went into the selection process?
There's one song that was written by me, "Lazy John." The gospel songs are songs that my grandma used to sing. "Welcome Table" I heard on a Smithsonian Canadian folk music compilation. It's definitely not a Canadian song. It was written by black people in the south, but when they moved up to Canada with the Underground Railway, they brought the song. Now it's considered a "Canadian song." This album in particular was influenced by the music of Shirley Collins. Her album Folk Roots, New Routes with Davy Graham is one of my favorite albums of all time. A lot of the tunes came from that record as well as her album No Roses. When I was about 23 or so I discovered her music and have been hooked ever since. She claims that "As the Tide Was Flowing" was written by a family member of hers. It's still considered traditional, but she says it was written by someone in her family. I just love all those old traditional songs. I recorded it two years ago and just never got the chance to release it because we've been so busy. But now that we're taking a little break, I can do it.
These are very traditional tunes, but just like with the Deep Dark Woods, you manage to give them a very contemporary feel with songs like "Poor Murdered Women," which sounds like a song that could have been written in Canada, or wherever, today.
I mean, it's just good stories and your basic chords. You can do whatever the hell you want with that. I always thought "Poor Murdered Women" would make a pretty good rock song. It just worked out that I sloppily put drums and bass on it.
Some of the songs have kind of like found sound in them, birds in the background on the opening track, a thunder storm on the closer. Were those happy accidents or did you add those in after the fact?
There were four locations, actually, that we recorded at. Jody has this church south of Brandon, I can't remember the town, we recorded maybe two or three tracks there. Then we went to his friend's cabin and we recorded out on the porch, it was a super nice sunny day. There were birds everywhere, but then all of a sudden a thunderstorm came in. And just as I was finishing the last song on the record ["Lazy John"], it all just started the roll in. We didn't mean to do anything, we're just super good friends and just got together. The point was just to hang out, and then we made a record. You can feel that, it's pretty sloppy, [laughs] but I like that.
Follow Sheldon Birnie on Twitter.
Stories