Some of history's most brilliant artists went unappreciated in their time. It's the major downside of being a genius—you are too far ahead of your own peers to have your work recognized while you're alive. With that in mind, it's important that we remind ourselves to stop and acknowledge our generation's brightest minds. We should all therefore take a moment to praise the artistic achievements of the world's preeminent musical scholars: Attila
In case you're unfamiliar, Attila is a rap-focused metalcore band from Atlanta, GA who last year, revolutionized both music and videos with the music video for their song "About That Life," which featured—among other things—the iconic lyric, "Suck my fuck." Attila quite literally wears their wisdom on their sleeves with official band shirts like these: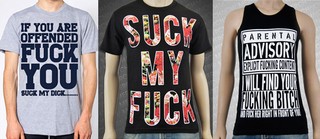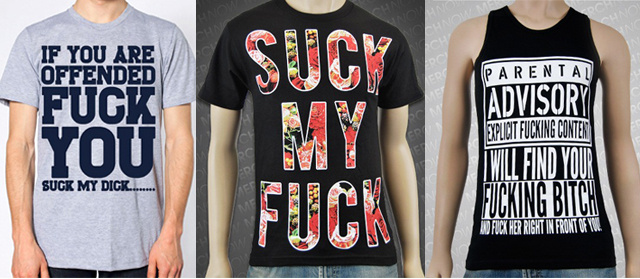 The band has just seen fit to bestow upon the world a new offering, their sixth breakdowning work of staggering genius, an album which they have entitled Guilty Pleasure. Below is a look at some of their more masterful commands of the English language and some humble attempts to analyze their complex, beautiful poetry.
All lyrics are quoted as they appear in the CD's insert booklet: All letters capitalized, no line breaks, and very minimal use of punctuation (perhaps done as a subtle homage to the style of Pulitzer Prize-winning author, Cormac McCarthy?).
"TURN THIS SHIT UP AND BANG YOUR HEAD DON'T BE A FUCKING BITCH. YEAHHH"
—"Pizza, Sex, and Trolls"
Much like Homer's The Odyssey begins with the proclamation of the hero's journey, pulling the reader immediately into the protagonist's story, so too does Guilty Pleasure begin with Attila's opening declaration of intent: The album has officially begun and thus, Attila recommends the listener observe it loudly whilst banging one's head. Heed their advice though: "Don't"—they warn—"be a fucking bitch." Perhaps this is a nod to the ominous sign from Dante's The Inferno: "Abandon all hope, ye who enter here." One can only venture a guess.
"I WASN'T BORN AND RAISED A BITCH. BUT YOU WERE BORN TO SUCK MY DICK. HEY, DISOBEY, VIOLATE, DISREGARD THE RULES. HEY, LETS ESCAPE, RUN AWAY, FUCK YOUR CHURCH AND SCHOOL."
—"Rebel"
Clearly, by indicating what they were not born to do (be a bitch and—implicitly—suck dick), Attila is playing into the idea of nature vs. nurture, which was of course coined by English Victorian polymath, Francis Galton. The passage quickly shifts direction before concluding on a subtle commentary on both organized religion and the educational system: "FUCK YOUR CHURCH AND SCHOOL." Damning, to say the least.
"I'M TELLIN EM FUCK IT FUCK IT SUCK IT YOU'RE JUST NOT THAT LEGIT. YOU CANNOT HANG MOTHERFUCKER SO JUST STICK TO YOUR NICHE. YOU'LL NEVER DO IT LIKE I DO CUZ YOU'RE A BOOHOO ASS BITCH."
—"Guilty Pleasure"
At this point, we see our first instance of recurring themes, namely "sucking it," which they have also paired with "fucking it." Attila then adds "boohoo ass bitches" to their long list of grievances, about which they "don't give a fuck" and are often "all out of fucks to give." Clearly, in this regard, they are students of the works of noted existentialist Jean-Paul Sartre.
[Please note: At this part in the insert booklet, there appears to be a large printing error where several songs' lyrics were switched or omitted. Please bear with me as I attempt to transcribe this genius from its original source.]
"THIS IS THE PROVING GROUNDS. BRING IT ON LET ME SEE IT. SO WHO'S THE FAGGOT NOW. WE HAVE TO PROVE THEM WRONG.
ALWAYS GOTTA HAVE OPINIONS YOU CAN SUCK MY DICK. ALWAYS GOTTA HAVE THE LAST WORD SUCH A LITTLE SHIT. ALWAYS GOTTA TRY TO HIDE IT BUT I FUCKED YOUR BITCH. DOESN'T MATTER WHAT THE PRESS SAYS I WON'T QUIT. DOESN'T MATTER WHAT THE FEDS SAY SMOKE MY SHIT. WHEN I'M ROLLING PAST THE 5-0 STAY LIT.
TAKE A HIT OF THIS SHIT. LET THE MOMENT SET IN ALWAYS OPEN EARS AND LISTEN. EVERYBODY CAN SUCK MY FUCK."
—"Proving Grounds"
Attila offers a bit of clever duality here. In the same song, they're both harshly critical of the homosexual community but also offer an invitation for those same individuals to perform oral sex on them. The passage ends with the phrase "suck my fuck," a brilliant turn of phrase which scholars will recognize from the band's earlier works.
"DO WHATEVER I WANT. I GET WHATEVER I NEED. AND IF YOU GOT A FUCKIN PROBLEM YOU CAN SWALLOW MY SEED.
THE WORLD CAN SUCK MY DICK."
—"Horsepig"
Attila's brilliant use of language and clever wordplay thus far have largely negated the necessity for rhyme in their writing. So when they unleash it here, it hits even harder and sharper, with "whatever I need" being coupled with "swallow my seed." Downright Shakespearean in its delivery, really.
"I FEEL LIKE I'M GOING 90 DOWN THE HIGHWAY BUTT NAKED IN A PICKUP SMOKING METH DURING A STICKUP LIKE A HIGH-SPEED CHASE...I JUST WANNA DRINK BEER AND SMOKE WEED WITH MY FRIENDS AND SEE TITS.
I GOT A RACECAR I DRIVE FASTER THAN FUCK. YOU HAVE A BITCH WITH BIG TITS SO HERE'S A DICK YOU CAN SUCK. JUST FUCKIN PULL EM OUT. TITS TITS TITS TITS TITS"
—"Dirty Dirty"
In the first stanza of "Dirty Dirty," Attila show off their underrated flair for painting vivid, graphic scenes with distinctly American imagery (à la Whitman, or to a lesser extent, Steinbeck). You can almost see the author, cutting through the summer air in a pickup truck, the wind running through the hairs of his bare posterior, all while the smell of methamphetamine fumes fill the vehicle's interior. He also chooses this moment to express the raw animalistic urge to gaze upon the female form, a point which he uses subtle repetition to underlie. See if you can catch it: "TITS TITS TITS TITS TITS." Wow. Powerful and moving.
"YOUR JEALOUSY'S A DISEASE. AND MY FIST IS THE CURE. SHUT THE FUCK UP CUNT. I HEAR YOU TALKING IN YOUR SLEEP. AND YOU STILL. REMEMBER. MY FUCKING. NAME. YOU'RE A JEALOUS LITTLE CUNT. LITTLE BITCH RUN AND HIDE. I'M GETTIN TOO OLD FOR THIS MIDDLE SCHOOL SHIT. GROWN ASS MEN ACTING LIKE A LITTLE BITCH."
—"The Cure"
A brutal and scathing indictment of the American healthcare system—when there is no cure for disease, Attila makes the futile, albeit powerfully symbolic, gesture of a fist as the cure. There are also brief explorations of the notion of memories ingrained within dream sequences. Very reminiscent—of course—of Alexander Pope's famous poem, "Eloisa to Abelard." Heart-wrenching and beautiful, as is the rest of this brilliant and timeless masterpiece for the ages.
Those are just a few brief selections from Attila's epic tome, Guilty Pleasure. But reading them out of context would be akin to reading a single page from Infinite Jest. To understand its overarching narrative and stunning commentary on the human condition, do yourself a favor and immerse yourself in this tour de force.
Dan Ozzi has already submitted 'Guilty Pleasures' to the Pulitzer Prize committee. Follow him on Twitter - @danozzi