Last week Hillary Clinton announced she's going to run for President. If elected, it will be the first time an actual bush is in office. While H-Ceezy is a boss, she's also the purveyor of the pantsuit. Nobody, but NOBODY, rocks some lady slacks like Hill Tha Gawd. So to celebrate her recent news and wish her luck, we got some examples of her signature Hill-Figure styles, with the proper soundtrack to describe them.
All photos from YouTube! Thank you YouTube!
Look at this smooth pimp right here. Black on white, a pendant and a chain? That look totally takes a regular suit to the next level. Hillary Clinton knows what time it is. And she's not even wearing a watch.
Song: Geto Boys – "Damn It Feels Good To Be a Gangsta"
It's not all dismal around these parts. Hill adds the proper pop of color to her pantsuit with some bright flair under dark attire. That means she understands that even when you're trying to be intimidating you have to have personality.
One more pop of color for the fans, Hill!
POP.
Song:
Cyndi Lauper – "True Colors"
So Hill was like, "Yeah I'ma let you finish Tity Boi, but 17 chains > 2 Chainz. Shots fired. And then to add to that, she's like you know what? Let me pull my hair back so you can see all of his luxurious jewelry.
Song:
Trinidad James - "All Gold Everything"
Double Trouble



You know what's annoying? When people feel like they can't wear the same clothes twice in a photo. The point of clothing is to wear it right? And HC knows that sometimes your swag is so on point that you have to have a re-run.
Hillary says: "Fuck your fashion rules."
Song: Beyoncé f. Jay Z – "Déjà Vu"
This is a very educational message for everyone who has to wear a business suit at some point and has some mixed feelings about feeling boring. Hillary proves that you can adorn the hell out of your suit. Own it.
The more frills, the better. Look like Victorian royalty.
Song: G-Unit – "Stunt 101"
Bright On
Sometimes you want to pop the color, and other times you want the color to pop you. It's OK to not look like a Benedictine Monk in your business suit. Hillz likes to keep it colorful too, ya know.
Show those pastels, hunty!
Song: Ellie Goulding – "Lights"
The Dark Knight Rises
OK look, yes the light color scheme is fierce and all, but do not sleep on a proper all black everything ensemble with a little pearl necklace (a real one, perverts) to keep things proper. Hillary stays woke.
Song: Amy Winehouse – "Back To Black"
Zoot Suit Boogie
Look, at the end of the day, Hillary Clinton is a master of the pantsuit. Many have tried to penetrate the pantsuit force field; few have made it out alive. Hillary stays standing. In her suit.
Song: "Suit and Tie" – Jay Z & Justin Timberlake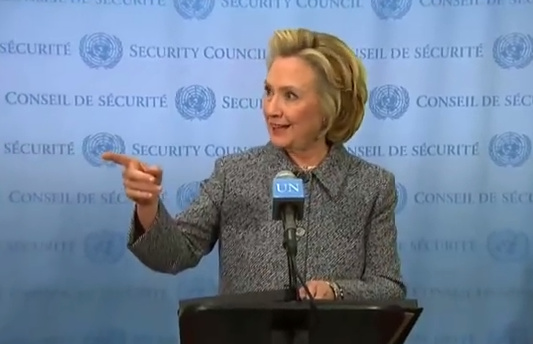 You stay classy!
Kathy Iandoli wore a pantsuit to an interview at a record label and she looked like she was auditing the building. Follow her on Twitter @kath3000