Listen to Y.E. Ali's Remix of "Semi," Featuring Kami
If you are in an environment where you can't lash out irrationally and punch walls… then perhaps don't listen to this track quite yet.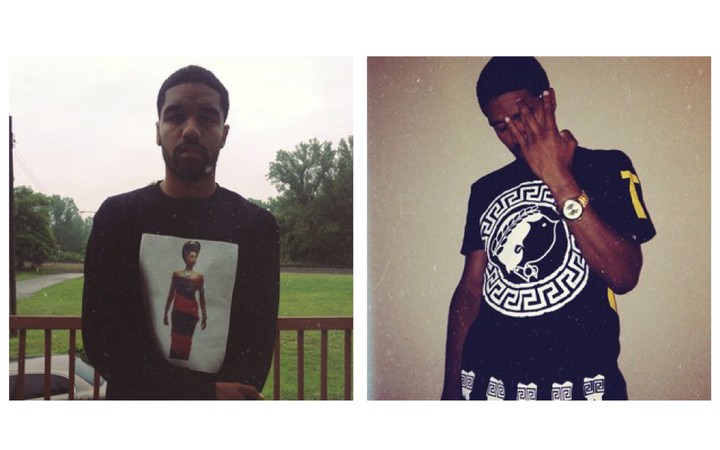 If you are in an environment where you can't lash out irrationally and punch walls… then perhaps don't listen to this track quite yet. Chicago/Naptown native YE Ali enlists the SaveMoney Army soldier Kami de Chukwu for the remix of "Semi," a track originally on his stand-out debut album "Art x Drugs." From the dog barks to the barrage of gun shots to the sinister chords, this song is seemingly violence personified into song form. Kami gruffly delivers a verse that will have you flipping Honda Accords over in the street and crushing your favorite aunt's costume jewelry into diamonds.
Featured on blogs like DJ Booth and Fake Shore Drive, YE Ali is one next project away from being a household name. We sat down with him to get the background on how this remix happened, his writing process, and how to get chicks to fly you out.
Noisey: So, first off, how do you pronounce your name?
Y.E. Ali: That's a good question (laughs). I was thinking about changing it to 'Ye Ali because that's what most people think it is. But it's Y.E. Ali.
See, that's what I thought it was.
Either one but Y.E. is the official pronunciation.
Well, now it's out there. It's Y.E. People can't act like they don't know now. This remix is for a song that was off your debut project "Art x Drugs," which came out a few months ago. How did this come about?
I've been wanting to do a "SEMI" remix for a while. I held off because I wanted to find the right person, someone kind of unexpected. Me having roots in Chicago, I am aware of the scene and the artists coming up there. Through my management, I met Kami met out at SXSW and chopped it up a bit. Once he sent me his verse, I did my new verse. We re-engineered it and added a bit more flavor on it. I'm from the same area, so I was aware of SaveMoney, mostly through Chance. I like Kami the most. He has a real aggressive tone, which fit it perfectly. It was good to get someone like that on the remix. It sounds effortless.
The remix is definitely way more militant. The dog barks weren't in the original. That was a nice touch. So speaking of SaveMoney… they are out here getting kids to invest in a 401K and cop some bonds. Has their movement rubbed off on you? Are you out here saving money?
You know what I am saving money. This legal trapping. I don't live an extravagant life so it's not hard to stash money away and budget.
What's the most outlandish thing you've ever bought or spent money on?
I dropped like $500 on seasons of Simpsons and Seinfeld. That's probably the most I've spent at one time without even thinking about it.

Download Mixtape | Free Mixtapes Powered by DatPiff.com
On Art x Drugs there's this mix of trap and R&B. Have you always been drawn to those sonics? Was it a conscious effort to make something like that?
When I first started the project I was going to do half and half. Half R&B, half trap music. But find a way to transition it so it doesn't change your mood, or that there isn't a noticeable, abrupt change. It took a while to find the songs that would transition well. There's like five versions of "Art x Drugs," and I finally made a version I was happy with.
I've always liked R&B a lot. Static Major, The Dream, Jodeci. That's my shit. They've always had that certain sound. I was a big Pretty Ricky fan because they blended rap and singing so well, but it was gangsta shit. Kinda edgy. Static Major he wrote "Pony" for Ginuwine and a whole bunch of other stuff. He was behind them. I kind of followed him a lot. So when I sat down to make the project I knew I wanted to make a rap album with trap and R&B influences. I wanted it to be cohesive.
What is your process for songwriting?
I usually listen to the beat first. I let the beat talk to me. I'll start saying stuff on the hook. I always do the hook first. I'll do the verses in the studio, but I'll write the hook meticulously, pick it apart. Usually, the first couple things I say is what I go with, but hooks are the most fun for me to make.
That's a neat flip… that your focus is on the chorus, which is what makes a song.
Making music at first I was focusing on the verse. It was just verse, verse, bars, bars. That's good and all, but that doesn't help the finished product. People don't want to order a pizza, pick it up and go home to cook it. They want it hot and ready.
I listen to your music and it kind of feels like "These songs belong in a club." They just sound like they are crafting for that arena.
I never think about the scenario in which it'll be played. I got a good ear for the way shit sounds. It's just trying to find instrumentals that I can stretch to the limits. I'm trying to capture an idea, a situation. I never consider club shit, but I know that the sound allows it to be there: a strip club, you with your girl, going to the gym. That's what makes good music. If it can be played anywhere, like anywhere, from the strip club to your mom's car, that's what I want to make.
I met you out at SXSW. You walked into the Noisey Brisk Bodega Showcase, and you walked in with four girls with you. I can't remember if you told me one of them flew you out or maybe you were staying with one of them. You might see a guy with a girl, but you don't see a guy with four girls. What's the secret?
On Twitter, people think I'm talking shit. I have a lot of great, good-looking women friends. They all live in different areas. I can go out to Texas or LA or New York and link up with a bad bitch. Just to go out and hang out, and be with a bad chick. I'm a big fan of Prince. I don't even think he was fucking these chicks. I think he was just kicking it with them and putting that power in the air like "I got the baddest chick, and I'm not even interested." I just love women.
The girls particularly that were with me: one was a singer from Cleveland, the other two live in Austin I knew through college, the other we met that day. She was from New York. I think chicks gravitate to my music. It's an easier connection to make even face-to-face. I'm an easy person to talk to. It's not hard to keep pretty women around you.
Bauce Sauce is a rap blogger who raps better than most rappers do. He's on Twitter - @BauceSauce