All illustrations by Shea Serrano
At the end of every May, the low-income middle school in South Houston where I teach hosts a talent show. It's held during last period in our school's auditorium and it costs $3 to get in. For our kids, it's like if you took the Super Bowl and then multiplied by it the moon landing and then multiplied that product by Zayn from One Direction. In times past, I've watched passively from the margins, cheering for participants that I taught and pretending like my hands and mouth didn't work whenever someone I'd not had in my classroom finished. This year, they asked me to be a judge.
1:55 pm: Today, I'm one of the three people that was meticulously handpicked* to judge a middle school talent show. It's going to start in approximately ten minutes, I hear. I'm here now sitting at a table with balloons taped to the front of it, and that's how I know I'm in the right seat.
We've been given a paper that lists the lineup (15 acts performing) and a packet with a grading rubric for each performance. This is only the third time I've ever been asked to judge a competition. The first time was for some rap thing and THAT SHIT WAS THE WORST. The second time was as part of a fundraising thing for Autism, and that was fun enough. I'm saying, the acts were whatever, but they let me eat all of the sliders I could for free. I FUCKING LOVE sliders, bro. If white people decide they want to start sending Mexicans to death camps but they have sliders there, I'm certain I'd be on Twitter** like, "At this death camp. A little gloomy, but not a bad chill spot. #Sliders."
*Meticulously Handpicked: A woman walked into my classroom and said, "Hey, do you want to judge the talent show today?" I said, "Yes." She said, "Good, because I can't find anyone else to do it."
**At this particular death camp, they let you keep your cell phone. White people can be nice.
2:01: The other judges have arrived. One is one of our counselors, another is a teacher, and the last is a woman who walked by and asked, "What are you all doing? Why are you sitting at this table?" Probably exactly how Nicki Minaj ended up on American Idol this past season, is my guess.
2:01:04: p.s. Is Nicki Minaj even a human anymore? Because, I mean, come on, bro. CAH MAHN.
2:12: We're starting with a performance by the kids in our school's karate program. Before they start, their instructor came on and engaged the crowd in a call and response to get them amped. "Repeat after me! CHIIIIILE CON CAAAARRRNE! YO QUIERO KA-DAH-TAY!"
Our school is mostly Latinos, BTW.
2:13: Related: Is that what you call a person that teaches karate? Is "instructor" right? Or is it "sensei"? OOOH, or better still, is it "shidoshi" like in Bloodsport? God, that was a good movie.
2:13:04: Related to the last "Related": HOLY FUCK I JUST NOTICED THERE'S A KID ON THE LINEUP SCHEDULED TO DO A "SOLO KARATE PERFORMANCE" AND SO BUT WHAT IF HE DOES THAT THING FROM BLOODSPORT WHERE THE GUY HAS TO BREAK THE BRICK AND RIGHT BEFORE HE DOES THAT ONE GUY'S LIKE, "BOTTOM BRICK" AND THEN HE BREAKS THE BOTTOM BRICK???!!!! OMGOMGOMG THIS IS THE BEST TALENT SHOW THAT I'VE BEEN TO.
2:14: Starting. The school's karate team.
2:16: Jaw drop, yo. I'm saying, have you ever even seen 60 kids doing synchronizing karate moves to dubstep? FYL.
2:17: DUUUUUUUUUDE. Eight girls walked out to the front and then did a line of cascading kicks WHILE A TINY KARATE BOY RAN UNDERNEATH THE FALLING LEGS. We have ascended.
2:18: I have a Vietnamese student this year and he's probably the best student that I've ever taught and he's on the karate team and he is performing right now and he is amazing and so I'm trying to make sure that nobody notices that I'm crying right now.
2:19: Word. The music just transitioned from Chingo Bling to the White Stripes to Jay-Z. These kids are SO FUCKING JACKED right now. One boy, upon completing a bow staff assault on an invisible opponent, puffed his chest all the way out and then let out a lion roar that wobbled the sun. This shit is unbelievable.
2:19:30: Karate kids done. I'm so pumped right now I can't even handle it. I might heel kick this table rightthefuck in half.
2:21: First proper act. It's a teeny-tiny girl. She's singing something by Adele, the paper tells me. This could be one thing, but it'll probably be a different thing.
2:22: Malibooyah. She was nearing the end of her time on stage and the crowd was very blah but then the music stopped and she set the microphone down and then two people wearing dress clothes and sunglasses came walking on from behind the stage curtains and then "Gangnam Style" came on and they started doing the dance and the fucking roof came off this place. Like, if you want middle school kids to think something is cool or funny or entertaining, just add the Gangnam dance to it.
"Um, excuse me, Teresa, I'm Mrs. Jimenez, the counselor. We got a phone call this morning. Have a seat. This is going to be hard. Your mom came to the school to pick you up early. And she was standing outside. And everything was fine. But then a piano fell from the sky and landed square on her head. It exploded into a billion pieces. All of this [motions towards her gooey, goopy sweater], this is all your mom's brain matter."
:'(
"Oh, but there's this though…" [Gangnam dance]
:D
That's how that shit'd go every single time.
2:27: A group of girls is up there singing right now. They're all playing with their bangs. Adorable.
2:32: New group of singers up. "Oh no. I know these girls. They said they were going to sing a song about kush or something. That's drugs, right?" Yes. "…Get ready to get fired." –The judge sitting to my left, me, then the other judge again
2:32: Nope. No kush. They're doing that song about when I hear your name or whatever. Probably be cool if we could jump ahead to kid that's going to break that brick with the magic karate smash. If this were Heaven, then after the kid smashed the brick, some big kid in the audience would stand up and snort, "Very good, but brick no hit back." It'd be cool if he was wearing karate pants and no shirt too.
2:32:04: Scratch that. Never mind. Let's keep all middle school kids clothed.
2:32:14: Related: Why did Jean-Claude Van Damme think it was so cool to do the splits all the time? Like, that was his go-to move in his movies.
Boring spot in the plot? I got you, bro. Boom!
[drops down into the splits]
Dance scene in a bar? On it. Boom!
[drops down into the splits]
Having trouble hailing a cab? Malibooyah! Where would you like to go?
[drops down into the splits]
Fuckin' JCVD, man. There's no way he didn't not do that naked, right? Splits for days, yo.
2:32:38: The best JCVD splits scene of all:
JCVD invented the slow twerk, I think.
2:40: Rumor has it that this next girl, who'll also be singing Adele, has a proper voice on her. Of course, I heard that from a kid that I was able to convince* that all movies are actually documentaries so basically everything he's ever seen on TV has been true, so do with that what you will.
*Other untrue things I've convinced students were true: You can get pregnant by holding hands; Participating in gang activities results in lung cancer; I played two seasons in the NBA as a backup point guard for the Charlotte Hornets in the early '90s. I lie to students with good intent 66 percent of the time, I guess.
2:41: OH SNAP. True. Rumors true. Very true. She started singing and the whole auditorium went silent. This is actually really remarkable. I should've known she was legit because her entire outfit is covered in shiny décoration-y play diamonds. My clothes have zero jewelry attached. :( There's probably definitely a correlation between how much time one spends bedazzling a pair of pants and how much of a superstar that person is.
2:42: DUUUUUUUUUDES, BRICK BREAKING TIME!!! STANDBY.
2:42:05: He's walking out. Where are the bricks? WHERE ARE THE BRICKS? I DON'T SEE THE BRICKS…
2:42:15: Wait…
2:42:45: And…
2:43:45: …
2:44: Big breath. Dang. Nope. No brick breaking. He did, however, try to kick a hole in Jupiter with some sort of fury kick though. And, no joke, he did the splits at the end, so I guess that's good enough. I don't know. Dang.
Dang.
2:45: Oh word. A comedy trio next?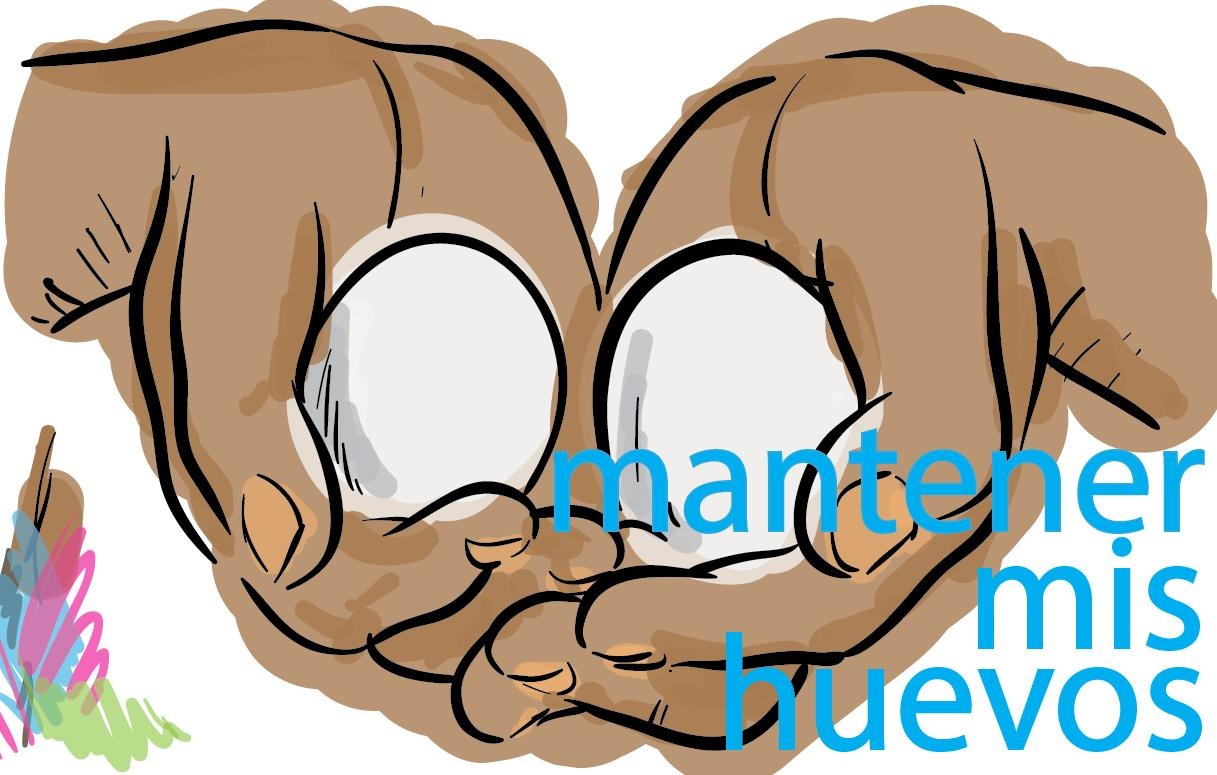 2:48: Game over. These boys just won, I'm certain. Their performance: One boy narrated while playing the guitar, a separate boy played the role of a Mexican egg farmer that only spoke Spanish and the third boy played the role of a wizard(???) that only spoke English. I won't translate the whole thing for you, just know that they spent two minutes building up to a joke where the farmer told the wizard to hold his eggs, which, in Spanish, is "Mantener mis huevos," which reverse translates back into English as something comparable to "Hold my balls." The crowd exploded in laughter --like, ALLTHEWAY RAUCOUS laughter. The wizard, confounded, asked, "What are these?" and then accidentally crushed them, to which the farmer responds by shouting, "OH NO! MIS HUEVOS!" and then falling to the floor. That, my friends, is how you win a middle school talent show.
2:48:05: Related: An unintentionally funny part of the last performance: The small percentage of non-Spanish speaking students in the audience looking around completely confused the entire time. Welcome to South Houston, dudebros.
2:54: Alright. Getting down to it. There are only two acts left. One is breakdancing duo and the other is a rapper. I've been waiting for the rapper. He's a student of mine. He's short and white and has bright red and just couldn't be anymore out of place, HOWEVER, none of the kids here give him shit though because they all know he's a rapper. Also, he's kind of a genius. Like, a legit genius, I mean. His brain doesn't misplace any information. So that's pretty neat.
2:57: Breakdancers.
2:58: Interesting. They've taken a bunch of David Guetta songs and spliced them in with Cumbia music and have this place r-o-c-k-i-n-g. I'm trying not to like them (because I want the rapper to win), but I can't help it. Their legs are like noodles. These boys are legits. The other judges clearly look impressed.
:/ but also :)
2:59: Here we are. The rapper. MY RAPPER. He's just been introduced. Nobody clapped when the announcer said his name because I don't think anybody knew his real name. (They mostly know him as That Kid That Raps.) But as soon as they saw him they all went yo-yo.
pleasePleasePLEASE let this go well.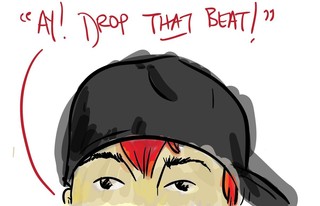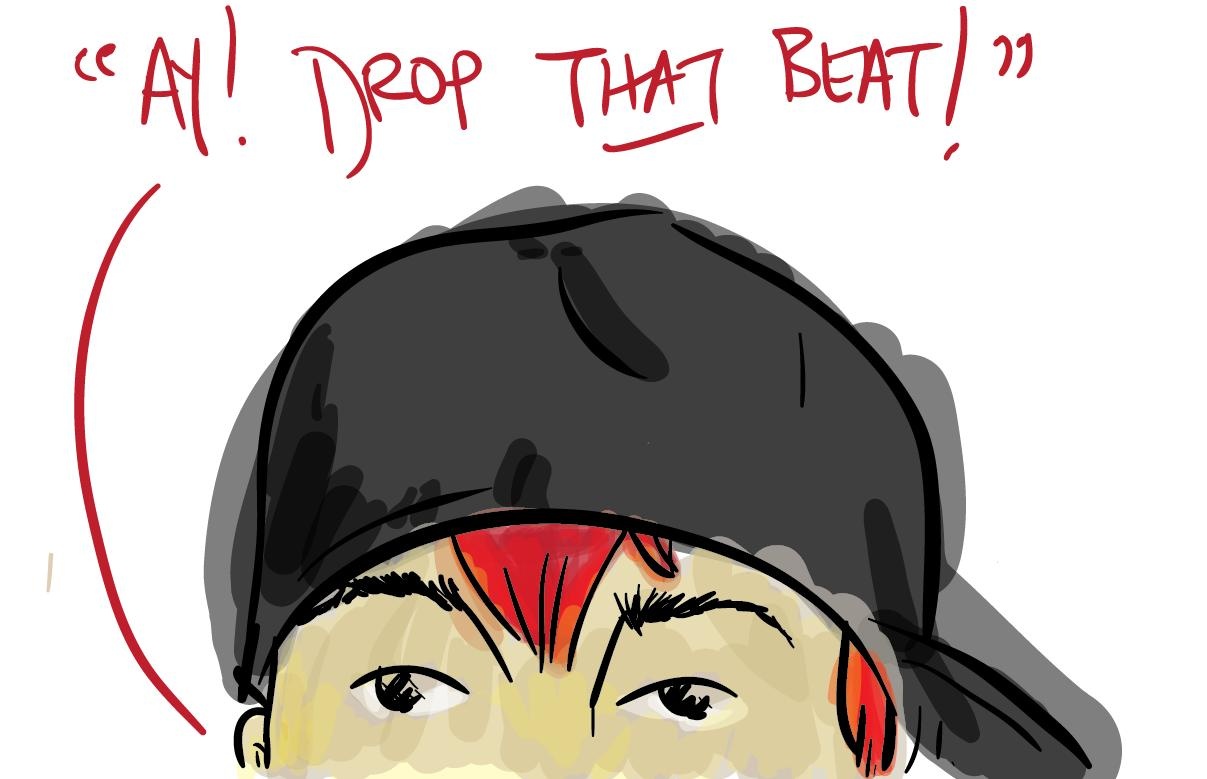 2:59:04: "Hey, yo! Y'all ready to rock!? Good! Ay, drop that beat!" OH MY GOD OH MY GOD OH MY GOD A MILLION TEARS
2:59:30: HE'S GOING AND THE CROWD IS YELLING AND THIS IS MY EVERYTHING. HE'S WEARING A BLACK SHIRT AND BLACK JEANS AND A BLACK SWEATER AND A BLACK HAT AND HE'S PULLED JUST A SLIVER OF HIS RED HAIR OUT OF THE FRONT OF HIS HAT AND I'M CONFIDENT THAT GOD HAS SCRIPTED THIS ENTIRE THING.
3:01: For real, I just felt one actual tear fall out of my eyeball. I don't even know, man.
3:02: SCENE.
He finishes, raises his arms, soaks in the adulation, smiles a broader smile than maybe I've seen in my whole entire life, then rockets from the stage straight up into the sky and out into the outer cosmos.
:')
Perfect.
End.
--
Note: These were kids that were performing so nobody lost, it was just that some people won more than others. The rapper got third, the breakdancer boys got second and the comedy trio got first (nobody was overcoming the huevos joke). The singing sparkle jacket girl finished two points out of a podium spot. That was probably the right order.
Shea Serrano is our true best friend. He's on Twitter - @SheaSerrano