Photo via Eduardo Pinto
Three years may have passed since Zombi has graced the world with a new record, but bassist/guitarist Steve Moore is far from finished with his musical aspirations. In November of last year, Zombi had the opportunity to support Goblin on their second ever US tour. Zombi owes much of their musical styling to Goblin as well as horror composers like John Carpenter, Fabio Frizzi, and the recently deceased Riz Ortolani, amongst others. However, the band has also always managed to secure a unique place for themselves amongst a sea of electronic groups. Their music has the perfect blend of ambient, electronic, and cinematic quality, creating a final product that appeals to a wider audience than soundtracks are often able to. Following their most recent gig at La Poisson Rouge in New York, I was able to track down Moore in regards to discussing with me the nuances of synth gear, sharing the essential elements in creating both Zombi and his solo effort's sound.
Moore fondly remembers the presence of musical instruments in his life from the earliest stages. Citing the date of his first instrument, a toy piano, as early as a year into his life, Moore quickly obtained a fascination with keyboards: "I have just been playing them ever since. Every Christmas I would ask my parents for the newest Casio." Despite gaining a few of these entry-level keyboards, or toy keyboards as he insistently refers to them as, Moore reveals that it wasn't through keyboards that he associated himself as a musician. Speaking of these early years as a more playfully experimental phase, Moore explains that when he bought his first bass guitar, an EX series Ibanez, he finally felt seriously drawn towards musical endeavors. In speaking about purchasing his first bass, he recalls, "I remember thinking 'I really like this.' That's when I think I started to take it more seriously."
In perhaps one of the most interesting cases of happenstance I've ever heard, Moore describes his first acquisition of quality synth gear, and here is the kicker: it was free. Everyone has their horror stories about USPS, UPS, and FedEx screw ups, but I think Moore will always have a soft spot, since early on, he found himself on the receiving end of a colossal screw up: "It is kind of a weird story [laughs], when I was 12 or 13, my grandfather called my mom and said, 'The FedEX guy just dropped off a keyboard to my house, I didn't order it, and he won't take it back. Does Steve want it?'" He recalls heading over to his grandfather's house to check it out, and to his surprise, finding an Ensoniq VFX SD synth workstation. The VFX SD, was Ensoniq's attempt to offer a high-quality sound at a lower cost. "Up until then, I had just been playing Casio SK-1 type keyboards, that were more toy than anything. This thing was real deal, actual professional quality synthesizer. It made me want more, it was probably the start of an unhealthy synth obsession."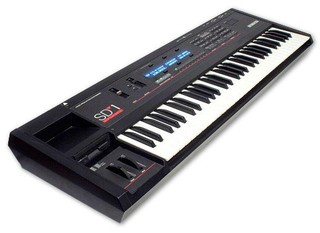 Mail this to Steve Moore's house and he WILL keep it.
Despite the fact that his body of work may contradict it, Moore insists, even to this day, that he "isn't much of a keyboardist." Even though I have my reservations, his modesty is charming. It is still with his first love that Moore finds his biggest musical accolades: bass guitar. "[Keyboard] is probably what I do the most, but I am not very good at it. I'm a very self-taught, [laughs] not just self-taught, just not good, very rudimentary keyboard player. I can play simple melodies. For most of my young life, it just wasn't fun for me to play keyboards in bands." Getting his start in the Pittsburgh metallic hardcore scene, Moore jokes about the lack of roles available for keyboardists, "I mean, how many bands, especially in the early 1990s, needed a keyboardist?"
Playing in local Pittsburgh bands, including Microwaves, Moore continued his musical direction focusing on bass; however, it was his next major purchase that altered his trajectory. He recalls after purchasing a Radio Shack model keyboard, he developed a greater drive towards synth. Today, it may seem like purchasing a piece of gear designed to be sold at Radio Shack would be a less than life altering task, even embarrassing. The keyboard that Moore is describing is a Realistic Concertmate MG-1, if that still doesn't impress you, maybe the fact that Moog designed it will. The MG-1, designed in the early 1980s for Radio Shack to be sold under their Realistic line, offered a quality synth for home use. "It was very similar to a Moog Rogue or a Moog Prodigy, it was just a lot cheaper and not quite as solidly built; the frame was a little bit flimsy. But it sounded great, and that was when I first discovered that playing keyboards doesn't necessarily have to be about running up and down the keyboard and playing a hundred thousand notes; playing keyboard could just be about making interesting sounds."
Today, Moore continues his career as solo artist, member of Zombi, and now film composer, having just finished the score of a film that premiered at Sundance, The Guest in 2013, which should see an official release some time this year. Today, Moore considers his Sequential Circuits Pro One to be his "prized possession." First purchasing a Pro One in 2002, it has been used on every single Moore recording. "Its sort of my go-to synth. I've been using it for 12 years now, while its kind of complex and there is a lot of things you can do with it, but after playing it so long I just know my way around it a lot better than synths I've purchased more recently". He ultimately describes his process by having the Pro One as his starting place, "If I can't find the sound I'm looking for then, then I'll move on to the next [synth]."
When prompted about the essential gear involved in the "Steve Moore sound," he rifled off a list including, for bass, Sunn Stage 212, Fender Jazz Bass. For synth, the Sequential Circuits Pro One, Sequential Circuits Prophet 600 and a Korg PolySix. These three keyboards have been on every Zombi recording, and have been toted along on every tour. "Those are kind of the first three 'real' synthesizers I bought, after the Radio Shack, the Realistic. There are features that those keyboards have, that the songs are just built around." Having to occupy multiple roles while playing live with Zombi, Moore relies on the technology of the synths. He says that the reason the Prophet 600 and PolySix are imperative stems from their feature that allows the keyboardist to capture up to six notes, a chord formation, that can then be then be applied to any single note played as the root note. Essentially, this allows Moore to play chords with the use of one hand, creating a bolder and deeper rhythm track, freeing up his second hand to use on another synth.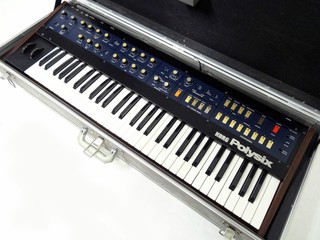 In an age where vintage analog synthesizers are just getting older (and incredibly more expensive), and where the market for new synths generally cater towards the digital spectrum (with a few expensive exceptions), it seems daunting to even try to enter into the world of synth. While Moore doesn't have a simple answer for these people. He generally recommends that they get the gear that they love the sound of. "If you want to sound like Halloween III, buy a bunch of early 80s sequential gear; if you want to sound like Enya, buy a Roland Juno 60 and a Roland D-50. Find out what the artists you love to listen to played, and buy that." It may not be the cheapest option, but there's not substitute for the real thing."
Find Joe Yanick at Radio Shack or on Twitter - @JoeYanick