Here's What Ruled and What Didn't at FYF
FYF was a test of endurance—well isn't every fest?—but ultimately good music prevailed! Hurray!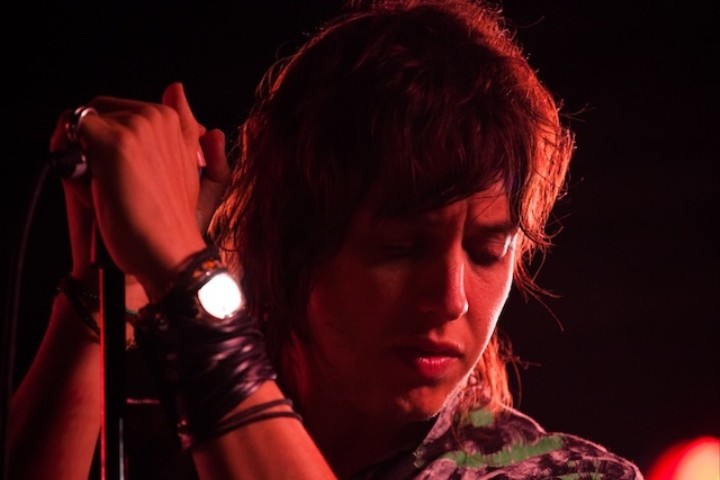 A tiny stampede at FYF. Photo by Debbi Del Grande for FYF.

I was standing at the entrance, 90 minutes into my experience and with the sun reflecting off the blacktop and onto me, when I decided: This fucking sucks, this is the worst. Admittedly I chose to go to a music festival, far from serenity, and my wait was literally half of the reported three hours that others had to wait to get in, so I had much less room to complain.
Now eleven years deep, FYF is Coachella's downtown younger brother. This year is the is the LA fest's first at Exposition Park, a series of smaller parks that surround and include Los Angeles Memorial Sports Arena, Los Angeles Memorial Coliseum and more. Previous years were held at LA State Historic Park preceded by the Echo/Echoplex, so there were bound to be some hiccups on the new site. By 4 PM lines formed a perimeter almost all the way around the festival—a whopping 1.1 miles—with some of the crowd staying in an orderly line and others walking straight to the front of the gate, until eventually the herd mentality gave way to chaos. After some confusion, I finally got in, but FYF had run out of maps so navigating to find the three stages tucked behind buildings and the entrance to the fourth "arena stage" took some ramp-up time. By the time I got my bearings and actually settled in to catch my first band of the day, it was on the main stage to see Future Islands. It was 6:30 PM, more than two and a half hours removed from my original plan of Slint followed by Real Estate to Albert Hammond Jr to Little Dragon to Future Islands.

Logistical issues aside, performances were on point. The always affable Killer Mike was a joy to watch, as was the yin-to-his-posi-yang in Run the Jewels, El-P. The reunited Slowdive, anchored by Rachel Goswell's angelic vocals, played a set of shoegaze that felt perfect juxtaposed against the setting sun. In the wake of Transgender Dysphoria Blues, Against Me!'s winning streak, both live and recorded continues, meanwhile Interpol's quiet cool is as sexy and transcendent as it was in the early 00s. Japan's experimental metal band Boris is a long way from their Akuma no Uta/Heavy Rocks/Pink-era, and it shows in their live show, which sorely missed guitarist Michio Kurihara.
Elsewhere Phoenix was uncontrollably danceable and not only a joy to watch, but they boast the most exhuberant drummer at FYF. Ty Segall finished off the evening at the "Trees Stage" by leaning heavily on his excellent new LP Manipulator.

Joanna Gruesome.

By the second day, many of the festival's logistical kinks were worked out, reportedly with all night discussions between the organizers, so I slid right in to catch noisy, shoegaze punk from Joanna Gruesome followed by the "man on laptop" stylings of Ryan Hemsworth, which I don't get why anyone would watch (I bet he's checking his fucking email up there).

Mac DeMarco and Blood Orange.
Mac Demarco and the sunny pop of Tanlines followed with the the goofy "charms" of the former wearing thin. The Bronx is still going strong with their fun punk live show, but Blood Orange's sexy Prince-ly funk trumped the former with a ten person live band and Dev's impressive shredding.


The Strokes's Julian Cablancas at FYF.

Murder City Devils were incendiary and the Blood Brothers were everything I wanted them to be, an insane and razor sharp spazzy punk spectacle. The Strokes flexed their deep catalogue and sent everyone home with a track from Is This It reverberating in their heads. After a semi-disastrous day one, redemption was mine.
Fred is Noisey's Editor-in-Chief and he's on Twitter - @fredpessaro
----
Want more festival coverage from this year?
Well here's all the shit that went down at Pitchfork Festival
And EVERYTHING that happened at Lolla

Then there was Bonnaroo too
Oh and obviously there was a lot of good stuff at Coachella—namely basic bitches, bros, and butts