DonChristian's Urban Dreamscape Is Alive in Music and Art
We spoke to the artist about his momentous new single "Chop," working with his heroes, and creating powerful murals with a purpose.
Studio photos courtesy of Eric Johnson
DonChristian, the Philly-born vocalist, rapper, Wesleyan-educated painter and shining figure in New York's Avant LGBTQ art scene has had a productive year away from music. His medium exists in constant flux, this past year he kept busy working on his first full-length LP while completing sixteen murals rooted in the seams of social justice around NYC, Chicago and LA, and helping to run the label Camp and Street with Le1f. Last May, Don was asked to curate the Whitney Block Party concert, a Whitney Museum event featuring performances by fellow purveyors of culture like Junglepussy, Rahel and House of Ladosha.
In the wake of that excitement, he's returned with an intensity and newfound focus with "Chop," a new track and video paying homage to Don's beloved gritty city. His first release since 2014's acclaimed mixtape Renzo Piano, "Chop" is dedicated to the late South African producer Applesawc, who worked closely with Don on the track and his upcoming album before passing unexpectedly last August. Holding a progressive aversion to genre, Don's sound is wholly his own. An amalgamation of disparate tones and textures move as one, exceeding the ability to compartmentalize. Inherently suave vocals float through effervescent beats and waves of synth. If PLUR ravers dosed Boys II Men with blue dolphin ecstasy pills and everyone ended up having the best night of their lives, "Chop" would be in some way responsible.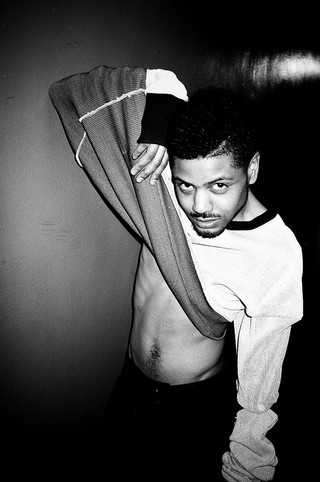 Recently, Don caught the eye of Eric Johnson, an iconic New York photographer who shot decades of music's elite from Tupac and Aaliyah to Gaga and Wayne in his Hell's Kitchen apartment. The countercultural godfather is known for supporting, photographing and supporting young artists. His apartment serves as one of the last Factory-esque hangouts for young creatives in the City where the door's usually open, and people always interesting.
Their collaboration came as no surprise. Through the years, Johnson's shot a number of Don-affiliated artists, including Juliana Huxtable, Dick Van Dick, Richard Kennedy, Le1f, Cakes Da Killa and more. "Don caught my eye from afar after having met and photographed so many of his friends," he says."I remember our first conversation, we started to click. I walked away feeling like he got me and what I was trying to do creatively more than most. We similarly have pretty laid-back styles artistically, and when I showed my older friends the younger kids and their work, the unanimous response was, 'You should work with him.' These are seasoned, traveled friends I'm talking about, so that cemented this a lot. He's hot, his aesthetic and references are spot on. In terms of our work together, I don't even think we've even scratched the surface."
While specifics like date, title and label have yet to materialize, a first LP is set to drop this summer, ensuring a big year. We Caught up with Don to chat about his current work, the intersection of fashion and hip hop, and the illusion of genre.
NOISEY: "Chop" marks the end of a year-long hiatus for you, what have you been doing for the past year?
Don Christian: I've been taking my time working on my first LP, and I've been painting a lot. I do a lot of community oriented murals. I've done sixteen now in New York working with an organization called Groundswell. They're Brooklyn-based but they work in every borough, they even sent me to LA and Chicago to do murals. I'm always working with a youth population. Topically, they're all founded in social justice. I've done some about LGBTQ rights, anti-violence, two on Riker's Island with inmates on the prison industrial complex. It's amazing work, really.
What was your favorite mural?
This mural I'm most proud of, titled "I Just Want To Come Home," is about the complex relationship between police and young men of color, led by myself and Chris Soria. Fifteen young men were employed to help research and paint this with us. Located on Broadway and Manhattan in Bushwick.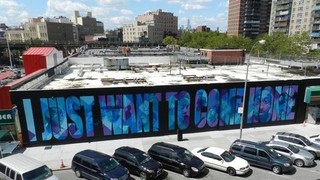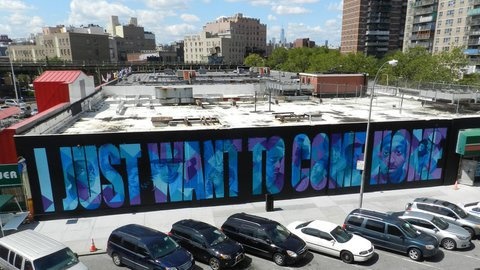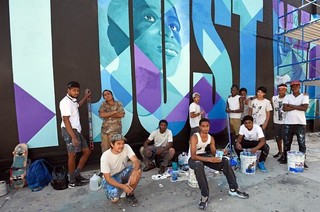 Mural photos courtesy of DonChristian
Tell me about the new video.
I knew this was going to be my first single for this project. I had been working on this song and a bunch of others with AppleSawc, a South African producer whom I met online. So we'd be like working remotely and sending things back and forth, and then he passed away in August, really unexpectedly. I just knew I had to put it out and honor him in some way. The whole while we'd been talking about visuals. I wanted to really pay homage to Philly for the first time, I've never really shown where I come from. And he was down for that. Sam Jones, a close friend of mine, directed. Super Deluxe produced. Richard Kennedy helped immensely in styling and choreographing. I was also working with dancers from Philidanco, a historically black dance company that is just monumental.
What was Philly like growing up?
I'm from Germantown, which is in Philly proper. It's a vibrant culture. I grew up listening to rattle in the trunk bass. Being on the block, the playground, it's gritty. It's a gritty city, and it feels earthy in that way.
I think that really resonates in your sound, which to me occupies a sort of urban dreamscape, a montage of disparate elements that shouldn't work together but do. How would you describe your music?
That's cool and definitely something I strive for. I'm obviously inspired by R&B and soul, hip hop. I'm most interested in pushing boundaries, working with future sound. Urban dreamscape is a nice way to put it, actually. I still like trap snares and high hats but also ambient sounds and textures. Really, I like textures.
Describe your lyric writing process?
I'm always writing and I always have. That's the foundation for my work, whether it be painting or music. Doodles and notes in my notebook, and voice memos on my phone.
You curated the Whitney Block Party concert, how did that opportunity arise?
That was the second time I had been asked to play at the Whitney. I had done it at their old building, as part of their "Blues for Smoke" festival, which was really cool. So I had met some of the people there and one of the assistant curators is amazing. I've shown with her before. She really helped me out. It all just fit together and felt familial. It was organic. Also, the Whitney makes a point of working with an artist and sticking with them, which I really value and appreciate.
Who did you have play?
On that bill it was House of Ladosha, Junglepussy, Rahel, and Jacolby Satterwhite did a performance piece that was integrated into the music acts as well. It was wild to have all those people together.
That's an incredible amount of energy. Can you talk about your work Le1f's Camp and Street label?
It was something we founded together in college, once we were all in the city we ran it. It was a really awesome platform for all of us. I'm forever inspired by and loving all those guys. And Humeysha is everything.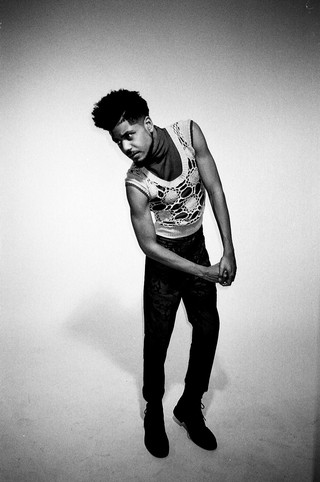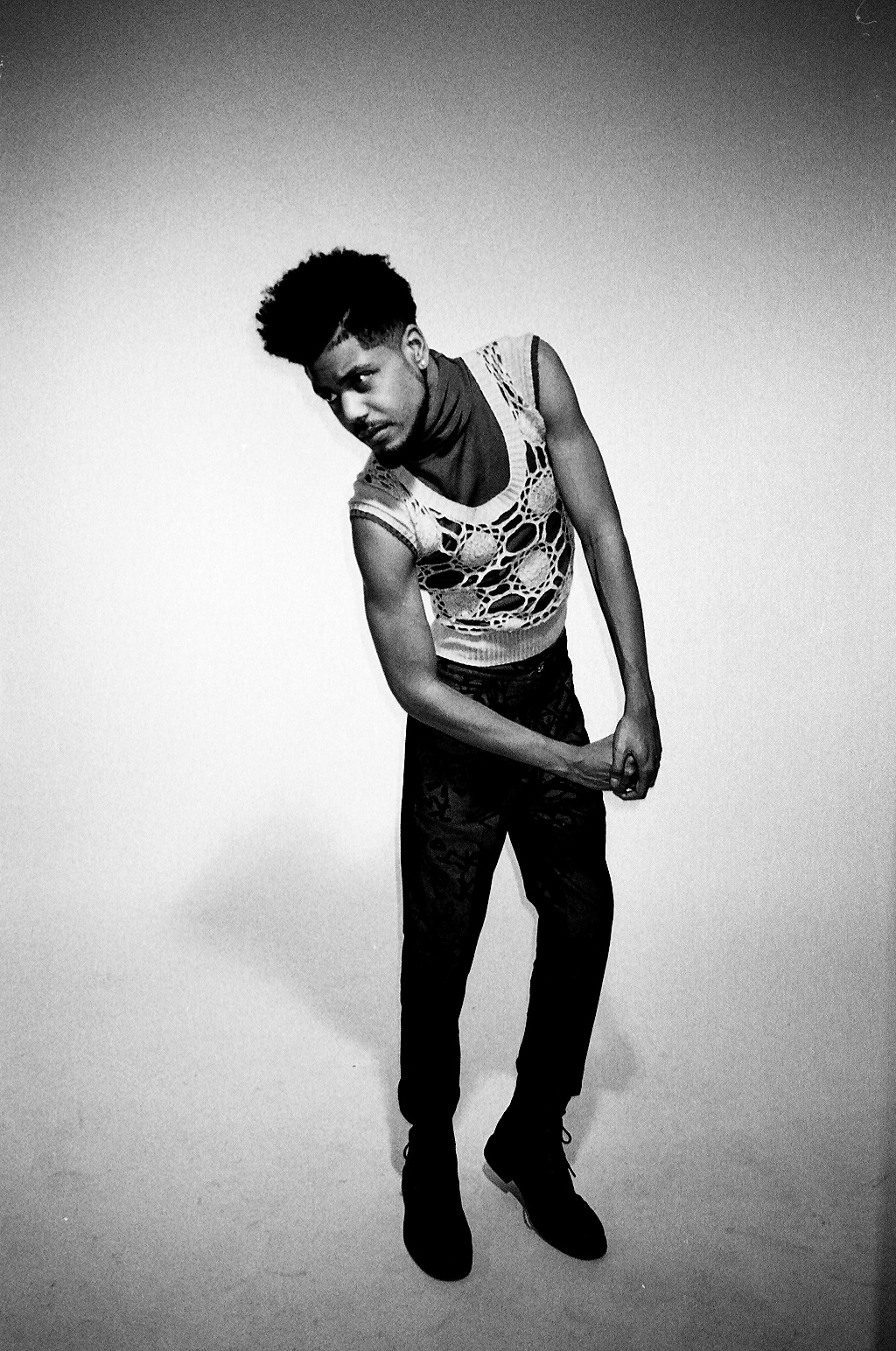 Where do you see the intersection of hip-hop and the fashion community?
That's interesting.
I mean, look at the new Alexander Wang campaign.
Exactly, or Rihanna x Puma. I think we have people like Kanye to thank, well, I don't know if thank is the correct word, also A$AP, but they definitely heightened people's awareness. But I think fashion and Hip Hop have always been inextricably connected. What's exciting now is that rappers are embracing a more gender fluid, deconstructed aesthetic.
What was it like working with Eric Johnson?
Eric is the most amazing person, one of the most brilliant minds I've met. He's such a support and a legend. To think that I get to hang out with him and call him a friend is a true privilege.
How do you see genres of music transforming over the next ten years?
l really just think that genre itself is degrading, and that it's going away. There won't be this need to compartmentalize sound. Everyone has access to everything. The globalization of sound and the sharing of cultural ideas, it's brilliant, but it's also daunting in that it's limitless and exponential. People are just going to make crazier and crazier shit.
Follow Linday MaHarry on Twitter