Okay, so if you live in the Northeast, then you know all about that trolling-ass snowstorm called Juno. You know, that storm that was supposed to bring like 28 feet of snow, but then only gave New York City like an inch ? There was still plenty of time, though, to sit around and look online at pics of Riff Raff on steroids while eating that surplus of Trader Joe snacks you bought to "hunker down." If you didn't have that extra time on your hands, fear not. We grabbed a few of this past week's headlines to bring you up to speed. Here is the roundup of this week in fashion and music.
Rihanna Covers i-D Magazine's Music Issue

You don't have to be marching in the Rihanna Navy to know our favorite Bajan has her album R8 dropping soon-ish. In anticipating of that, Rih graces the cover of i-D Magazine's Pre-Spring Music Issue. The cover photo was shot by Paolo Roversi, and Rihanna is rocking some box-braids and a Céline top with gigantic hoop earrings in the photo. E! online compared her to FKA Twigs in the picture, and that's somewhat accurate. She kind of looks like an extra on Orange Is The New Black, though, since her pose kind of looks like a mug shot. Whatever she looks hot no matter what she's doing. Make sure to grab a copy of i-D to read the interview, which surely won't disappoint. It's Rihanna for crying out loud.

Kanye Provides N-Word Dispensation To Jean Touitou

So this was kind of annoying. You know how Kanye West is always trying to be down with fashion designers? Well, it just went a step further. Fashion line A.P.C. founder Jean Touitou introduced his Fall 2015 menswear collection, comprised of sweatpants and Timberland boots. The name of the collection? "Last N****s In Paris." Yes, you read that correctly. The line is inspired (apparently) by the Kanye West and Jay Z track "N****s In Paris," so then it must be okay. Well, at least it's okay with Yeezus. He was present for the show, where Touitou held up a sign with the dreaded collection name, and in an email interview with the designer, Style reports that Touitou told West about his vision, and Kanye's response was "I love this vibe." So now Kanye is handing out passes for offensive language? Oh okay.

Safaree Changed His Mind About Nicki Minaj
A few weeks ago in this column, we talked about how Nicki Minaj's ex-boyfriend Safaree told New York City's radio station Power 105 on The Breakfast Club that he had a heavy hand in writing Nicki's rhymes. Well, now he claims that wasn't the case. He went on Twitter to make an extensive statement about all of it. "If there was anything in my interview that came off the wrong way towards Nicki I apologize," he tweeted, "and want people to know that she was the best thing that ever happened to me, and is a great person inside and out and the most talented person I know." He add, "and I never said I wrote her raps. She is wayyy more than capable of writing a album on her own without me!" There are several tweets in the statement, but one also sticks out: "and to you ignorant fans, I really wish y'all would leave me alone. Y'all are so miserable..let me build me and stop tryin' to tear me down." Did the Barbz and the Nation Of Pinkslam come for Safaree? Sounds like it. Wow, imagine if the Bey Hive got involved too?

Missy Elliott May Join Katy Perry At The Super Bowl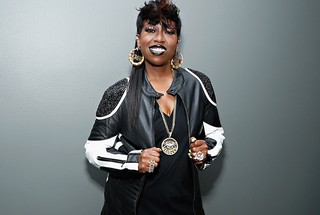 Photo Credit: Cindy Ord/BET/Getty Images for BET
By the time you read this, the Super Bowl will be happening within mere hours, so here is some cool news to make you sit still during the Halftime Show: Missy Elliott is the rumored special guest for Katy Perry's performance! In a press conference surrounding her Halftime Show for Super Bowl XLIX, Perry alluded to "bringing back" a female from the "old school." That was all she said about it really, and that "jaws will drop" and "faces will melt" upon the arrival of this mysterious lass. The Associated Press has revealed that it's Missy Elliott. If that isn't true, then they've got some 'splainin to do. Either way, instead of refilling your bucket of buffalo wings during Halftime, stick around to see if Missy will become a KatyCat.

Iggy Azalea Hates Steve Madden
Everyone comes for Iggy Azalea at some point. Just this past week, Eve and Jill Scott were on the radio dissecting her "blaccent" (leading to Iggy commenting via Twitter). But yeah, the Iggy Azalea slander is like a steady stream of shade. This time, though, it's Iggy who is complaining. Well, was. Iggy has teamed with Steve Madden to release a shoe line, and apparently the shoe company released some photos surrounding the line that were unapproved by Iggy. She went on a Twitter rant to discuss it, saying she was "bamoozled," and the photos were "gross gross gross." In addition, she tweeted, "Everything in a collaboration is supposed to be mutually approved. But Steve Madden did the most disgusting photo shoot ever…" She has since deleted the tweets, but HipHopDX came through with the screenshot before the deletion. Now on Iggy's Twitter she's retweeting images from the line, so perhaps she's had a change of heart. Or she's smart enough to not come for an entire corporation knowing damn well that they can throw her under the bus.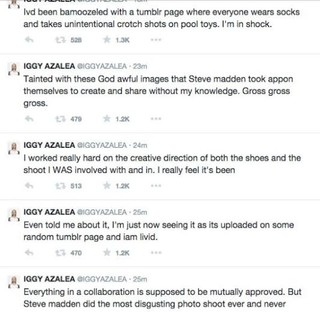 Kathy Iandoli used to wear Steve Madden shoes in high school. Follow her fashion forwardness on Twitter @kath3000.