Photo courtesy of Hellnback
This article originally appeared on Noisey Canada.
"I want this nightmare to be over," Kendall Robinson pleaded with an unsteady voice. The 26-year-old youth councilor with the Pimicikamak Cree Nation in Manitoba is too familiar with suicide. Pimicikamak, also called Cross Lake, declared a state of emergency last week after six people took their own lives since December. During that four month period, in the remote northern community with a population of roughly 8,300, over 100 people have been put on a suicide watch list. Robinson was nine-years-old during the last wave of suicides that gutted the First Nation in 1999. That trauma was predated by yet another in 1987. Now in 2016, Pimicikamak's suffering continues.
"There is a lot of pride in this community," Robinson said over the phone, "Pimicikamak is a strong, proud nation. Right now, I'm not sure. The kids need a lot." He asked Winnipeg-based artist and owner of Native Model Studios Lisa Muswagon and her husband Karmen Omeasoo, aka emcee Hellnback, to speak to those coping with suicide. About 70 kids gathered in Otter Nelson River School on Saturday to talk with each other, play, and try to feel normal amidst these tragic events.. "We wanted to hear what [the young people] want and how the community can be changed," Robinson stated. He said for short-term comfort, "music is healing."
Dedicated to Cross Lake. Xo
Posted by
Crystle Lightning
on Friday, March 11, 2016
Emcee Crystal Lightning sends words of support of Pimicikamak
Healing is hard to find in Pimicikamak. Last week, band councillor Donnie McKay told members of the media their nursing station is only staffed by two nurses overnight. Pimicikamak also faces overcrowded housing and an 80 percent unemployment rate. After a lengthy history fraught with disappointments, the community has seen few long-term economic benefits following the Northern Flood Agreement treaty in 1977 for hydroelectric development. That agreement triggered water flow alterations that interfered with wildlife and trapping. In October 2014, members of Pimicikamak occupied the Manitoba Hydro generating station in protest.
These frustrations and the lasting trauma from residential schools have left deep psychological scars for generations of children. "Most of these suicides are from foster care," said youth chief Rusty Garrioch. "Those kids probably never heard, 'I love you.' We need to upgrade our resources. The government needs to step up. There are other communities like ours going through the same things. Right now we need to come together and comfort each other. Community is a powerful thing in the north."
Crosslake Manitoba
Posted by
Henry Andrade
on Friday, March 11, 2016
Emcee Redcloud stands by Pimicikamak
Lisa Muswagon's trip to Pimicikamak was a tragic homecoming for the mother of three. "The weekend before this weekend was my daughter's birthday," Muswagon said over the phone, "We wanted to come out to celebrate, but at the same time we received the news of the most recent suicide… We also came out to support my cousin because he just buried his daughter last weekend. You can tell things are going on in the community. Things can be heavy at times. Our moms are telling us, 'Can you check on your cousin? Can you check on so and so?' The youth shared [stories] with us about their parents threatening suicide. There are a lot of issues."
Muswagon graduated from Otter Nelson River High School in 1999 during the last epidemic. She explained the kids at Saturday's gathering told her they want to express themselves and be noticed. "They want things like more malls, a library and theatre," she recounted, "They said they wanted art supplies and a place to record music. They want more sports. There are a lot of gifted children here. How do we motivate our youth to achieve what they want?"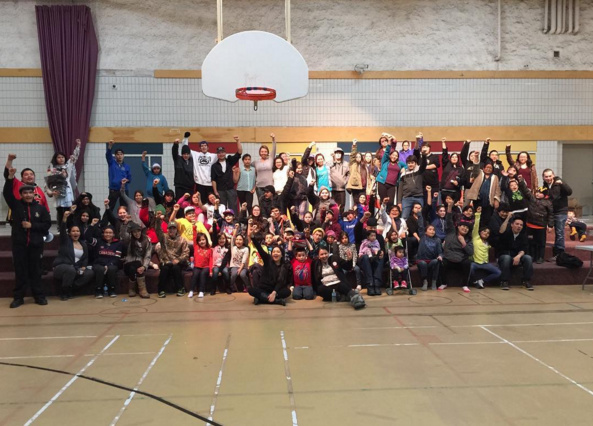 Young people gathered at Pimicikamak's Otter Nelson River School on Saturday to discuss the community's suicide crisis. Photo via Instagram
During a phone interview before the gathering, emcee Hellnback pled for Canadians to show more compassion. "These are lost youth," he said, "Canada needs to reach out and understand they are going through something." He recalled his own experiences growing up on an Alberta First Nation facing similar problems. "Being from Maskwacis,[Samson Cree First Nation,] my reservation has gone through the same thing, in a sense. One thing they started to fix was instilling more pride in the community and the youth." Other indigenous artists are offering words of support for Pimicikamak and those coping with mental health issues and suicide. Emcees Crystle Lightning and RedCloud posted videos sending messages of hope.
Similarly, Saskatchewan emcee Eekwol wrote in a statement to Noisey: "I stand by all communities affected by suicide. It's an effect of colonization and really frustrating to see that this is today's reality based on generations of cultural genocide and trauma. I believe that the strength within the community is the only thing that will start making things better. I believe in that strength. It exists and I've seen it put to action." For those wanting to help, youth chief Rusty Garrioch said, "Send us inspiration. Donate what you can. It doesn't matter what it is—shampoo, sports equipment, arts supplies. We want that love and support."
Devin Pacholik is a writer based in Saskatchewan. Follow him on Twitter.