Photo courtesy of Bruno Destombes
It's difficult to do something new when you're planning a music festival, since there are only a finite number of ways that you can get people to enjoy live music. The beauty of M for Montreal isn't that they try to reinvent the festival, but that they streamline it and find efficiencies wherever possible. In its ninth year, the festival excels at presenting music fans with an endless stream of concerts that have all been programmed to be as accessible as possible. Once one show finishes, you're directed to another venue located within a short walk. Sometimes you need to cross the street to see the next performer, while other times it's as simple as going upstairs. But the schedule is set up in such a way that you'll never go longer than 10 minutes before seeing another great band. M for Montreal's schedule this year featured hundreds of musicians from across Canada and beyond, resulting in showcases that were packed from start to finish with great talent and making it almost impossible for you to sneak out of one show to see another at the risk of experiencing crippling FOMO. With so many amazing musicians being crammed into four days of music, it's easy for bands to fade into the background entirely, lost in the N for noise. But some acts managed to stand out and make some great impressions on the delegates, agents, and fans who attended M for Montreal.
The Oh Baby Gimme More's
If you want to hear rock music performed by charismatic four piece band who manage to draw from the past while still managing to be forward-facing, look no further than The Oh Baby Gimme More's. Though The OBGMs played a number of shows during the festival, the one that stood out most was the early afternoon show in Montreal's Cafe Campus. If watching a rock concert on a weekday afternoon sounds appealing to you, we clearly have little in common. But as weary concert attendees shuffled inside the venue and politely lined the perimeter of the dance floor, The OBGMs front man Densil wasn't satisfied. "I'm going to need all of you to get as close to me as possible" he said with an impish style on his face. "Let's make this nice and intimate." Have you ever seen somebody rock out so hard that they broke their guitar string during the first song of their set? Because that's exactly what happened with The OBGMs. If this sudden technical difficulty made the band depart from their regular live show, it wasn't obvious. They leaped and bounced on the stage and off each other as they powered through their set, using the few guitar strings they had left to maximal potential. It was far from a perfect performance, but its imperfections are what made it special. During what appeared to be a particularly impressive solo that the guitarist performed through clenched eyes, he was disappointed upon opening them to find that he had flailed his instrument so hard that he unplugged it from the amp entirely. But it was clear that by the end of their set, the band had won fans over despite (or maybe because of) their imperfections.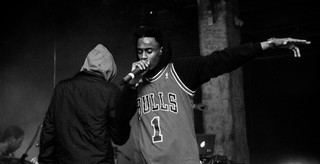 The Posterz

Photo courtesy of Bruno Destombes
On paper, the Posterz are a three piece rap group. On stage, they were rock stars. Despite the fact that most of Montreal's most popular rappers have found success due to their bilingual delivery, The Posterz rap unabashedly in English. Adopting a style that's difficult to pinpoint, they embrace a shifting meter that can see them start in a deliberate pace before hitting the booster and firing off into a frenzy of energy and cadences. Their live set involved them regularly crowd surfing, throwing water, and starting mosh pits that had one Noisey editor nursing his spine with the hotel ice bucket. The group's "I don't give a fuck" attitude may have endeared them to the dozens of fans in the front that knew every word, but it also cost them the price of an onstage monitor that they had inadvertently spilled water on. Rock star lifestyle indeed.
Bernhari

One of the events at the festival was a daytime "Hangover Brunch" that was scheduled for Saturday afternoon. When I arrived, I made small talk with a bearded gentlemen by the bar who told me that he was the guitarist for the next band that was about to perform. In broken French, I asked him if his band would be hangover appropriate music. In reply, he laughed heartily and shook his head no less than a dozen times. The guitar-heavy quartet took the stage, and the one thing that became instantly apparent was that their lead singer was playing both the piano and the drum kit, at the same damn time. The band performed totally in French, and despite the fact that I couldn't tell what any of the songs were about, I was transfixed. At one point, the singer ushered the other band members off the stage before performing solo with just his piano. Then, moments later, he brought them back out to perform again, this time a white cloud filling the air as a result of the smoke machine that had been hidden in the singer's piano. It was a spectacle in every sense of the word. By the end of Bernhari's set, the room was dense with fog and my ears were ringing, but my hangover was completely gone.
The Celestics

The most fun you could have at M for Montreal was likely on the closing night of the festival. At Apartment 200, there was an organized set that brought together some of the biggest players of Montreal's "Piu Piu" scene onto one bill as High Klassified and Kaytranada spun DJ sets and Kaytranada performed a short rap set with his brother as The Celestics. Piu Piu is best defined as a combination of high BPM dance music meets the bouncy, non-trap branch of hip-hop production. The resulting sounds aren't dissimilar from an edgier sounding disco, and they make for the best soundtrack you could hope to turn up to. After each DJ played for a few hours, The Celestics grabbed the mic and negotiated the small DJ booth into a small stage as they rapped along while embracing fans. Although Kaytranada has been playing large crowds for years now, his brother is still a relative rookie in comparison. But Louie is clearly a fast learner, and he managed to control the crowd while keeping their energy up, putting the mic out to the people and embracing fans.
Slava P is tired. Follow him on Twitter.