Photo by the author

Austin, Texas apparently needed rain–or at least that is what every single Uber driver has said to me since I have landed in this humid, wet city. "I hear it's supposed to rain all weekend," has been my go-to conversation starter for all locals I have met down here. I'm super depressed that the response is always a combination of "Yeah, it never rains" or "Yeah, we need the rain very badly." I knew that Levitation was bound to be a muddy disaster, but I didn't want to believe it.
Fast-forward to the festival where I almost fell on my face after my black boot got stuck in a vat of mud when I first entered. This was going to be fun!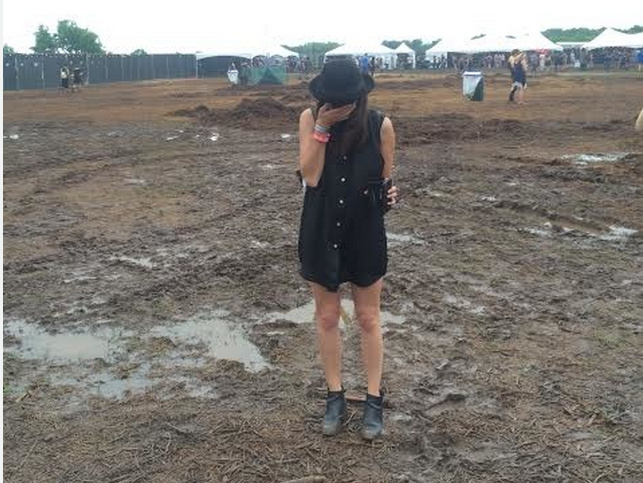 Photo by the mud-splattered author

I couldn't imagine a better way to start off the weekend than by seeing The Holydrug Couple for the first time, as the clouds started to clear and the sun came out for the first time all day. They basically set the tone for the entire festival, and there were A LOT of vibe dancers around.
[Vibe Dancers: noun; Vibey people who use their vibey hands and vibey bodies to dance like they are on drugs. They probably are on drugs, and are most likely wearing face paint and no shoes.]
It is important to note that it was during this performance that I was actually able to see what crowd this festival pulled, which consisted mostly of real life hippies (not the fake kind, I am talking long dreads and stink), dads with #dadbods in UT hats wearing Tevas smoking weed, and overdressed blogger girls who didn't think about the fact that they were going to be stepping in mud all day. It is a weird, diverse scene here in Austin. But I guess that's what makes it so WEIRD and ZANY, right?
Groovy. All Levitation photos by Steven Ruud

Anyway, The Holydrug Couple were groovy, and played a long set, often jamming songs out to really appeal to the crowd they knew needed it. They make the kind of music that people want to do drugs to, which is pretty fitting considering the name of the band. They sound like a Chilean, sleepier, drugged out Tame Impala. Shout out to their cute Chilean accents.
The Holydrug Couple

After The Holydrug Couple's set, it was time for food and drinks. I'll say this: if you are at Levitation this year you should just do yourself a favor and hit up the food trucks. Seriously. I had some type of goat cheese sausage wrap that basically covered up the fact that I was covered in mud from the knees down because that's how good the food is here. Not to mention the fact that the drinks are basically 80 percent alcohol and 20 percent mixer. It's dope.
Next up were one of my favorite bands, and in my opinion, probably the coolest band playing at the entire festival: White Fence. White Fence seems effortlessly cool, and I'm pretty sure that it has a lot to do with Tim Presley. The dude is a San Francisco legend, and one of the only standing rock stars in the garage scene of the city who hasn't moved to LA. White Fence are San Francisco staples, and I can honestly say that their live show has not changed since I first saw them years ago in a stuffy bar. These dudes shred in a way that sounds painfully difficult, and looks super easy. They have the ability to perform on large stages at festivals, and still make you feel like you are witnessing something special every time. Last night was no different. Barely speaking to the crowd, they ripped through what seemed like an hour-long set of Presley's fuzzy 60s garage-pop to a massive crowd illuminated by the colorful lights and smoke that reflected off of the trees in front of the river. Most songs spilled into one another in natural White Fence form, but I was very stoked to hear songs off of their most recent record, For The Recently Found Innocent, their most fleshed-out and fully realized release.
White Fence
Bands like White Fence are the reason why I love music. They're humble, which makes them cool. Musicians: take note! Humble is cool! I don't really want to hear you speaking on stage because I don't care what you have to say about the weather, and I don't want to scream "wooo!" after you ask me how I am feeling tonight. This would probably explain why seeing Diiv immediately after was kind of a bummer. Diiv are the kind of band who come to festivals like Levitation, play large stages, and say things like "We're from Brooklyn, New York" in between every single song because #BROOKLYN #IS #COOL. Maybe they were using that as a way to excuse the fact that they haven't put out new music in four years? Not sure. But after the fifth time they announced where they were from, it was time to get a drink and leave permanently.
Spiritualized, on the other hand, weed out the real psych-heads from the people who were there for the street cred. It should be noted that there were a lot of old people at this festival. And when I say old people, I mean grey haired, barefoot couples with folding chairs and beers in hand. It was awesome. I stood next to a dude in a wizard outfit wearing a witch hat during the beginning of Spiritualized's set. He had a staff made out of tall cans of beer. It was fitting. Although Spiritualized had technical difficulties throughout their set, it didn't matter. This band was the reason why this festival existed, and was probably one of the most highly anticipated acts for the entire weekend. Not to mention, their backup singers sounded like god-damned angels (who were definitely Instagramming on stage, but we will ignore that for now). Jason Pierce stood quietly on stage, and didn't say anything to the crowd other than a farewell "Thank you." It's okay dude–we're not worthy. The entire set was a weed-smoke filled, 10-song dream. They rightfully ended their set with a Spacemen 3 cover of "Walkin' With Jesus" which was essentially the entire anthem of the festival. While leaving I overheard some couple comparing the show to "a religious experience," so I will leave it at that. It was epic.
Spiritualized

There was a giant wave of millennials coming in to the Reverberation Stage after Spiritualized, in order to see Tame Impala. I decided to skip Tame Impala and catch Soft Moon's set because Soft Moon is fucking amazing no matter how many times you see them. I was able to get up pretty close to the stage for the set and danced so hard that I was drenched in a combination of sweat and humidity. Soft Moon make the kind of music that literally inhibits your body and makes you feel like a dark, gothy, independent witch. Their shows are extremely percussive, and last night's was no different with the inclusion of a metal trashcan that looked like it was pulled from the stage of STOMP! in New York City. They played a lot from their new album, Deeper, which sounds like a dark Cure record that you can't not dance to. Lead singer Luis Vasquez is a goth girl's James Dean. I don't even care about the fact that he had giant holes under the armpits of his sweaty t-shirt; all I could see was the intensity of the sweat jumping from his hair all over the bongo drums he would flail on during songs, while whisper-screeching his way through the new album. SWOON! Soft Moon definitely weeded out the industrial fans from the hippies. Everybody at their set looked like Nine Inch Nails fans with questionable motives, which is probably the best and scariest type of crowd you could ask for.
Soft Moon

All in all, there were a lot of takeaways from the first day of Levitation:
Don't give a shit about fashion: it's muddy and you will get dirty. Suck it up.
Dad bods are real, and they all love Psych-rock.
The people who don't wear shoes to festivals might be doing something right?
Photos by Steven Ruud.
DIIV

Holy Wave

Indian Jewelry

Indian Jewelry
Lightning Bolt
Lightning Bolt
Metz
Mini Mansions
Mini Mansions
Ringo Deathstar
Spiritualized
Sungod
Survive
Tame Impala
Tame Impala
The Sword
White Fence

Kayla Monetta is vibe dancing on Twitter - @kaylamomo