SubUrbia is not a good movie. It's not a bad movie, but you are not going to finish this movie feeling particularly positive about life. It doesn't deal with 90s clichés in a funny way like Reality Bites and PCU, and it's not a coming-of-age movie like Dazed and Confused, because the characters learn nothing, and the only thing you learn is that a movie can make you question whether anything matters at all. It's just fucking depressing.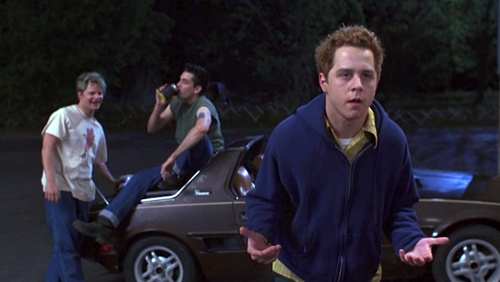 From the opening montage where we're introduced to the unlikeable dickheads that make up the main cast—debilitatingly cynical Jeff (Giovanni Ribisi/Evil Billie Joe Armstrong), mind-numbingly stupid Buff (Steve Zahn), aspiring art student Sooze (Amie Carey), and racist, drunk scumbag Tim (Nicky Katt)—to the final scene where a shootout between Tim and a Pakistani store owner is only thwarted by a major character's overdose, this movie is the opposite of something that comes from a place of light, happiness, or hope. It's the aimless, jealous dipshit 20-year-old in all of us, hanging out outside of a Wawa (or if you're not so lucky, 7-11 or Sheetz or In n' Out or whatever) waiting for something—anything—to happen. The problem with this? I watched this movie when I was THIRTEEN.
The good part about this is that it made for a sick 90s indie rock soundtrack, which, before embarrassing NYU beep-boop music and cabin-in-the-woods white dude folk rock bastardized "indie," ruled. I don't know how much it cost to make this movie, but it made $650,000, so I hope that was enough to pay for four Sonic Youth songs, a Malkmus/Elastica collaboration, and a Superchunk exclusive. If not, then at least we got a great soundtrack out of a movie I refuse to watch ever again.
Sonic Youth – "Sunday"
This song, along with the Kim Gordon-fronted "Bee Bee's Song", a solo effort by Thurston Moore called "Psychic Hearts", and the Stone Roses-sounding instrumental "Tabla In Suburbia", were written specifically for the movie before they realized no one watched it, and they later re-recorded "Sunday" for A Thousand Leaves a couple of years later. From the opening riff, "Sunday" is one of the most contrasting songs in Sonic Youth's entire catalog, with love letter lyrics complimenting the moodiest shit you'll ever hear, perfect for a movie that will put a bad taste in your mouth about life for at least a few hours. When that big, fuzzed out, mini solo kicks in around two-and-a-half minutes, you'll be frantically swabbing an alcohol pad over the back of your ten-year-old-fast-food-and-soft drink-crusted New Miserable Experience CD to bring your mind out of the shitty, sad gutter.
Elastica and Stephen Malkmus – "Unheard Music"
This collaboration between Elastica, who was at one point one of the most critically acclaimed bands in England before being sued for plagiarism by Wire (among others), and Pavement frontman Malkmus, sounds like a cross between Blur and something off of Crooked Rain, Crooked Rain. So, no explanation needed: it fucking rules.
Pennywise – "Peaceful Day"
While not officially part of the soundtrack, Jeff is listening to this in the first scene of the movie so it's good enough for me. "Peaceful Day" is one of the strongest Pennywise tracks and the main character wasting his life away smoking cigarettes and listening to skate punk sets the tone for this entire movie.
Sincola – "Rundown"
I've never heard this entire song by Sincola, a punk band that put out a few records. I can't find the record it was on (Crash Landing In Teen Heaven) anywhere, it wasn't on the official soundtrack, and the only evidence it exists is in a cell phone video with dogshit sound from a reunion the band did in 2011. But the 15-second clip where you hear Caroline Records punk band—early on in the film where Sooze shows up for the first time—is about as abrasive and riot grrl as a Castle Rock film ever got.
Boss Hog – "I'm Not Like Everybody Else"
Boss Hog was like Mr. Bungle's acid trip buddy that only listened to weirdo 60s psychedelic rock and the Ramones. So naturally, this Kinks cover sounds like a three-part shitshow, but that chorus hits harder than the Kinks ever did, especially when it breaks down into organ-based nonsense while Christina Martinez competes with Jon Spencer's guitar to see who can wail louder.
Superchunk – "Does Your Hometown Care?"
Another exclusive to the soundtrack (did they just buy a bunch of 90s indie rock bands with the money they gave them to do this movie?), this is one of the best songs from late 90s/early 2000s Superchunk, and it complements the dejected, loser vibe of this movie incredibly well. When McCaughan delivers "Every second guess / every street cred test / you think you must be passing," he's not just lecturing Ribisi's dickhead character; he's making sure every kid who has no clue how to get out of that shitty suburban convenience store parking lot knows they're fucking up.
Paul Blest is checking out dead bodies in vans on Twitter - @pblest
Related:
We Spoke to the Man Who Soundtracks Wes Anderson's Movies
My Favorite Soundtrack: 'Pulp Fiction'
My Favorite Soundtrack: Romeo + Juliet
My Favorite Soundtrack: Dumb and Dumber
What? You want more Dumb and Dumber? Here's a track-by-track breakdown of the soundtrack, you nerd.
The Score: Mapping the Music and Style of Clueless
The Score: Mapping the Music and Style of Empire Records
The Score: Mapping the Music and Style of That Thing You Do