Congratulations to Future and Ciara! As of early yesterday morning they are the parents of a baby boy, Page Six reports. We are super amped because we LOVE babies! And we LOVE Future and Ciara! And we LOVE their baby! But a few details have yet to emerge about the baby, namely, its name. We gathered up some suggestions, with rationales:
Hendrix: Cute, quirky, could be a last name or a first name, which is the best kind of name. And there's a tie-in to Future's own love of Jimi Hendrix, his Future Hendrix alter ego, and, for the real heads, an Easter egg reference to his original album title for Honest (Future Hendrix). Since that album didn't end up being his baby, his baby can be his baby instead.
Meathead Jr.: The Dungeon Family just got a little bigger, so why not celebrate by naming the baby after Future's original Dungeon Family persona, Meathead? If Meatball Jr. doesn't exactly roll off the tongue, Meatball could also be good.
Sam Goodies: Referencing both Ciara's most famous song and the defunct retail CD emporium, this name would be a great tribute to music, as well as an eternal #tbt for the couple. Plus, doesn't it sound cute? Sam, that's a good name. And then Ciara could totally call him "my little goodie" and pinch his cheek when he was being adorable, and he'd probably resent it but still kind of like it as he got older. This one has a lot of potential.
Whatchutola: Few words roll off the tongue like the catchphrase of Future and Andre's 3000 excellent "Benz Friendz." Sure, it's a weird name, but a) celebrity babies are required to have weird names and b) it could totally pass as some, like, foreign word that also means "friendship and respect."
Nayvadius Jr.: Name him after his father. Simple, elegant, classic.
Lottery!: Let Mike WiLL Name It.
Noah: This is apparently the most popular boy's name in America right now.
William: This is apparently the most popular boy's name in Georgia right now. Also comes with the benefit of being able to play Will-A-Fool's "Willlliam" producer drop at all future birthday parties, family events, etc.
#1974286X: In the dystopian hellscape of the future, there will be no names.
Aaron: Eh, who knows? What's in a name, anyway? Why does anyone have a name? Just go for something boring and be done with it.
UPDATE 1:11 PM ET: Future just tweeted "Baby FUTURE," which is such an obvious choice it's hard to say how we didn't think of it first. Baby Future is the perfect name for Ciara and Future's baby: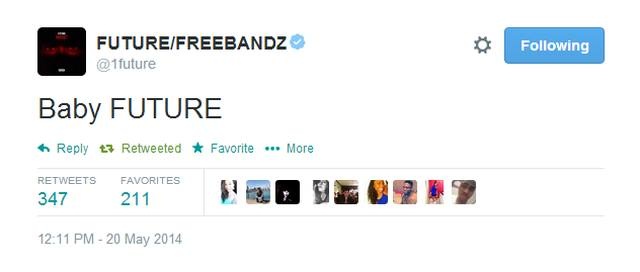 UPDATE 2:13 PM ET: MEET FUTURE ZAHIR WILBURN, per Ciara's Instagram:
Congratulations to the new parents! Also, if you want to celebrate along with us and Future, we're streaming his performance with VICE in Williamsburg tonight at 9 PM ET!
Kyle Kramer loves babies. He's on Twitter - @KyleKramer
--
On the Majesty of Ciara's Pregnancy
On the Good and Bad Gender Politics of Future and Kanye's "I Won"
Future feat. Pusha T, Pharrell, and Casino - "Move That Dope" (Extended Official Video)