The Early November Aren't the Kids You Knew Before
Read an interview with Ace Enders and Joseph Marro, and stream the band's new record 'Imbue' in full.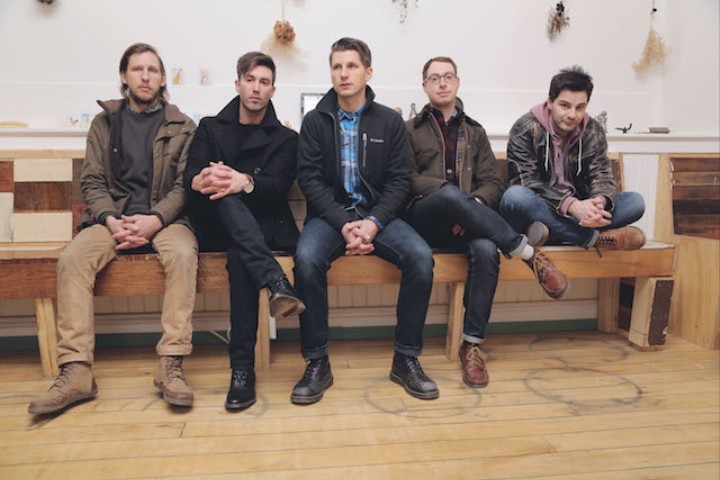 Photo by Danielle Parsons
At the end of The Early November's new album Imbue, the band ties things up with a song titled "Nothing Lasts Forever," a theme which the band's mythology has been cemented on. It plays out like a best-of episode of the band's career, a chorus that is both catchy yet shows Ace Enders' voice in apoplectic yelling, marching guitars that can hypnotize a crowd to existentially jump while drenched in sweat, and the purposeful quiet the band is known for. The song progresses and Enders' lyrics become much more dangerous while the music builds, its guitar section becoming more intense. In their world, at a moment's notice anything can fade away, feelings can become immediately alien as time ticks forward. It's the story of Imbue, the testament of a band who has shaken off the "newness" of being reunited, to going back to making records with the energy they had when they were 20 years old.
This impermanence relates to the Hammonton, NJ band's initial breakup in 2007. Up until that point, The Early November was ceaselessly touring from a young age across the world. "Yeah, you don't know who you are, and then you're basing people on who they're becoming," says Joe Marro, guitarist of the band. "You're learning so much about yourself and the world, especially [because of] how we grew up which was in a very small farm town. I feel like if we were from Manhattan, we would have had more experiences growing up. More savy. We didn't even know how to book hotel rooms." Along with other New Jersey outfit Senses Fail and a roster of other bands, The Early November was a part of Drive-Thru Records, a ubiquitous label that brought up the quickly growing but still burgeoning pop-emo scene of the early 2000s. Depending on which side of the fence you stood, Drive-Thru represented the next evolution of what emotive hardcore would turn into, or the complete bastardization of it.
Stream Imbue in its entirety below, and pre-order the record right here.
In spite of whatever 400-page long discussion would happen in the depths of AbsolutePunk, The Early November managed to carve their niche. In the swarming VFW halls of northern New Jersey, they created their debut LP The Room's Too Cold, an album that managed to synthesize elements of the scene in both sugar-coated angry rock, and softer, vulnerable acoustic sections. From there, they were able to tour with other mainstays like Saves The Day, Say Anything, and Hawthorne Heights. Their live show held its own with their peers. Showing the dual nature of their own music, one song could feature the band slowly crooning a song like "Dinner at the Money Table," and in a flash, Ace and Joe would be on top of the crowd to a heavy hitter like "Something That Proves Results." For a group of young men from a town best known as "The Blueberry Capital Of the World," the thrill and excitement could not be compared to anything else.
For a group of five young musicians in this time, staying content with where they were at wasn't an option, and the pressure to be the biggest they could be towered over them no matter what. Their attitude to keep pushing as hard as possible in everything they did made it obvious there was no option but to try and be as strong and efficient as they could. "I think we went through a period where we thought we had to make something that would be on the radio or help us break out of a glass ceiling that we were sort of in," says Ace Enders, singer of The Early November. "You see your friends growing up and they either drop out of music altogether or become massive bands. I think we set our expectations that we had to be Fall Out Boy."
Seemingly out of nowhere, the general public had caught on to what had been brewing in the basements of suburbs for years, and suddenly "emo" was a cultural identity. A guy like Pete Wentz who was just another bassist in a band on the bill was suddenly on red carpets with Jay Z and celebrating the sale of two million records. Or hearing the music of All-American Rejects in every Hot Topic, Walgreens, Wawa, and 7-Eleven across America. It was a confusing time to be a band, and to figure out what you knew about music. "To see your peers, all of you in your early to mid-20s, and they're one of the biggest bands in the world, you almost step back and go, 'OK, what am I doing wrong? Do I have to do that to be successful? What is anything?' I think it all added up to something though," says Enders.
Compounding the band's status at the time, it felt as though they never took time from being a band to try to be human. "In those pivotal years of a young man's life, we spent that time in a van with one another," says Enders. "So you're learning who you are, but you're also learning who you're going to become and who your friends are going to become in a really weird way." Less than a year after their highly ambitious triple disc concept record The Mother, the Mechanic, and the Path, (which featured two specific albums both cresting the ridge of the same concept but never meeting, and proved to be something beyond the usual "why don't girls like me" cliché of their genre) the band broke up in the spring of 2007. This was a harsh break for many of their fans. The idiosyncratic qualities didn't bring them in the crazy wealth some of their peers had, but it did build them a group of supporters who had grown with the band for that past eight years.
What the band needed to do for themselves and their sanity during that break was grow as much as possible as adults and humans. Many members were able to commit time to their loved ones, and build families even tighter. Enders released a solo album under the name of Ace Enders & a Million Different People, and returned to making records for I Can Make A Mess Like No One's Business, a side project that had been collecting dust for six years. Marro was able to pick up a guitar for power pop band Hellogoodbye, and find work in artist management. It was a time they knew they needed, but possibly could have minimized. "I think what we learned was pretty important and pretty necessary, but I regret having it be a hiatus and us making the deals we made out of it," says Marro. "I think we could have easily said no to a few tours and went away for a year, and then came back and sorted all that out. And we would have been the better for it. But hindsight is 20/20, and we are definitely better for it."
Nonetheless, in September of 2011, the band reunited to play a sold out show in Philadelphia, with all of the emotion and energy like they had never left. "It was super encouraging coming back to the band, and were excited to get out there to do it again," says Marro. "Because The Early November had, and I don't want to call anyone out on this, but we took things for granted a lot. We'd go to places people don't get to see their entire lives and be miserable, or think "I'd rather be home" when Stonehenge is outside. Or you're in LA, and my dad's never been outside of Jersey pretty much. Or Japan, and not even wanting to go. Why wouldn't you want to go to Japan? It's harsh to say that stuff, but looking back on it, what were we doing? Why were we so miserable about these opportunities we were given. So when you're given a second lease on doing it again, you want to take all the opportunities and be grateful for them." This new lease led the band to a position they hadn't fully adopted before, becoming veterans of their scene. In 2012, The Early November toured with the likes of Man Overboard and The Wonder Years, a new generation of bands who took influence from The Early November, like they took from a generation before themselves. Their music had coalesced and worked itself into the conversation of influential bands that had staying power beyond any flash in the pan pop-rock track.
Most of all, their reunion wasn't some take-the-money-and-run scheme, but it signalled a true return to making music. In July 2012, they released their third full-length album, In Currents, a record showing the band unafraid to move back into the spot they had vacated for a brief moment, and needing to come back stronger than ever before. "I think the thing we're doing now isn't taking second fiddle to anything, but we're fitting it into our lives and into what we have to do to lead happy lives, instead of trying to fit a happy life into a band's schedule," says Marro. "When it was every minute of our lives it was hard to maintain anything outside of the band. But now in that five year break, people got married, had kids, got jobs, and they're happy with those things. Nobody is in a worse spot. What's really great is in that break no one fell into a depressing drug habit. So now it's like, how can we have the best of both worlds of having our nice content lives, and a band that means a ton to us?"
Imbue is a record by a band that jumped into a void, and climbed somewhere higher than where they dropped. It's a record that erases the idea of becoming too accessible, instead putting forth the hope to connect with as many people as possible. It shreds, grooves, and serenades to the best of their abilities. Each song shows the ghosts of who they were ten years ago, and how they've aged, developed, and learned. It's an album to scream along to in the driver's seat of your car in the twilight, to cradle your head in the shoulder of someone else, to reconnect to a long lost friend or period in your own life. "Nothing Lasts Forever," but that doesn't mean you shouldn't enjoy what you have at this moment in time.
Catch the band on tour now with Lydia and Restorations.
5.12.15 – Dallas, TX – Trees
5.13.15 – Austin, TX – Mohawk
5.15.15 – Phoenix, AZ – The Crescent Ballroom
5.16.15 – Los Angeles, CA – Troubadour
5.17.15 – San Francisco, CA – Great American Music Hall
5.19.15 – Salt Lake City, UT – Club Sound
5.20.15 – Denver, CO – Marquis Theatre
5.22.15 – Chicao, IL – Bottom Lounge
5.23.15 – Howell, MI – Hartland Performing Arts Center
5.24.15 – Toronto, ONT – The Mod Club
5.26.15 – Cleveland, OH – Grog Shop
5.27.15 – Pittsburgh, PA – Mr. Small's Theatre
5.29.15 – Syracuse, NY – The Lost Horizon
5.30.15 – Buffalo, NY – The Waiting Room
5.31.15 – Cambridge, MA – The Sinclair
6.02.15 – New York, NY – Bowery Ballroom
6.03.15 – Washington, DC – Rock & Roll Hotel
6.04.15 – Philadelphia, PA – Union Transfer
John Hill is a big dumb sadboy, and you can follow him on Twitter at @JohnxHill