Staff Picks and Good Shit for the Week of June 5
Here's what the Noisey staff was listening to this week.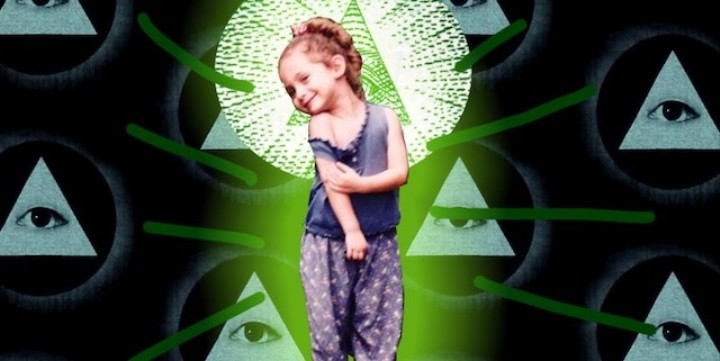 Welcome to the Noisey staff picks, where we tell you about all the garbage we've been listening to for the week. This is the last week with our dearly beloved Kayla Monetta, social producer, #tbt Jedi, inventor of the basic bitch. She will soon move on to her new job as President of The War on Drugs' Fan Club. If you've ever loved/hated a tweet from Noisey's Twitter account, she's the one who wrote it so you can thank/blame her. We will miss Kayla and her batshit theories about the Illuminati. Fare thee well, sweet princess. May the Real President be merciful to you in your future endeavors.
Mazzy Star - "Blue Flower"
I first started working on Noisey over a year ago, after writing a stupid article about Coachella which ultimately lead to running Noisey's social media accounts, and writing about garage-rock whenever I wanted. Since joining this crazy group of music nerds, I have learned a lot. I've been exposed to new genres of music that I would have never taken the time to listen to, otherwise. Eric taught me that Kanye West is capable of being examined from 100 different angles. Kyle taught me that some dudes really do love St. Vincent, and that's okay. Dan taught me that it will never go out of style to love bands like Blink-182 and wear band T-shirts every day. KTB taught me that it's cool to embrace being a lady and liking girly, 80s synth-pop. Slava taught me that Canada and New York share the same time zone (who knew?). Kim Kelly taught me that metal is a really complicated genre, but definitely one that can go hand in hand with country. Drew (RIP) taught me that it's possible to thrash your head and use rap hands while simultaneously writing an article. Fred probably exposed me to a lot of my current favorite bands, and taught me that he probably knows every single dude who wears a denim jacket and plays a guitar in NYC.
Working here at Noisey was probably one of the best things that has ever happened to me, and this was mostly because of the people that make Noisey what it is. There truly is no other group of people with insanely different musical tastes who can all bond over a bunch of steak at Peter Lugers, share hotel rooms in different states for music festivals, sit in a conference room for hours stereotyping the embarrassing people who actually enjoy music (what losers!), or listen to Steely Dan and/or Fetty Wap late in the office while drinking Stella Artois and eating a half-cooked plate of Totinos pizza rolls. It's been amazing working in this insane place and I will cherish the friends and memories I have made during my time here forever. Now that the sad part is over, listen to my favorite song of all time: Blue Flower by Mazzy Star.
Kayla Monetta, (Former) Social Producer
Kayla on Noisey | Kayla on Twitter

---
The Clean - "Anything Could Happen"
Sometimes there are too many good records to listen to, sometimes I hate everything, and every once in a while it's just right. But when those leaning piles start to get to me, I just remember the first time I heard certain gems that remind me why I do this in the first place. Like the first time I heard The Clean.
Fred Pessaro, Editor in Chief
Fred on Noisey | You on Twitter
---
Young Thug - "Check"
There has been a lot of good rap music released over the past few weeks, but I find myself coming back to Barter 6 a lot. Drake's album had bangers on it that get stuck in your head on a loop, Kendrick's offering was so dense you could chew on it for hours, and Rocky and Chance's tapes still have that new album smell. But Thugger's album feels the most fun. I can't count how many times I absent-mindedly hum the chorus to "Check" without even noticing I'm doing it. The whole album is full of earworms like this, and it's fantastic. Unless I get tired of this by the end of summer, it's hard to see a rap release eclipsing Barter 6.
Slava Pastuk, Canadian Editor
Slava on Noisey | Slava on Twitter

---
Donnie Trumpet and the Social Experiment feat. King Louie and Quavo - "Familiar"
A week ago this morning, I was working on wrapping my head around the fact that the new Donnie Trumpet/Social Experiment/OK-let's-just-admit-it-Chance-the-Rapper album Surf was out (for free on iTunes no less!). Then I spent the entire weekend listening to it, especially this song, which is probably the most fun moment on the project (for more on the project, check out this sweet Q&A with the band on Noisey dot com).There are many highlights—Chance invoking his past lives to throw out a backhanded, Aesop's Fables-style pickup line, Quavo singing at all, and especially the part where the beat drops out and Quavo yells out "Quavo!" right before his verse (I hope that one day I can do anything that makes anyone half as excited as that moment makes me)—but far and away the best part of this song is King Louie's verse, which makes me laugh every time I hear it. It's so petty! He just shits on Paris for half of the verse for basically no reason! "If this bitch from Paris then Paris is terrible" is not only the funniest extrapolation about an entire city worth of people I've heard in a while, it's the funniest rap lyric of the year. Shouts out to Louie for being the most charming of assholes. If that dude's from Chicago then Chicago is awesome ;)
Kyle Kramer, Editor
Kyle on Noisey | Kyle on Twitter
---
My Panda Shall Fly - "An Angel" ft. Henry Wu
Suren Seneviratne a.k.a. London-based music maker My Panda Shall Fly, created one of my favorite videos of all time, for "Opening Embrace," so I clicked on his latest effort excitedly, this morning. I'm pretty hungover because I was busy getting drunk with Kayla and eating too much fried chicken, followed by a session of being pushed around by semi-balding men at the Refused show last night, and this song seemed like the perfect tonic to all that. Is that rainwater I hear? How do you even classify this? A kind of ambient glitch-tronica, I think. I also definitely think that's rain I'm hearing. And that I need a cup of tea. Meanwhile the video—courtesy of director Rachel—is screensaver '98 chic. It's the kind of shit you can get totally hypnotized by, especially when the shards of whatever start flying at you around the halfway mark. So Lawnmower Man.

Suren had this to say about the whole thing: "I've known Rachel for a while now and have always been struck by her insane color palettes and ultra-modern aesthetic. The soft organic objects that float around the video were actually stolen from something we'd attempted months back and never came to fruition—I loved them so much I insisted on reusing them! I'm a sucker for video-game-like 3D scenery that also harks back to early 80s/90s computer animation, and this video is exactly that."
There you have it. I'm gonna have a listen to his debut LP, Too, (which includes collabos with Deptford Goth and Rudi Zygadlo), right now while I have a lie down.
Kim Taylor Bennett, Style Editor
Kim on Noisey | Kim on Twitter

---
Sharon Van Etten - "Your Love Is Killing Me"
RIP Kayla.
Eric Sundermann, Managing Editor
Eric on Noisey | Eric on Twitter
---
Lou Reed - "This Magic Moment"
If you haven't seen Lost Highway, you totally should. It's my favorite and also perhaps the most under-rated of David Lynch's film. There's this one scene in particular where a young Patricia Arquette pulls up to the mechanic's shop in a convertible to a sultry cover of "This Magic Moment" by Lou Reed. Swoon! The way that Lou's aching croon plays into the love at first sight happening in this scene is so devastatingly perfect that I might just melt into a puddle of my own tears. I mean, it's definitely happened before.
Bryn Lovitt, Contributing Editor
Bryn on Noisey | Bryn on Twitter

---
Titus Andronicus - "Fatal Flaw"
Titus Andronicus is coming for hearts, souls, guts, glory, and whatever else you have to give later this summer with The Most Lamentable Tragedy. For the last twelve or so hours I've been stuck specifically on "Fatal Flaw," which sounds like Stiv Bators from the Dead Boys and Phil Lynott from Thin Lizzy wandering into an E. Street Band session, just overstuffed and wild-eyed and crazy. Last night I joked privately that it sounded like "millennial London Calling," which is admittedly too much too soon. I get a little excited when a record comes along that pushes back the corny annual "Rock is dead" funeral march.
Craig Jenkins, Contributing Editor
Craig on Noisey | Craig on Twitter

---
Abyssion - "Tyhjyys Täyttää Näkökenttäni"
I've been lucky enough to have been sent a metric fuckton of cool new music this week (Deiphago! Pissgrave! Dead to a Dying World!), but Abyssion's upcoming album for Secret Yrees (Beastmilk/Grave Pleasures mastermind Kvorst's Svart imprint) is the one I'm most captivated by; I listened to it five times in a row the first day I got it, and have got it on again now. Luonnon harmonia ja vihreä liekki sees the Finnish dark psychedelic cult align with the likes of Oranssi Pazuzu and Dark Buddha Rising in the way they incorporate black metal's majesty and intensity with drugged-out punk, dirty rock'n'roll, and looming psychedelia. It's the best thing I've heard all year outside of False or Cloud Rat.
We're going to be posting some new music from the record very soon, but for now, check out a video form the band's first ever live show. Even here, they sound incredible.
Kim Kelly, Contributing Editor
Kim on Noisey I Kim on Twitter

---
Boyz II Men – "It's So Hard to Say Goodbye to Yesterday"
RIP Kayla. I will deeply miss the comfort of you being two feet next to me for 100 hours a week.
Dan Ozzi, Editor
Dan on Noisey | Dan on Twitter

---
The Early November – "Something That Produces Results"
This week I had a chance to see The Early November at Bowery Ballroom. Their set was really really fun, and it ruled to see a bunch of people of all ages get really down with their music. However, midway through the set (during "Narrow Mouth" I think) some dude had his shoe stepped on in the pit, and tried to start shit with the guy that stepped on his foot. These were two grown adults at an Early November show trying to out macho each other, getting in each others faces, yelling and being weird as hell. All the while this was going on, the band just played a bunch of soft and tender songs from their first record. I guess these dudes felt the need to overcompensate for being at the show, or something. Band still ruled either way.
Stories