As we all know, the kids' coloring book game has been stale for years. Not since the golden age of coloring in the early 90s has there been a book to get truly excited over; a book that tells stories, combining fresh outlines with classic activities; a book with soul that reflects modern society without shying away from its tough subjects. Parents, your city-born children have colored enough fucking farmyard animals in their time to fill Noah's Ark a hundred times over. They resent farms and they resent you for making them color them in. They're going to learn about sex and rap music one way or another, so you might as well leave them to join the dots.
Thankfully, one man that understands this is UGK legend Bun B, who's teamed up with music critic and illustrator, Shea Serrano, to create Rap Coloring Book. Well, it's more like Rap Coloring Tumblr for now, but get with the times granddad – nobody buys physical coloring books anymore. No, I'm not entirely sure what Bun B's role is in all this (how exactly do you curate a coloring book?), but he's a busy man, and maybe you should shut up and be grateful that he's made the time in between making guest appearances on every rap record of the last five years.
Each outline or activity comes with a high quality PDF and a relevant YouTube link to soundtrack your work – simply print and color. But first, I couldn't resist trying a few for myself. Y'know, for review purposes.
Tyler the Creator
Oh look, it's everyone's favorite horrorcore scamp Tyler, the Creator. Coloring-in shouldn't be too distant a memory for most Odd Future fans, but I wouldn't have thought they'd be the type to play by the rules and keep within the lines. Notice how I've opted for a tidy coloring job here using pencils – check out that shading! Take THAT, Odd Future fans.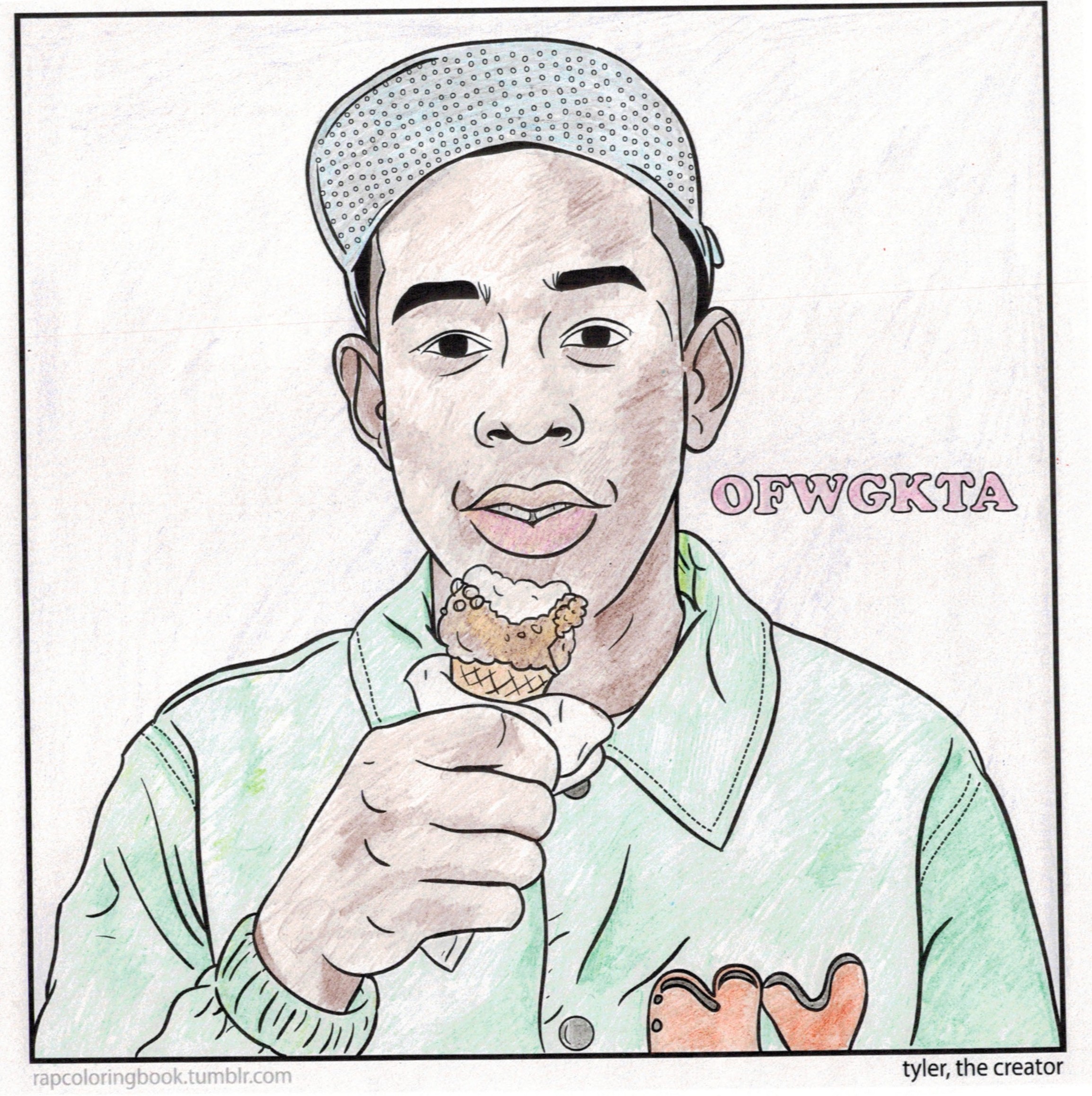 2 Pac
I've always been a #TeamBiggie guy myself, but as there's no PDF for him yet, I've had to make do with Pac. Unfortunately, my petty attempts at emasculating him via pink crayons have gone awry and he's ended up looking more baller than ever. Dude's looking like Cam'Ron circa 2004; this couldn't have gone worse.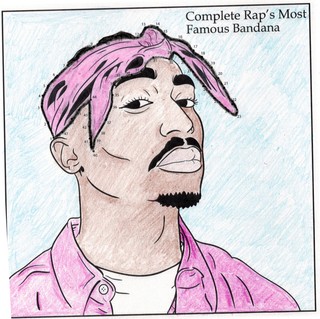 Nicki Minaj
Nicki Minaj there, sporting a blazer that seems designed more for the Color By Numbers format than anything else. You'll hear no complaints from me – it's a great format – but an error between two different shades of blue has cost me here. Big time. Careful planning is everything, kids.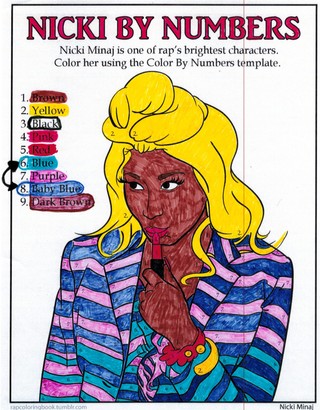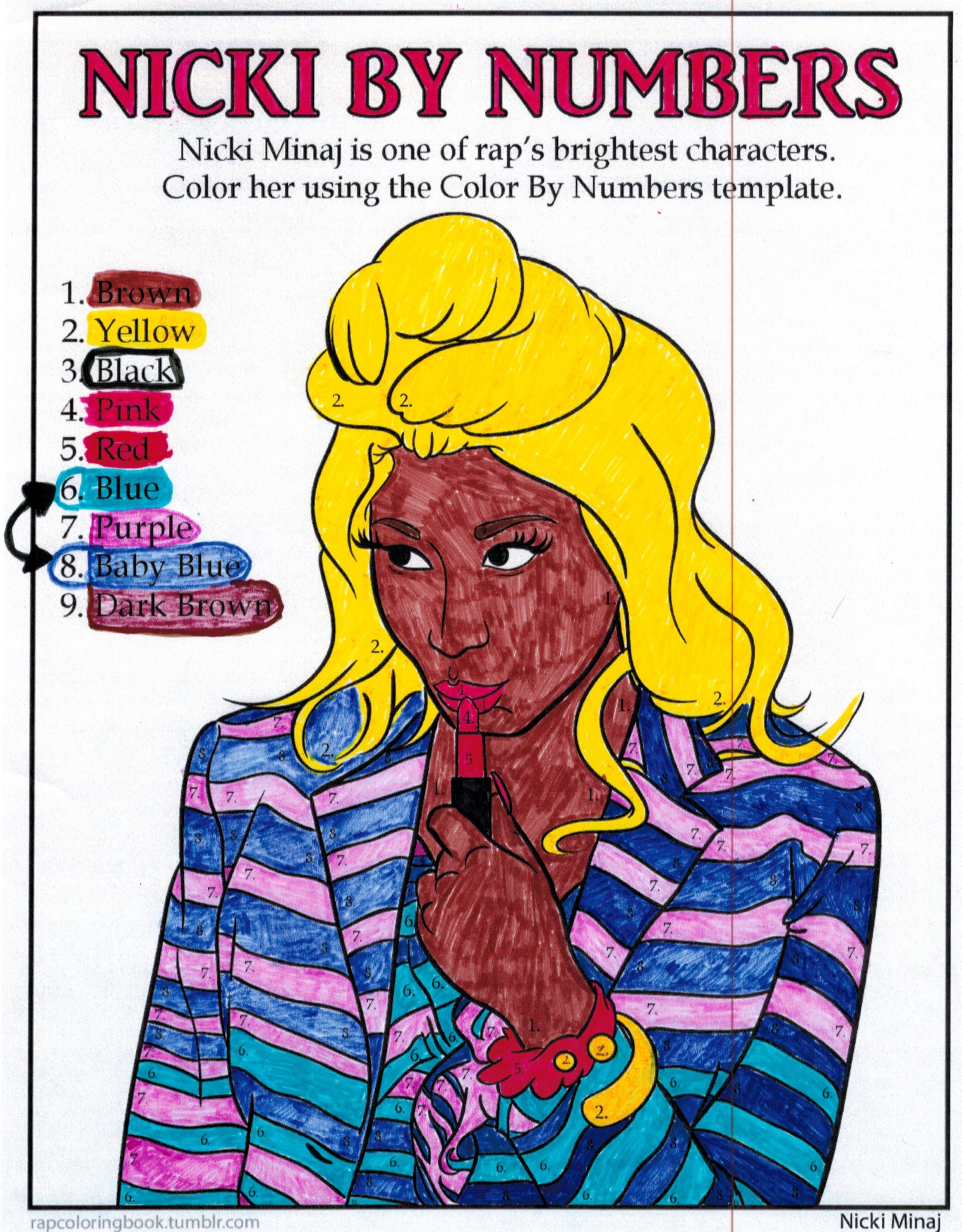 French Montana
Is this child friendly? I'm gonna go right ahead and trust you on this one, Bun. I tried to soften French here using some delicate watercolors, but got so excited painting up the money that I couldn't't resist making it rain dollars. This is exactly the sort of economics lesson our children need in these troubled times.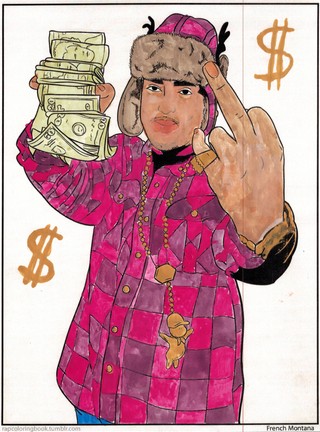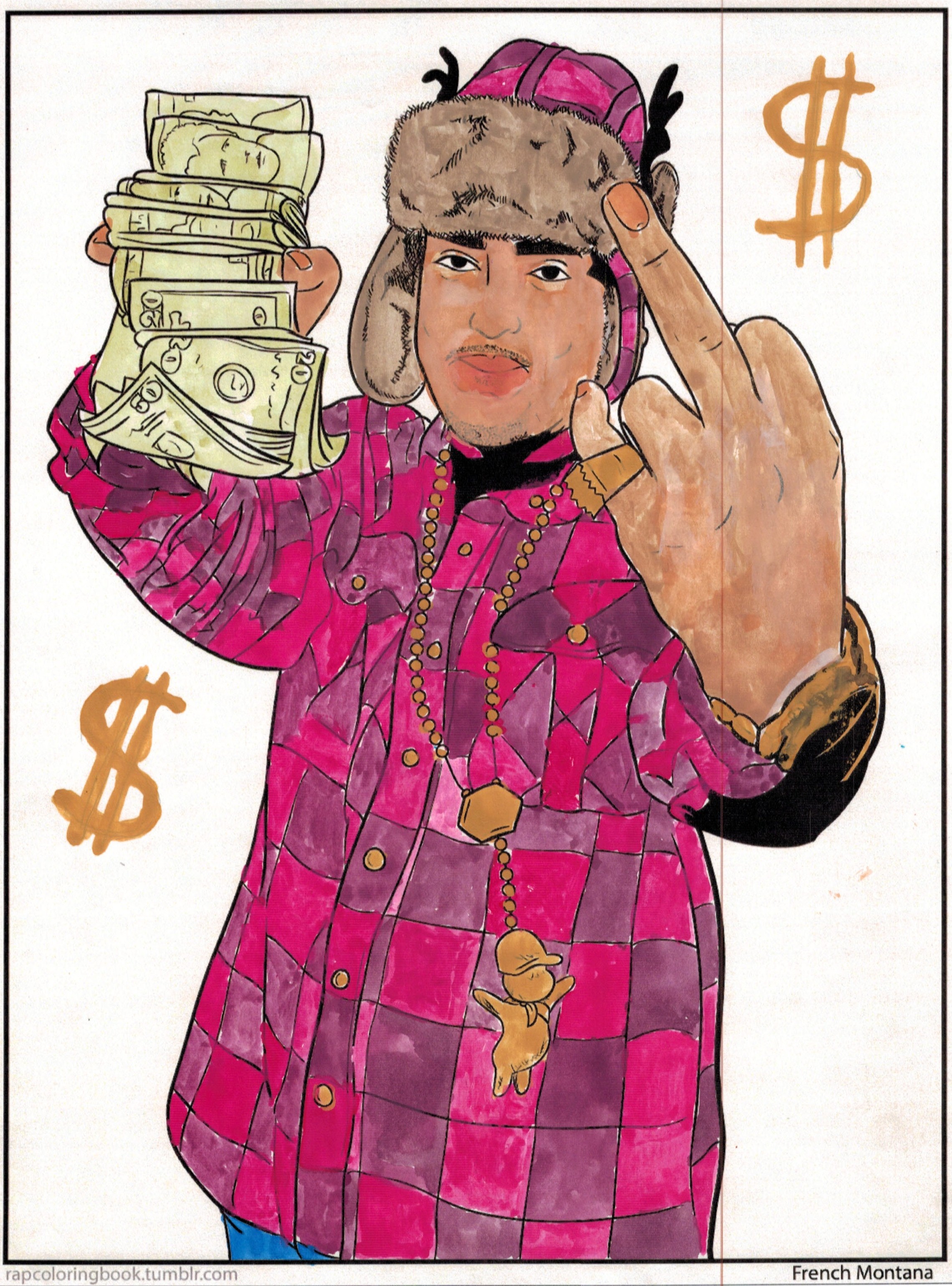 Danny Brown
Here's where those years of coloring experience come into play. Noticing our bargain felt tips weren't going to last the distance, I switched to a sparser coloring technique that while isn't wholly satisfactory, isn't wholly unsatisfactory either. Again, song choice "Monopoly" might not be a traditional nursery rhyme, but kids need to know about them freak hoes – "stank pussy smelling like Cool Ranch Doritos".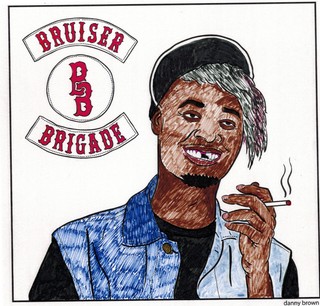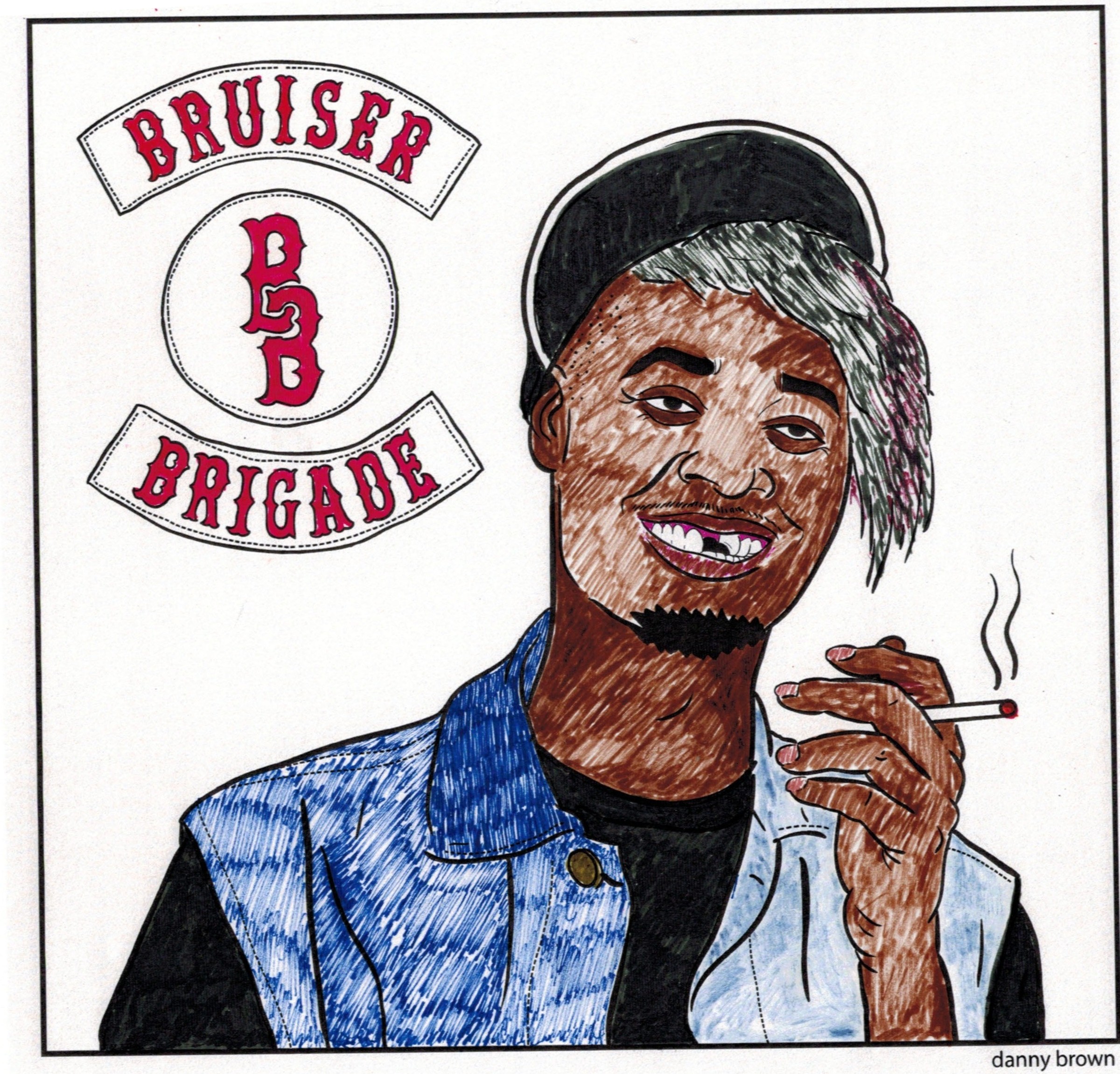 Kendrick Lamar
I know what you're thinking; "I loved Good Kid, M.A.A.D City, but why the hell wasn't this the album cover." Well, it seems Mr Voice Of A Generation was so busy penning classics that he decided to toss off some half-assed Instagram snap as the record sleeve. Interscope, when you get around to the inevitable 10 year anniversary re-issue; I've got you, OK?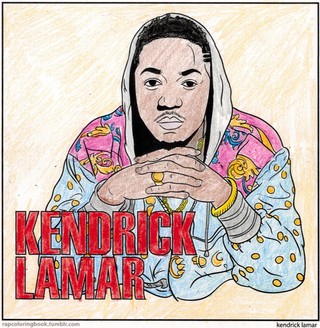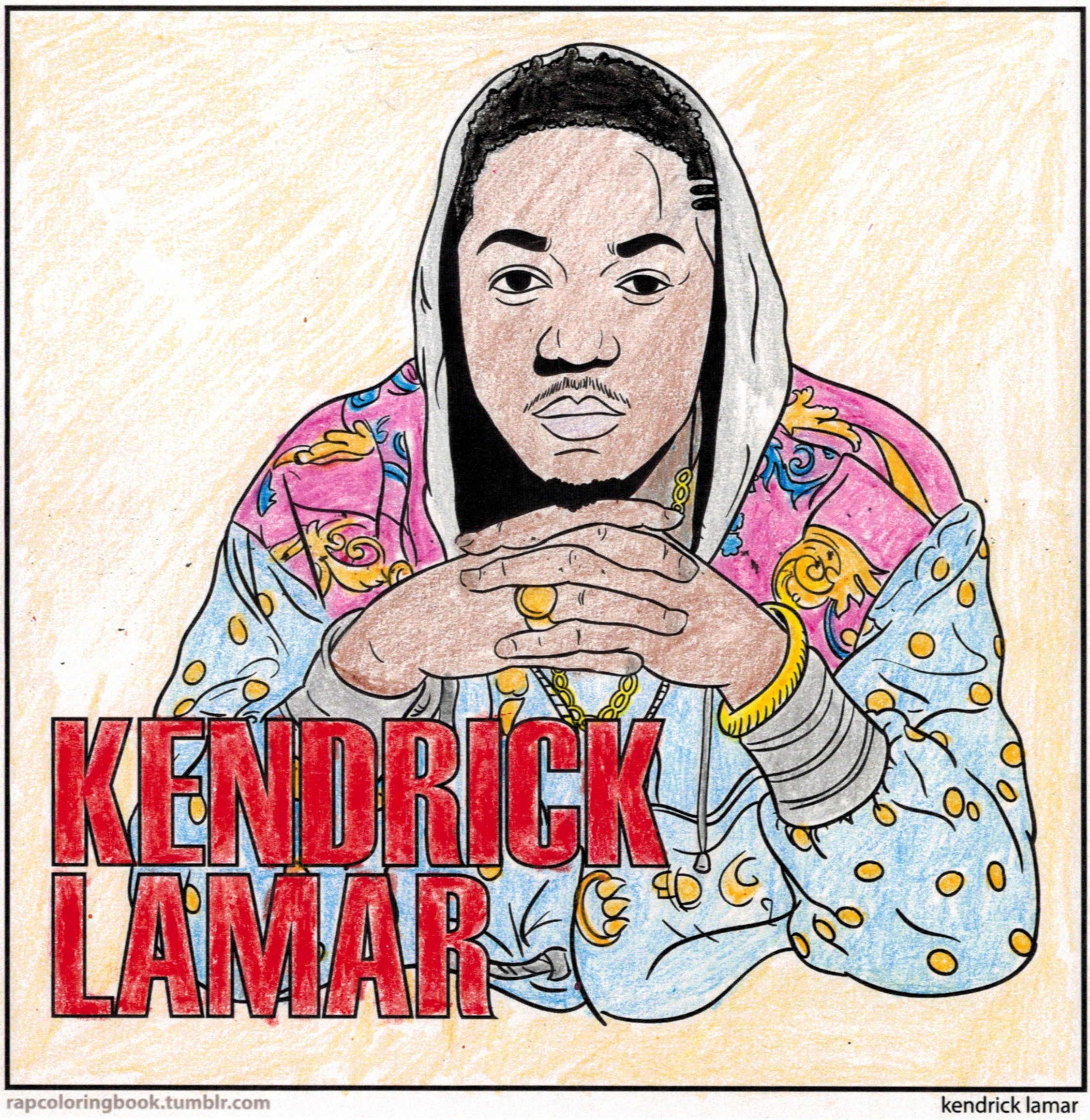 Mac Miller
Mac Miller? Really? Seriously, this coloring steez has been a hoot, so surely it's a bit early to be scraping the barrel? If you're going to pick a Mac, always (always!) let that Mac be Mac Dre. I couldn't even bring myself to draw this clown, but fortunately I was one red crayon away from Cash Money signee Fred Durst. It still hurts me to say that shit, Birdman.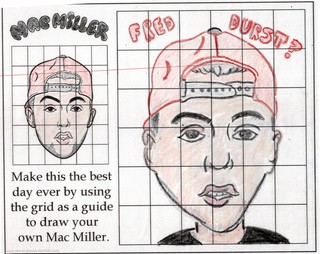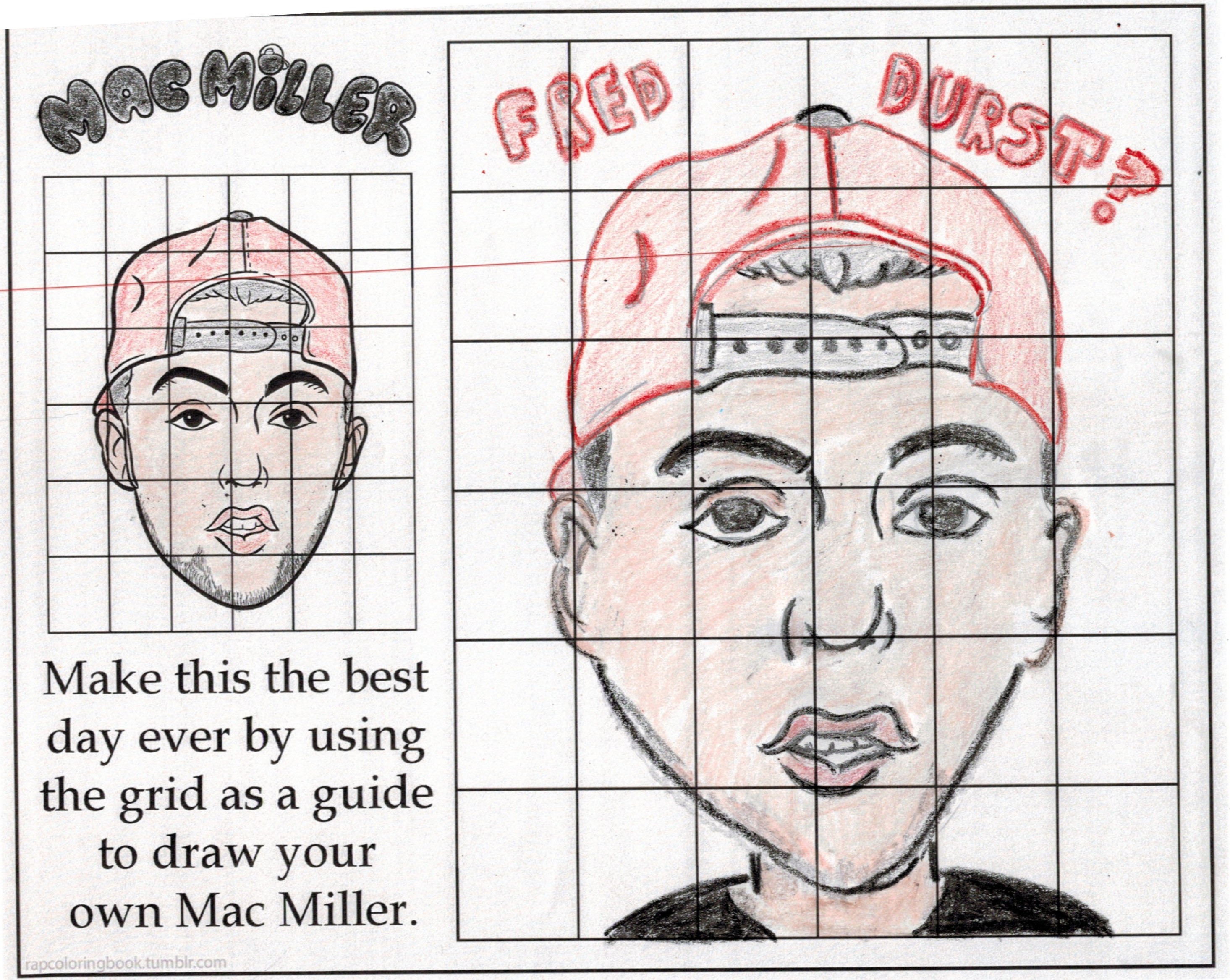 Follow Kyle on Twitter @KyleEllison