Photos courtesy of Hurts
There's no denying Brit synth duo Hurts has swag when it comes to style. They like looking good. The duo of Theo Hutchcraft and Adam Anderson look to their grandparents' era for inspiration, pulling a classic aesthetic together from the fasion of Northern England in the 40s and 50s, when style had a sense of class, despite tough conditions. For Hurts, music and style are completely fluid: without one, the other couldn't exist. They describe their look as "monotone" and "controlled," however this is offset by music that is full of color and vibrancy. The group just released a new record, Surrender, earlier this month, featuring cinematic, heartbreaking songs with vocals reminiscent of Killers frontman Brandon Flowers. On the heels of the Surrender release, Hurts spoke to us about needing a solid winter boot, the flattery of a waistcoat and how they at one point needed a classic white T-shirt on their rider.
Continued below
Solid winter boot

"Boots are one of the cornerstones of my winter attire. We always seem to make music in the depths of winter in remote locations, so a waterproof leather boot is an essential. I have about six pairs but my favorite are by Rick Owens. I liked these so much I wore them in the summer too. It was scalding hot but nobody fucked with me."

Classic evening coat

"Another cornerstone: I prefer long single breasted coats. They've always fit my vibe. Theo pulls off a suit beautifully but a longer cut for me just works better. I rarely wear a suit. I love the versatility of this Dries Von Noten coat in particular. It has never let me down. It has a black silk lapel which folds two ways, depending on the occasion. I've worn it on dates, in videos, on stage: basically anywhere and everywhere."

Waistcoat

"I have a huge collection of these. I used to wear them when I was unemployed to gain a bit of dignity, and they fast became a big part of my look. They complete me. I love the functionality, and they tuck you in, enhance your frame and are naturally elegant. People also think you have a job of importance, so they treat you extra well, which is always a bonus. I feel very British when I wear a waistcoat."

Smart casual wear

"Smart casual is very easy to get wrong. I try to keep the cuts of my more formal clothes and apply it to more casual items like henley shirts and linen trousers. I always make sure my clothes fit right. I tend to layer slightly conflicting materials when dressing down. You can't go wrong with a classic well fitted white T-shirt either. We used to put them on our rider. I've got a huge stack of them."

Vest

"The vest is also really versatile. I wear them in summer onstage under a waistcoat and it's quite liberating without losing the smartness. I'll sometimes wear a vest under some houndstooth braces that I love. And, of course under a formal shirt, which is very British. I once got scolded by an Italian for doing that though, so I proceed with caution these days."
Grab the new Hurts album Surrender here and catch them on tour in Europe starting February. Dates below.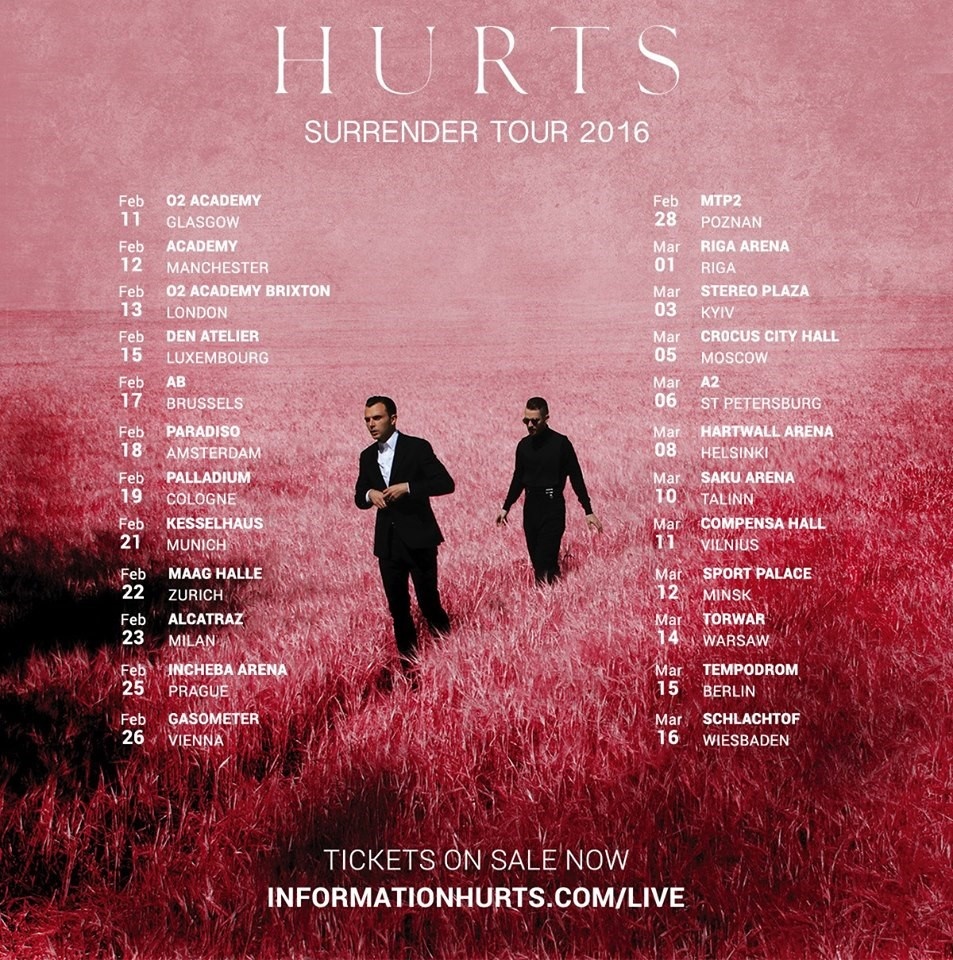 Follow Ilana on Twitter.