I never thought the day would come when I'd hear Angel Haze rap about Rag + Bone, but the 22-year-old made it happen in August, when she dropped single "Echelon (It's My Way)" off her forthcoming debut album, Dirty Gold. Now the designer-focused track has an accompanying set of visuals.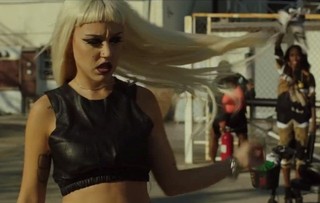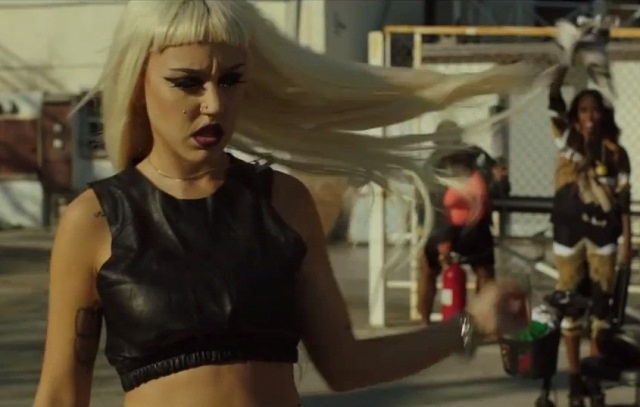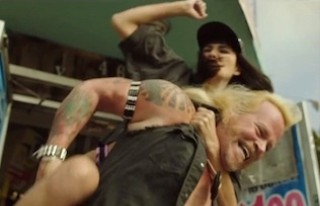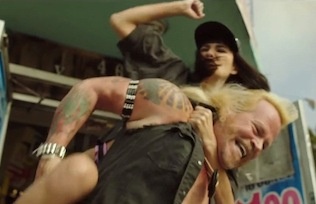 It's a pretty neck-breaking about-face for an artist who's mostly tackled past trauma, abuse and complicated emotions since coming onto the scene with her 2012 Reservation mixtape, but I'll take it. I'll take it when she serves up a video with guest stars like fellow rapper Brooke Candy (now blonde!) and Dog the Bounty Hunter (still blonde! Also, what?). My eyes are feasting, and as disgusting as that sounds, I'm okay with it.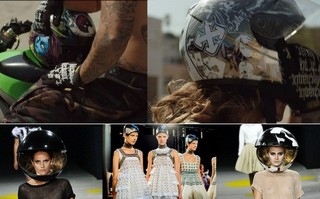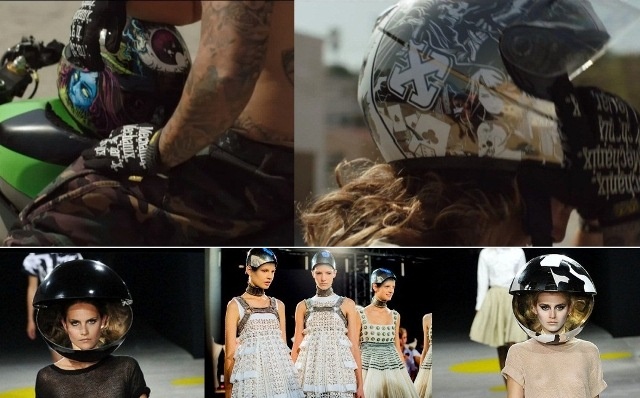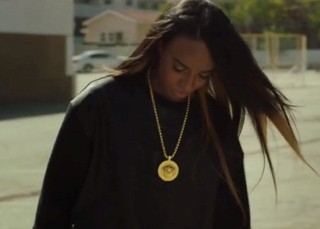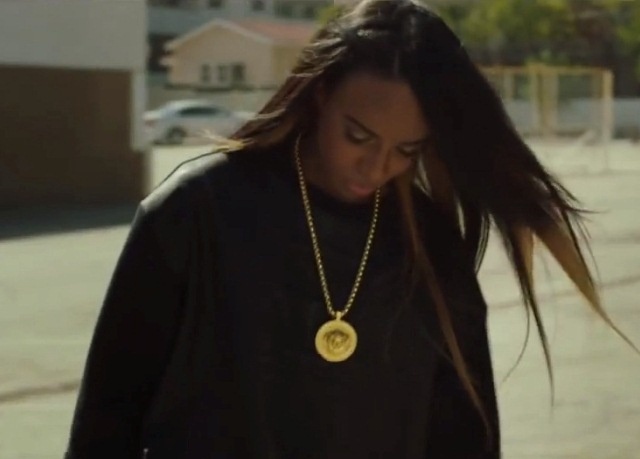 The video kicks off with a series of tight shots of two ruddy-skinned guys, sporting tats and donning patterned helmets. First off, shout out to Angel's "safety first" message for motorbike lovers. But as well as being functional and pretty damn important, helmets have also already undergone the fashion treatment: see Giles Deacon's spring/summer 2009 show at London Fashion Week and the Alexander McQueen gold helmets at London Fashion Week last month. As will be the case for most of the video, Angel's all about the intersection of street and high fashion.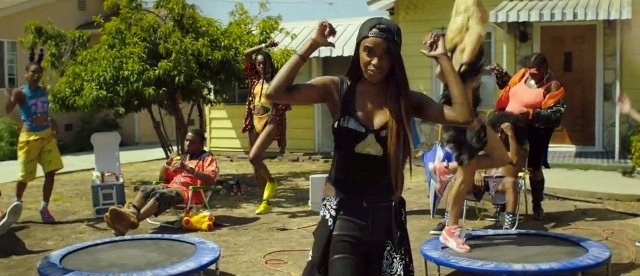 And here she is! Sporting a medallion and a black (faux?) leather-paneled sweatshirt, her long hair flowing in a gradient from deep brown to a honey blonde. Slick. The contrast of super-girly hair and masculine clothes has been a staple in her style since her video for "Werkin' Girls" came out in October 2012.


Bound to garner yet more comparisons to Aaliyah, Angel's next look (also all-black) incorporates a backwards cap, hoodie tied round the waist, and that little-top-with-baggy-pants thing that Aaliyah introduced and 90s British All Saints later perfected. I remember losing argument after argument with my dad that a crop top with huge combat pants was actually tasteful and balanced, when I'd be shopping for middle school party outfits. He just didn't get it.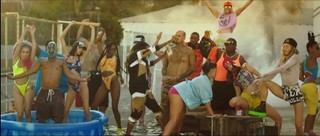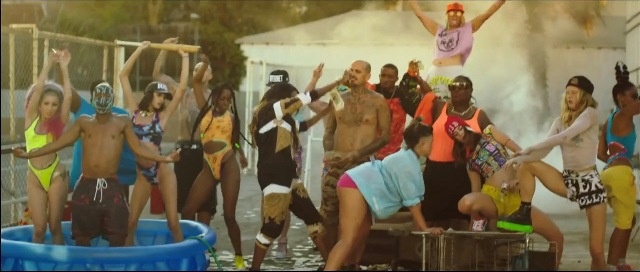 At this point in the video, we also catch our first glimpse of Angel's front lawn party crew, composed of models, guys getting their hair done or being twerked up on, and a couple of larger ladies doing said hair.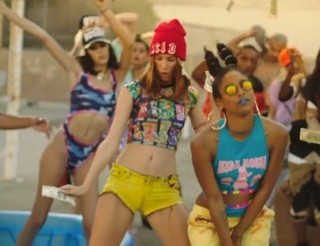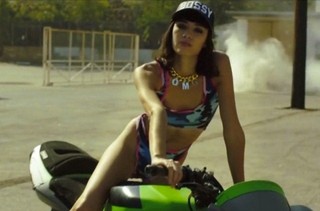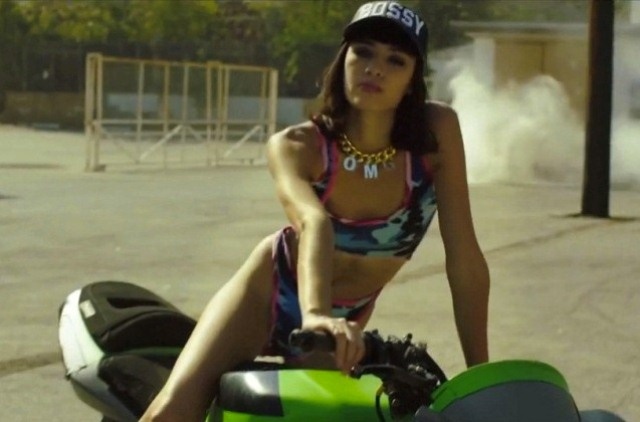 I guess a party ain't a party if there aren't entry-level trampolines and neon outfits galore. Director duo SKINNY, comprised of David Hache and Marc-Edouard Leon, called on stylists Palma Wright, of fashion brand Mamadoux, and Julia Brenard to bring this cacophony of no-bottoms outfits to life. Seriously, there are a whole lot of leotards/bathing suits going on.


Margaux Brooke, a model signed to Wilhelmina and LA Models, rocks a camo cut-out one-piece with a snapback that yells "BOSSY," while she grinds on a guy who looks like he's seen some stuff.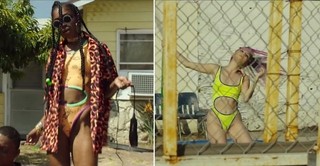 On the other side of the yard, another cut-out suit gets some screen time. Remember that girl from Jimmy Kimmel's New York Fashion Week Lie Witness News video? The one whose friend, when confronted with photoshopped pics of guys wearing watermelons as headpieces on the runway, countered with "It's fashion, look it up"? She's here too (on the left). And, to be fair, she looks amazing. In fact, as with most looks in the video, hers says, "There's not only a cut-off age for wearing daring and revealing clothes, but probably a BMI limit too."
Angel's not going for anything deeply subversive, with people of all shapes and sizes squeezing into these skintight ensembles. She's employing older, rough-looking men as accessories to colorful outfits worn by models and total babes. When she raps "Fashion Week/I'm out here slayin'/Dressed in, like, all the latest" and namedrops designers Helmut Lang and Phillip Lim, it feels more about a celebration of the space where her music connects with the fashion world. She doesn't necessarily have to make a political statement about the industry itself.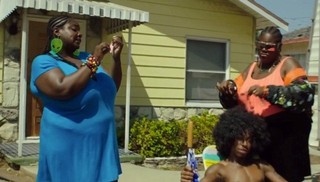 The best parts of this video come down to the details. It gives me life to see this woman casually filing her nails, while rocking giant alien head earrings in an otherwise average outfit.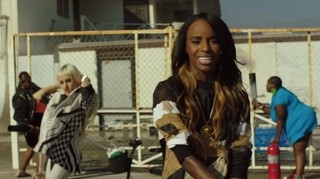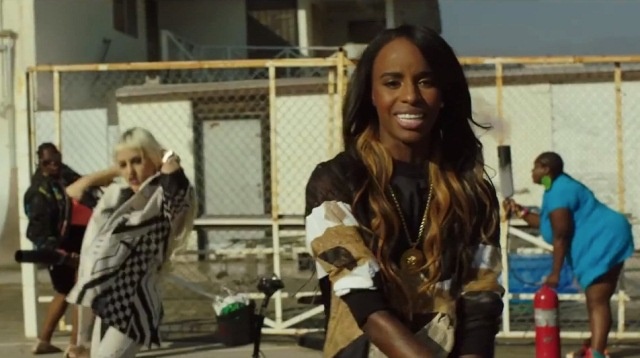 Or to pick up on the different kinds of round-rimmed sunglasses going on. Lie Witness News girl rocks a monochrome pair, not unlike the Bel Air ones Wildfox released a couple of years ago. Then there are the psychedelic pairs worn by these two ladies, both of which remind me of mood rings in the mid-90s. I'd only ever wear my hologram sunglasses with my mood ring, and I still don't know why.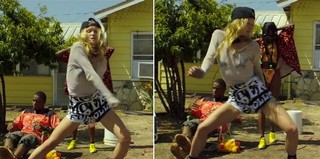 Brooke Candy's black-and-white ensemble pulls together different textures, making geometry less of a math class chore and more of a treat for the eyes. Plus, a leather crop top. Need I say more?


Finally, this Hanne Gaby Odiele-lookalike truly slays, booty-dancing by herself like it's nothing. Are you guys seeing this? Her patterned shorts, sheer shirt and backwards cap make me wish summer wasn't just about to bow out. I'll just replay and pretend it's not.
If anyone wants to host a last-minute parking lot party like this in Brooklyn, hit Tshepo up on Twitter - @NeuThings.
Style Stage is an ongoing partnership between Noisey & Garnier Fructis celebrating music, hair, and style.