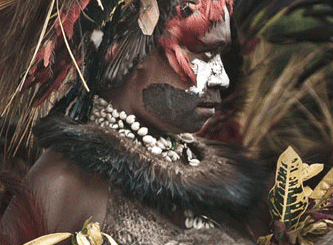 Well I've got something to say. I ate my baby today. Because I live in Papua New Guinea.

A Komiupa Mama group performs a traditional sing-sing ceremony (basically a song-and-dance celebration) for onlookers and tourists.  

Last year I took an extended photography trip "away from civilization." After months of research and planning, I decided on Papua New Guinea. Given the island's weird medley of modern and primitive traditions, cultures, and scenery, I couldn't think of a better place to escape the tedium of everyday life.

Before visiting, most information I had read about the country came from guidebooks, census records, and fact sheets. It mostly covered stuff I already knew: Humans have been there as long as just about anywhere on earth (approximately 60,000 years); it's one of the few places left that has yet to be fully indoctrinated by the Western world; throughout history, more than 800 languages have been spoken on the island; and there are still tales of cannibals living deep in the jungle who will boil you alive. While I didn't venture into these overgrown and perilous areas (which are only accessible via commissioned planes), I did hear about an incident in which a father ate the face of his newborn daughter in front of a crowd of onlookers because God told him to "eat the baby" before the baby ate him.

One of my curiosities about Papua New Guinea was how the ongoing urbanization of the country was affecting its tribal culture. From what I could tell, most of the changes involved the uptick of raskols (criminals) around the sprawling city areas.

Besides petty crime, those who make extended visits to the country face other difficulties. First of all, there's the unofficial 6 PM curfew, which cut my work day in half. Then there's the lack of public transportation, unfamiliarity with the concept of organization, bribes required to obtain basic necessities, intense humidity, constant clouds of mosquitoes, and high cost of living.

After eight months, some of which were spent working for the National, a local newspaper, I realized that my "Are you fucking serious?" phase was actually the nation's perpetual state of being. The country's tourism slogan is "The land of the unexpected." I have no shame in wholeheartedly backing this corny motto, and I present the following photographs as proof of my otherworldly adventures in and around Bougainville Island, East New Britain Island, Goroka, Madang, Morobe, Port Moresby, and the Sepik River.


Peter Siwa and his son Weslie showing off a giant fucking Australian machine gun and army helmet they found in their converted WWII bunker home on Paga Hill in Port Moresby. Six of these structures sit on the hill, and each has at least one family cozied up inside. Throughout the ages, Papua New Guinea has been a colonial possession, most recently of Australia, who controlled the country until 1975, though it remains a Commonwealth realm of the United Kingdom.


This woman lives in a wrecked ship in the Rabaul Harbor off East New Britain Island, along with three other families. She explained her ingenious method of rat catching, in which a dead rat is used as bait to catch other rats."


Sili Muli men from the Enga Province. The wig hats are made of their own hair. They also enjoy Coca-Cola products very much.


Kids killing time with a sharp knife and snotty noses before breakfast in their home near Yambon village.


Cynthia received traditional tattoos on her face in Bougainville when she was a young girl, and the Mandarin characters for "fuck off" on her chest last year with a homemade tattoo gun in Port Moresby.


A lookout point over Arawa used by the Bougainville Revolutionary Army, which fought for independence from Papua New Guinea in the 80s and 90s.


A press conference in Port Moresby announcing the creation of the new Hela Wigmen rugby team. Hopefully the guys flanking the table were paid reasonable appearance fees.


Just an ordinary Sunday afternoon at the Sports Inn in Port Moresby. The guy laid out on the right is drunk, not dead.


A mob surrounds a wrecked vehicle across the street from a car dealership on the main street of Waigani in Port Moresby.


The Asaro Mudmen tribe have appeared in advertisements for Toyota, Pepsi, Benetton, Tribú Benetto perfume, and other brands. Toyota arranges for the tribe to be transported to sing-sings around the country in style, hence the logo on the helmet. The success of this entrepreneurial tribe has lead other Papua New Guineans to imitate their dress and perform sing-sings for tourists. Ruipo Okoro, an original Mudman, has argued that imitators should be prevented from cashing in on the Asaros' success.


An islander named Chris wearing his Folandic sing-sing dress in his kitchen/living room in Hote Village.


A recently initiated Iatmul tribesman in Palambei Village's haus tambaran (spirit house). His knobby scars are supposed to mimic crocodile skin, and scarified men charge foreigners around ten kina ($4) to photograph them.