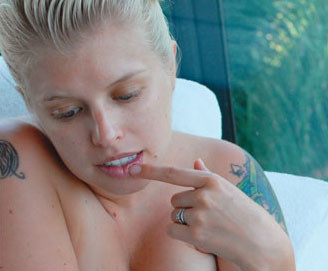 Dir: Jules Jordan
Rating: 10
Julesjordan.com

The Tenth Commandment clearly states, "Thou shall not covet thy neighbor's wife," so I'm pretty sure me wanting to fuck my friend Matt's wife is totally kosher because they live outside San Francisco, nowhere near me. Strange that the Bible would put such importance on location and proximity. All my neighbors are in their 80s so there's no real coveting going on around my block. Maybe with one of them. She barely looks 70.

The pretend love affair I've had with Matt's wife (above) has been going on for years. Matt shoots nudie photos of random girls as well as his wife and is kind enough to send them to me on a semi-regular basis with offers to wife-swap or test-drive his woman. A few years back they even grabbed another girl and wrote "Happy Birthday, Christopher" across their tits in chocolate icing for my birthday-card photo. It's all perfectly normal and my wife gets a real kick out of it. I'm sure you and your friends do the exact same thing.

Sadly, I am all bark and no bite. I know I'll never get to bed down with Matt's wife. But I don't mind barking till I lose my voice. In recent months my attention has shifted to a new porn star, Angel Vain, whom I might actually have a chance of having sex with (still highly doubtful). I have decided she is an exact duplicate of Matt's wife: big tits, tattoos, ass, and all. When I came across her site (livinginvain.com) I immediately told Matt his wife was doing porn. When Angel put this video up for sale, I wrote Matt, "Hey, now your wife takes it up the ass on film!" His response was both stoked and saddened: "That's amazing! If only that were true in real life..."

In a strange turn of events my friend Todd Bratrud, artist and owner of High Five Skateboards, befriended Angel. "She looks just like Matt's wife, huh?" I said. It freaked Todd out. He knew there was something he liked about Angel but couldn't put his finger on it. "Don't tell Matt," he said, "I don't want him to think I want to fuck his wife." "It's OK," I said, "I'm pretty sure he knows everyone wants to fuck her. That's why he doesn't ever let her out of the house."

So I bought his wife's anal porn. $35. I have never bought a porno in my life. Every DVD I've ever reviewed has been promo'd. I felt a little dirty. My justification was that it's the girl's first anal scene; perhaps it will go up in value like X-Men #1 or Rickey Henderson's rookie card. I sent Angel a note with my PayPal payment: "Maybe Todd told you that I think you look like our mutual friend's wife. And I'm curious how she takes it in the ass..." Like Matt's wife, she didn't respond or humor me.

She did include a signed, naked 8x10 inscribed with the lie "When I think of you, I touch myself," which I plan to frame and hang over my bed.

More stupid can be found at Chrisnieratko.com.