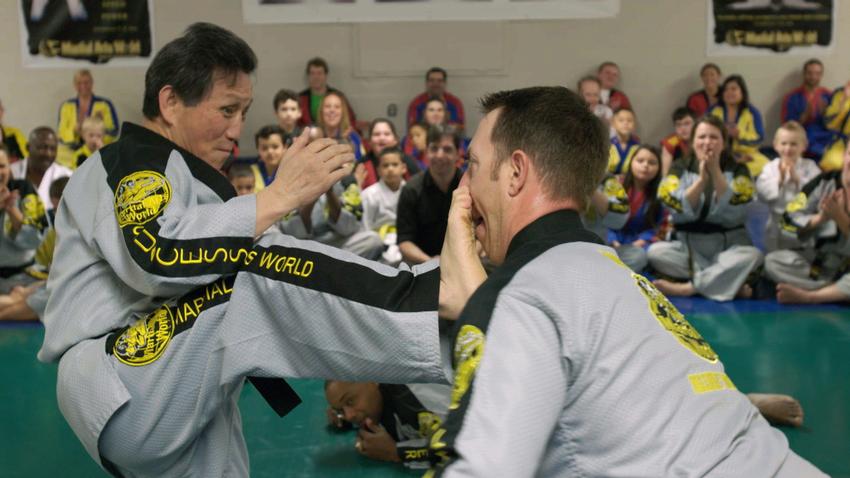 Grandmaster Y.K. Kim tells us about the healing power of meditation, what drives his vision, and life after his cult classic film.
Ten minutes into my conversation with Y.K. Kim—the star of the 1987 film Miami Connection, which chronicles five friends pitted against a gang of nefarious cocaine dealers and was featured on last week's episode of VICELAND's Outsiders—I'm handed over to Kenneth Pelt, a charming, steady-voiced associate of the taekwondo master. Pelt told me, quite simply, that his boss helped saved his life.
"I was extremely overweight—I was obese—and because of that I fell into a huge depression and I had no confidence," he explained. "Master Kim's philosophy allowed to me to take charge of my health. I lost over 70 pounds. I'm strong. I'm fit. I'm happier and more confident and I live my life with passion."
At 70, Y.K. Kim is still best known as Miami Connection's Mark. The film (which Kim also wrote and produced) famously flopped upon its release and nearly bankrupted him as it languished in obscurity for 25 years. That is, until two guys from the Alamo Drafthouse discovered it in 2012. Since then, Kim's movie has become one of America's weirder cult classics and beloved by many for its heartfelt message of friendship and over-the-top synth-rock soundtrack.
Over the phone, Kim is exactly what you'd hope Mark would be two decades later: He's intense, sincere, and self-assured. In the years since the film's release, he's kept busy writing books, leading self-help seminars, working on another movie, and touting his own guided meditation videos, which he describes as "a mental exercise that's also like a mini vacation." (Kim is currently running a contest to win one of these meditation videos; head here to find out more.)
We spoke to Kim about his taekwondo empire and how he's using positive thinking to help fix America.
VICE: How did you first come to find martial arts?
Y.K. Kim: I grew up very poor. I lost my father in the Korean War. I grew up with a single mother, who was really great and raised me, but I still felt an unbalance because I had no father. I took to martial arts and that was the turning point in my life. Martial arts gave me infinite strengths. I became a very confident person. I'm smarter. I'm strong. I wanted to improve myself even more, so I moved to the USA to achieve the American Dream. I was a very lucky person, and I feel like I owe so much to America. Nowhere in the world is like America. It's because of the USA that I am where I am today.
What motivates you to pass your teachings on?
Seventy percent of Americans are overweight and overworked. It's a national crisis. More than 36 million people are addicted to cigarettes. [More than 20] million people are addicted to drugs and alcohol. Kids don't want to eat vegetables and aren't getting any vitamins. It's a disaster, and it all comes back to stress levels. Eighty percent of modern sickness is from stresses. I love America, but too many people are getting sick. Why? Because technology grew like crazy and now too many people are [spending their days] sitting down, just using their fingers. Our bodies are designed for moving and nobody moves! If we don't change it, we're going to be in big trouble.
Why did you start meditating?
Everywhere I go, I ask people what they think success is, and they all have different answers. People are unhealthy and stressed because they cannot define success. [But I believe] anyone can create a successful future. With my teachings, people can be healthier, wiser, and smarter, and they can have confidence and peace of mind. Almost nothing works in our lives without harmony and balance. For example, without water and fire, nothing can survive. Without males and females, we would have no children. Unfortunately, we've become a slave of high-tech, and too many of our friends and family are suffering because of it. After 39 years of research, I've determined this is the right answer for millions and millions of people. It will revolutionize our life, to start, and together I believe it can change the world.
Follow Aly Comingore on Twitter.
You can catch Outsiders on VICELAND. Find out how to watch here.