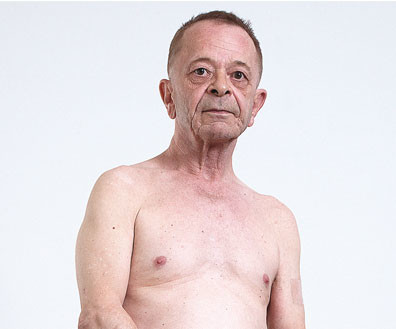 I never really thought I'd end up writing anything about Gary Indiana; I just wanted to meet him.
Archival Photos Courtesy of New York University's Fales Library and Special Collections
Portrait by Richard Kern

I never really thought I'd end up writing anything about Gary Indiana; I just wanted to meet him. Despite a 35-year career writing books that are more corrosive than alien blood, he's been the subject of only a few magazine profiles and no one's written a proper biography of him. Most young, semi-literate people are pretty sure they've heard of him, but it could be that they're just thinking of the city from which Gary appropriated his last name (né Hoisington).

Gary is primarily a novelist, one who falls into the Not Forgotten but Criminally Underappreciated category that seems to plague authors of a certain age. Perhaps this is because the literary sense of today's market has been dulled by what he calls "the procession of no-talent Brooklyn hacks named Jonathan." But his struggle for success has also been hindered by a refusal to think of his life in careerist terms. "I've never had a career!" he once snapped at me. "I've never had a career because I don't eat shit! Those creeps who have careers, they don't even have to eat shit. Their mouths are already fucking toilets." He's been turning out straight-up masterpieces since his first novel, Horse Crazy (1989), a minimal, ambient story of gay love and drugs in AIDS-era New York. Close friend William Burroughs championed Gary's early books, calling them "archetypal stories, expertly told. Fascinating to every man, no matter what his sexual tastes—like the characters in Genet." If you want to get cover-blurby about it, you could say that Gary is one of the last of a seemingly dying breed of hardcore American intellectuals.

Today, a lot of Gary's stuff is out of print. I can't help but feel that this is partially his doing. "I'm a wonderful asshole but a horrible creep," he said when I delicately asked him whether he had contributed to his own troubles in the marketplace. "Anybody my age with books still in print is just good at networking, greasing every asshole they come across. I can write the novel, and I can sell the novel. I'm just not capable of shoving that novel up anybody's asshole." In a 2002 interview in the Village Voice he cautioned against selling out, warning that "people think that you're self-destructive if you're willing to make gestures against power that insure the making of enemies. But if your only concern in life is your success and viability among the people who wield power, then you might as well just start taking a lot of Klonopin every day." A classic communiqué from the solitary world of one who refuses to compromise.

Gary's in his early 60s, although he looks much older, prematurely aged in a way that is somehow fitting to his oeuvre. Over the past 23 years, he's written a half-dozen crushing novels, mostly about the power relations surrounding sexuality, money, celebrity, and brutality. He's obsessed with the law, the moment where "reality and the law [collide] in a way that exposes the contradictions of the system we live in… where masses of people are kept in check by fear of the police and the threat of incarceration or execution, rather than by a shared sense of possibility." Much of his source material comes from reality, especially when it comes to crime, and he's extensively covered the trials of Rodney King and Jack Kevorkian and produced studies of Pier Paolo Pasolini and Arnold Schwarzenegger.


Gary at the Chateau Marmont in West Hollywood, where John Belushi overdosed and died. Photo by Ivan Galietti.
Gary and some of his friends talking about cocaine and champagne for a 1980s edition of the Soho Weekly News.
He's also an actor. Throughout the 70s he starred in movies made by fringe members of Rainer Werner Fassbinder's circle, the hard-line core of the New German Cinema movement. He's also collaborated with people like Jack Smith, Taylor Mead, Cookie Mueller, Bill Rice, Mike Hodges, and Jim Jarmusch on a variety of projects and mediums. He's also a fire-and-brimstone political essayist, a talented photographer, a subversive playwright, and, perhaps most famously, an art critic.
It is through Gary's eloquent and biting criticism that I first became interested in his work; he's written for
Artforum, Art in America, Film Comment
, and countless other trade journals of the urban 80s left. Many New York artists remember him as the chief art critic at the
Village Voice
through the mid-80s, but he shrugs those years off; according to Gary, his nonfiction is merely public service for a society crippled with moral dyspepsia. That's where his value lies; these books are bitter, nihilistic dispatches from the front lines of the end of the world.
The first time I spoke with Gary was by accident. One morning last October, a coworker tapped me on the shoulder. I had my headphones turned way up and hadn't noticed that my phone was ringing. I picked up to an effeminate voice on the other end, asking for someone named Frank. I knew it was Gary Indiana. I'd been trying to contact him through an old agent who had passed along my number to Gary. Somehow he had mistakenly dialed my number while trying to phone a friend in the hospital who was emerging from surgery for lung cancer. I timidly arranged to meet him two hours later at St. Mark's Books.
When I met him he was nervously thumbing through the philosophy section, about to buy a copy of Guibert of Nogent's
Monodies and on the Relics of Saints
, the memoirs of a 12th-century monk. I'd never heard of it. It is the first of many books, movies, and pieces of art I would jot down over our ensuing conversations; Gary is great for recommendations.1
During our first meeting we mostly talked about movies and television. He's a devoted fan of
Queen for a Day
, a 50s game show that pitted female contestants against each other in a misery competition. They would relate stories of sons mangled with muscular dystrophy or daughters crushed in car wrecks, and the "winner," decided by audience applause, was declared queen, ceremoniously crowned, and showered with washing machines, blenders, and other consumer goods.
I learned that Gary was writing his memoirs, which makes sense because he wouldn't be happy with his life being written about by anyone else with such intimacy and at such length. There's tremendous pressure on him, although, like many of his worries, most of it is self-applied. He was feeling sick and having a difficult time sleeping, speaking of a recent dream in which a giant letter D chased him through the streets. He chain-smoked and repeatedly told me that he was looking for work. He told me that he was "an aging, midrange writer" and was considering publishing things under a pseudonym to compete with the younger crop of novelists, usually flashes in the pan who emerge from nowhere and release a middling e-book, only to quickly drift back into obscurity.
1
He asked me to mention, for those interested, what he considers to be the best book on American life, politics, and economics: The Chapters of Erie, a short account of the 1860s railroad scandal by Henry Adams and Charles Francis Adams Jr., the great-grandsons of John Adams. And the funniest book, he says, is The Economic Consequences of the Peace, John Maynard Keynes's gut-busting romp through the Treaty of Versailles.
Evidence photo of Andrew Cunanan after he blew his brains out on a Miami houseboat.

The next time we hung out, Gary drank me under the table. At one in the morning on a cool autumn night, we split a bottle of Polish vodka and a pack of Camel Filters at his apartment, a bone-white, three-room railroad in the East Village with a bathroom out in the hall. He's been living there since 1980—books don't fill the apartment, they infest it.
After we got loosened up a bit he told me about his family. His father's side consisted mostly of gentleman farmers from Vermont. "They had a lot of pretentions," he told me. "They didn't think of themselves as middle class." In the 40s, his father won half shares in a lumber enterprise during a poker game, and Gary's family experienced a windfall of sorts. Nothing obscene, but the business helped to keep his family out of financial trouble. His home state, Gary says, didn't offer much. "Southern New Hampshire was like rural Mississippi. Shopworkers, factory workers, people who had never read a book. They weren't stupid; they were poor."
He grew up alienated, and at seven he was severely abused by members of the local community. His mother told him later that the experience changed him significantly. Gary tried to commit suicide at 12 years old, and he told me that he still hasn't moved beyond the experience. Did he get into trouble in high school? He rolled his eyes. "I was troubled. I didn't get
into
trouble."
After an early graduation, Gary ended up at the University of California, Berkeley, sneaking into seminars with the New Left philosopher Herbert Marcuse. He dropped out in the late 60s, thinking that the revolution was just past the horizon, and started working as a paralegal and a gaffer on porn shoots. He drifted between Boston and San Francisco before landing in LA, where he stayed through the 70s, haunting Beaux-Arts apartment complexes filled with "insomniacs and people without driver licenses."
In LA, Gary worked at a movie theater and wrote plays and short stories—until he got into a serious car wreck on the Hollywood Freeway. "The police said it was an accident that people don't just walk away from… so I walked the fuck away," he chuckled. "The quick story is that I came to New York at the end of 1978. I had $40 and a TWA getaway card. I started working for a market-research company in the city, finding out what color of packaging people wanted their toothpaste in."
He fell in with Evan and John Lurie's band the Lounge Lizards, started hanging out and performing at the Mudd Club, and opened an underground theater company in Bill Rice's backyard. He picked up writing jobs here and there, traveling back and forth to Europe to act in obscure films like
Dorian Gray im Spiegel der Boulevardpresse
and
Fräulein Berlin
.
During the mid-90s he began writing the series of three books he's best known for—what he calls his "crime trilogy"—two novels (
Resentment
and
Depraved Indifference
) and one nonfiction investigation (
Three-Month Fever
), all commentaries on the rift between sadistic criminality and the spasmodic swarms of media surrounding it. "These books zero in on the major preoccupation of my life," he said. "Why do people commit barbaric acts?"
Resentment
is a fictionalization of the trial of Lyle and Erik Menendez, brothers serving life sentences for murdering their parents with a shotgun in the late 80s. "I had tremendous sympathy for the Menendez brothers," Gary said. "Nobody kills their parents for no reason." A year later came
Three-Month Fever
, following the case of Andrew Cunanan, the man who brutally murdered (at least) five people, including fashion designer Giovanni Versace, before offing himself. For research, Gary spent time in every city that Cunanan had lived in. "I felt sympathy for Cunanan. He was the world's most insignificant person killing the world's most important person. But who did he kill before Versace? Why did he kill them? What were they like?" Next came
Depraved Indifference
, based on the mother-and-son murder team of Santee and Kenneth Kimes. "I found them both morally repulsive, but they were able to function with their craziness all over the US and
no one
stopped them. When you look at it, the people who came into contact with them were abysmally stupid, and there's something wrong with a society that allowed them to pass as respectable citizens when they're obviously deeply criminal."
Gary with Tina L'Hotsky, a Mudd Club regular and a member of the unnamed theater company Gary founded in the backyard of Bill Rice's Third Street apartment.

Among Gary's papers housed at New York University's Fales Library is an old photo of the transgressive photographer, filmmaker, artist, and VICE contributor Bruce LaBruce. Gary used to travel up to Toronto to hang out with Bruce's queercore scene in the mid-90s. They were good friends for a little while, until Gary wrote him off following an invasive prank: Bruce had taken Gary to a party and worn a wire, recording every off-color remark he made, later publishing the transcript in a zine called
Pussy Grazer
.
"To me, he's a Burroughsian figure," Bruce told me. "Really living the life that he writes about. It's not a posture, which you could say about a lot of writers. There's a certain tortured aspect about him that comes through in his choice of subject matter—rent boys, hustlers, mass murderers. He's a part of a bygone era in New York. There's no longer a reference point for what he represents. New York is now a wasteland of consumerism, and Gary is an extinct animal."
When Gary decided to start writing his memoirs, he took a break from a novel in progress called
Diving for Teeth
. Based on Luis Buñuel's 1962 film,
The Exterminating Angel,
the book focuses on bourgeois attendees of a Long Island party. One by one the servants abandon the premises, and the guests find themselves mysteriously unable to leave the living room. Cell-phone batteries are expended, the food supply runs out, and the guests resort to cannibalism. "I may be stealing from Buñuel," he said, "but I'm pushing it further—in his film no one ate each other."
The memoirs begin in 1975, concluding 20 years later, when Gary traveled to India to interview Charles Sobhraj, a serial killer, drug dealer, con artist, and jewel thief who is currently serving a life sentence in Nepal. "I'd been fixated on a certain question that had preoccupied me for many years," Gary said. "Something I couldn't understand. In a way, Sobhraj was the embodiment of pure evil."
Impeded by the Indian authorities, it took months for Gary to set up an interview, but the two finally met. "I asked him bluntly, 'Why did you kill those people?' Sobhraj gave me a pat answer: He told me he was hired by a Hong Kong triad to eliminate some low-level drug dealers. I knew that wasn't true, and I wasn't interested in how he killed them. I wanted to know what enabled him to do it. We were in an anteroom of the courthouse, and he got up. As he was going to the door he looked at me and said, 'It's a secret.' I knew that he'd never tell me anything more."
Gary plans to close the memoir with this realization—that he'll never answer his question about Sobhraj's real motive, the only true obsession he's ever had. "Certain things preoccupy you for definite reasons," he said. "You have to decide what kind of person you are. Is my life justified? Have I lived in a moral way? When you're gone, you hope that people speak well of you, that you'll have left something of value, and people won't despise you. Then there are other things that are simply questions that as you go through this continuum from life to death, come up—you can't ever really come to terms with them."
He looked up at me with younger eyes. "There's still the question," he said gravely. "Why is the world full of evil? Why do people do such awful things to each other?" It's a different world from the one Gary came up in, but he's not giving up on his original question. He paused dreamily and lit another cigarette, sighing. "Ah, fuck it. Most of life is shit.
That's
why. Why should I be better known? Why should I be anything?"