This App Lets Teens Learn About Sex Through Text Messages
In 2016, three women decided to transform sex education for teens through technology. Together, they created Real Talk.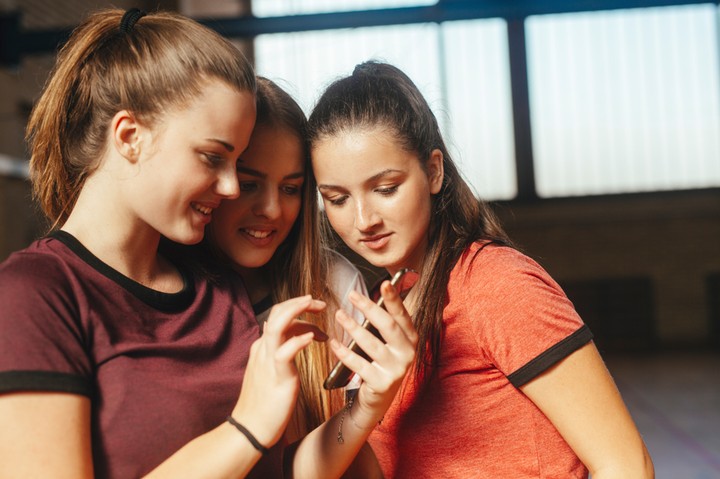 Photo by Lumina via Stocksy
Liz Chen is a doctoral student at the University of North Carolina at Chapel Hill, pursuing a degree in health behavior. But before entering her PhD program, she joined Teach For America in 2010 and taught high school biology and chemistry in Northhampton County, a rural county along the Virginia border with a population of about 20,000.

During her time teaching, Chen discovered that one of her students, a 10th grader, already had a kid of his own entering school. "I realized very quickly that his decisions in school, like doing homework, [were] not necessarily the most important [things] for him when he felt like he had other responsibilities to his child and to his child's mother," she tells Broadly. "Talking about mitochondria and the importance of cells didn't seem relevant to him, and I understood that. It manifested itself in a lot of frustration in my class."
That student's situation really stuck with Chen. Because of him and others she witnessed having to forego their plans for college because of an unplanned pregnancy, she realized just how important it was to make comprehensive sex education more accessible. In 2016, she co-founded the nonprofit MyHealthEd, Inc. with Vichi Jagannathan, another former Teach for America corps member, and Christina Leos, a fellow doctorate student in Chen's program. Their goal? To transform sex education for teens through technology.
In late September, the three women released a beta version of their first product, Real Talk, on the Apple App Store. Intended to complement whatever sex ed middle schoolers get at their respective schools, Real Talk uses real teenagers' stories to answer questions about sex, puberty, relationships, and more. For their work, Chen and Leos were included on Forbes' 2018 30 Under 30 list.
The functionality of the app is pretty simple: Users choose a topic and then are presented with a corresponding story in text message bubbles. (The team gathered these real anecdotes from more than 300 teens in person and via an online survey, and removed any personally identifiable information.) If a person is interested in learning more on the subject, the app also includes links to additional information.
---
---
Leos tells Broadly they decided to deliver information about sex and sexuality via a smartphone app because most young people can easily access digital media. The storytelling format was imperative, Chen adds, because they felt teens would be able to engage better with the information that way. "One of the things our students really like about reading stories is that they often feel like they're meeting a situation that is familiar to them," she says, "and it really emphasizes that they're not alone."
While Real Talk—which is currently in a pilot phase as its creators continue building out the platform and its content—was originally intended for high schoolers, the team realized in their initial research that many teens are having these conversations, spanning sex and consent to friendships and gender identity, way before ninth grade. In particular, Leos says, they hope Real Talk will be useful for students who face barriers to high-quality sex ed. "Throughout the research and design process, we worked really closely with low-income and rural students to determine what were their needs, and what would Real Talk need to look like in order to be able to reach them."
"It really emphasizes that they're not alone."
Leos adds that it's important to meet teens in the spaces they occupy most frequently. To not create "a safe and positive environment for them to be learning about these topics," she says, would be a disservice to them because of the sheer amount of misinformation that's out there.
Real Talk is far from the first sex ed platform to go the digital route. In 2009, California created The Hookup, a text messaging service that delivers sex info weekly. The University of Oregon launched SexPositive, a sexual health smartphone app targeting 18- to 23-year-olds, in 2013. And just last year, Advocates for Youth, Answer, and YTH got together to create AMAZE, which delivers information to 10- to 14-year-olds through animated videos.
The need to make quality, comprehensive sex ed more accessible and affordable may be more dire than ever. In August, the Trump administration quietly cut federal funding to the National Teen Pregnancy Prevention Program. According to The Mercury News, one of the 80 programs that lost funding was the "Keeping It Real Together" project, a collaboration between the University of Southern California, the Los Angeles County Department of Public Health, and other organizations teaching parents how to talk to middle and high school kids about delaying sexual activity.
For More Stories Like This, Sign Up for Our Newsletter
At the end of the day, Jagannathan says, creating Real Talk is really about addressing disparities and equity. "I grew up in upstate New York in a fairly average suburb," she tells Broadly. "It was not until I came to teach in rural North Carolina that I saw high rates of teen pregnancy or that I saw places where people had misinformation about sexual health, about relationships, about consent. That was not something that I knew still was a problem in the United States."
"We don't really talk openly about sexual health and relationships," she continues, "and yet it is the one most human thing, arguably, that everybody at some point confronts. One piece of this is knowing that there are these really major structural barriers to making sure that everybody gets the same access to quality, comprehensive information. [That's why] I'm excited by the potential to use a mobile app and circumvent some of those systems."