"Smile Now, Cry Later" is the theme that drives the second issue of Maroon World , a zine launched in 2016 by Cynthia Cervantes and Travis Gumbs. Most people know Gumbs for co-founding Street Etiquette, the highly influential lifestyle website that was transformed into a multicultural creative agency. In the past, Cervantes has worked with Street Etiquette and brands including Dover Street Market and Comme des Garçons. Together, with Gumbs shooting the photos and Cervantes spearheading the creative, they've made an incredible new edition to Maroon World that explores the ways we give, receive, and lose love. These partners in art and life have captured the beauty of the vibrant community of black and Latinx artists across New York City through images that challenge tired notions of masculinity, gender, beauty, and femininity.
I recently sat down with Cervantes and Gumbs to find out what motivates Maroon World. Here's what they had to say.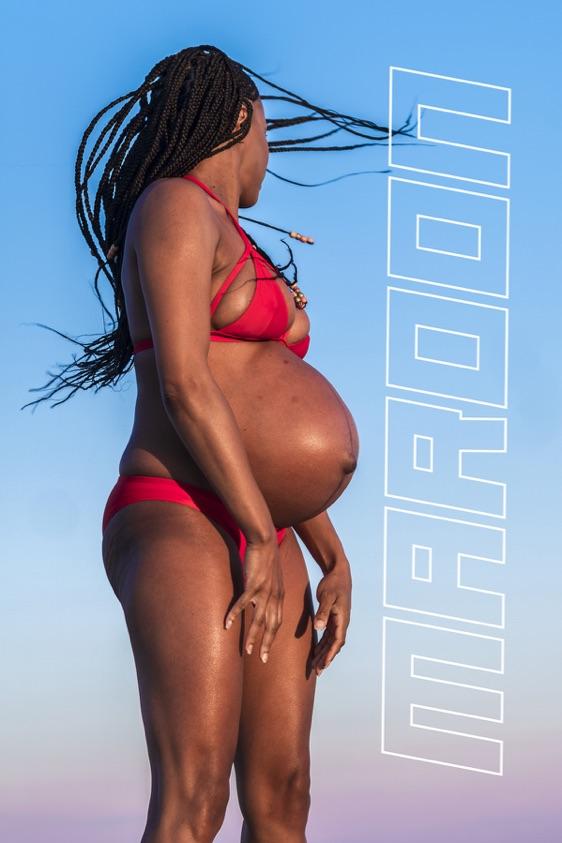 VICE: Why did you decide to name your zine Maroon World?
Travis Gumbs: The name came from the Maroon people of the West Indies. The word "maroon" has several different translations.
Cynthia Cervantes: At the beginning of colonization in Mexico, there were all these paintings done to give order to all the [racial] mixing. A Maroon was what they called the child of an indigenous woman and an African man, or an indigenous man and an African woman.
TG: To be "marooned" also means to be left ashore, abandoned, or forgotten. We felt that with the type of concept that we wanted to do, this was the perfect name that described everything.
CC: This also describes what happens with our community and to people of color in general. We're supposed to be left to our own devices then pull ourselves up from our bootstraps. The situations we are in are the direct result of slavery.
How are your African and Latinx roots translated into your zine?
TG: We've been partners for the last five years. Before Maroon, we creatively worked on different projects. But we always talked about how we weren't seeing ourselves [represented] in photography. So photography became a way to express ourselves and find confidence telling the stories we think are important.
CC: I think our ultimate goal is to show people a reflection of what they see. When I say people, I mean our community, and not just black and Latinx—it's Asian, Muslim, and Indian people. The magazine is our way of uniting people of color to say the world is so beautiful and we have so much in common.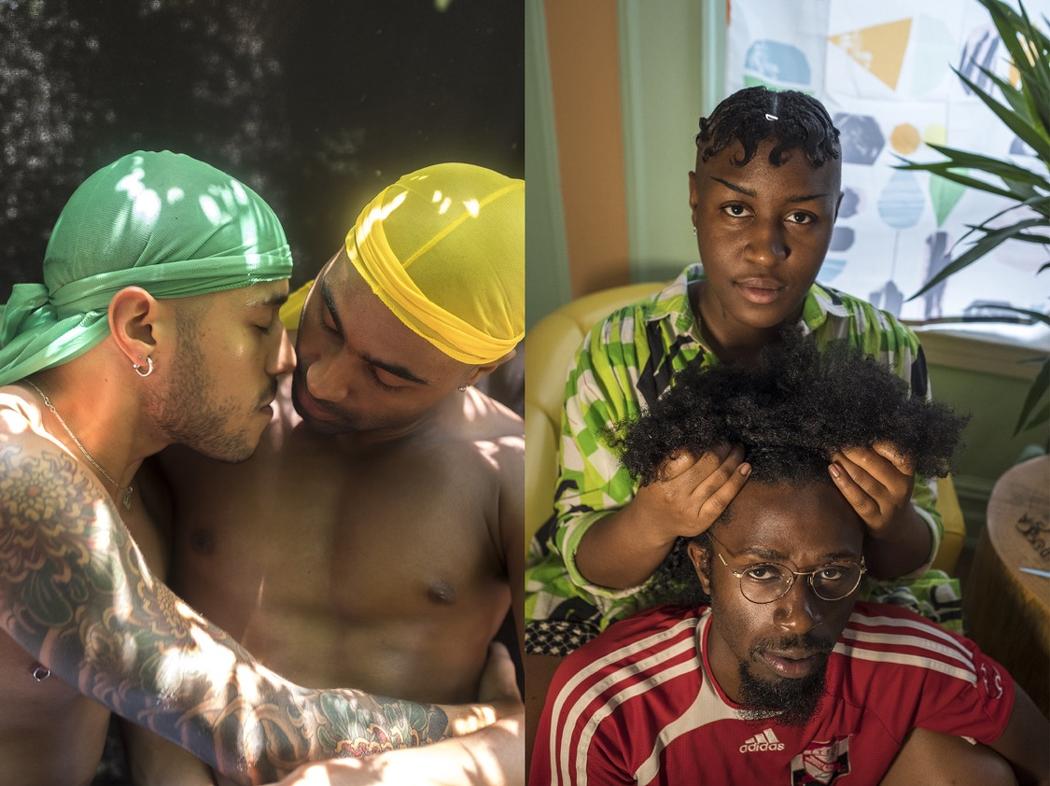 Can you tell me about how you play with ideas of masculinity and femininity?
TG: A lot of it comes from the conversations we have. I heard a quote from somebody not too long ago: "Among black people, the straight black male is treated similarly to the way the white men are treated throughout society." As a straight black man, there are a lot of privileges. We have to recognize that. For me, personally, that was a part of playing with masculinity and questioning social norms.
CC: I think our community is so fluid. There is no need for those constructs. So again, we are trying to reflect back what we see.
TG: We know these people, we see these people, but their stories are never told and we want to bring that to light. And it's not like we are weird or crazy because we surround ourselves with this type of community.
CC: That's why we feature, with a few exceptions, our friends. We are trying to normalize the way our community looks and show that there is nothing different about this. This is happening, this is beautiful, and this is our norm.
How do you decide who to photograph?
TG: The first issue we did was very different from this one. We broke it down into a bunch of editorials. We had these ideas of what we specifically wanted and we worked from there. We wanted to approach volume two differently and put together each shot: Think of a moment that was important and then add who we thought would contrast well. A lot of the time, it was just interesting people who we wanted to shoot. We literally shot one picture at a time, and as we went along, we stuck pictures up on the wall and it sort of created a story. We just filled in what was missing to complete that story. At first, the theme was love. But when we started shooting, Cynthia's grandmother passed away.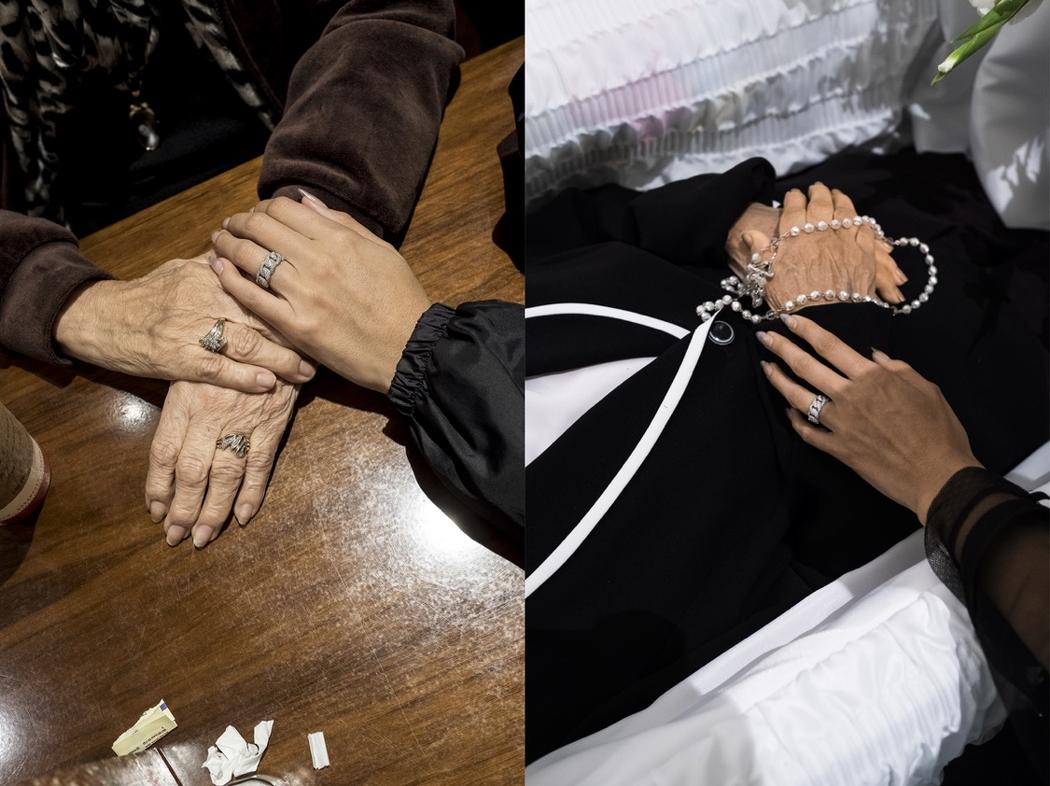 Tell me about the photos of you and your grandmother's hands.
CC: The photo on the left-hand side is the last time I saw my grandmother alive. We were having a coffee in the mall and I turned to Travis and was like, "Oh, take a picture of our hands," because we had just gotten engaged. The photo was supposed to be more about the ring. My grandma was looking at my ring and telling me how happy she was for me. Then the right-hand photo is, of course, at her funeral a month later.
TG: Little stuff like that just changes the way we see love and the way we put together the content. Three months after that experience, my grandfather passed. The dynamic of all those things coming together honestly, it lit a certain fire under the work and it changed the way we put things together.
CC: It's all these little things that we think are just beautiful moments of love that you don't even think about. But once our grandparents died, we realized that it's also about how you suffer because of love, and that's why we ended up calling it "Smile Now, Cry Later." At the end of the day, you love yourself, you love other people, and it all requires a certain strength to push through.
What's it like to work together as a couple?
TG: I try not to count the work relationship as working 24/7, because you lose time. The beauty in our process is that we inspire each other to create, as corny and cliché as it sounds. I honestly wouldn't have it any other way because what we are trying to do and trying to accomplish is literally the idea that was sparked because of our relationship, which changed the way we looked at the world because of the coming together of two personalities, two different cultures, and just different stuff we were exposed to growing up. For me personally, I love it. But there are definitely times where we drive each other crazy.
CC: I couldn't agree more. I think back to George Zimmerman. I cried because I was so upset. That was when we had been together for a year-and-a-half, and it was the first time we had a super intense conversation. That was a year-and-a-half before we even thought of creating Maroon World. We are both minorities who grew up in America, so we discussed our experiences and actively started looking for a way to fight, and Maroon World became our way of doing that. We are using images that hopefully make people feel better about themselves and start a conversation about these communities that are beautiful. When we bring both of our energies to work on it, it's magical and it adds to our life together.

If you all could change one thing about the world right now, what would it be?
TG: I would change people: We would wake up and radiate love and sincerity about everything we do. I feel most people are looking at the state of the world and are not motivated, and that motivation needs to come from a place of love and sincerity. That's pretty much why we created Maroon. We put all of our energy and all of our passion we felt would garner something positive, whether it be just for us or our friends who we included. A lot of people were asking us how we were going to make the zine happen. And initially, it was about putting everything we could possibly put, at the same time as trying to manage living in New York. It's not easy, but managing enough energy that we could create something and see what comes from that. I personally feel like there is not enough of that in the world, and that's what I would want to change. People coming from a sincere place and living their truths and putting their all into their passion to create a better world.
CC: I want us, as a community of people of color, to embrace each other and fight for each other, because there is so much divisiveness right now and there are a lot of things that we need as a people. So my answer goes along the same lines of empathy, love, and understanding of people's struggles.
Where do you see Maroon World in the future?
TG: We would like to evolve and start doing new things that are motivational and inspiring to us. We will hopefully get some kind of performance angle going.
CC: For us, exposing people to cannabis as an agent of self-care was moment of trying to change opinions about weed. We'd like to do more stuff like that in the future. But the ultimate goal is to see our communities embraced by the mainstream. In a fashion show, it's like, "This designer had this many black models," or, "This designer is more inclusive." Although they have more black models and people are taking more steps to be inclusive, it's patronizing.
TG: Because of the political divide, everyone feels forced into the conversation—which is a good thing, but a lot of the time it's not coming from a sincere place. We want to be the people who are doing it because we want to, and because we actually want to see changes with in our community.
CC: The mainstream claims that there is no basis for this, but we are presenting an entire magazine full of beautiful and amazing stories. And if we can do it, so can you.
This article as been edited for length and clarity.
Follow Janae Price on Twitter .