It's been mere days since Papa John's CEO John Schnatter blamed his company's sagging sales on plunging ratings for NFL games. On a call with investors last Wednesday, Schattner claimed that fewer people were inclined to buy pizza from Papa John's, the official pizza sponsor of the NFL, because of NFL leadership's inaction regarding the scores of athletes protesting within its ranks.
This led both Pizza Hut and DiGiornio—neither of whom, mind you, is an official sponsor of the NFL—to join the now-public conversation and respond that neither company had seen a dent in its sales due to consumer irritation with these protests.
READ MORE: Pizza Hut and DiGiorno Roast Papa John's Over CEO's NFL Claims

Still, it didn't take very long for the corporation to find sympathy from pockets of the far right who aligned themselves with Schnatter's position, effectively placing blame on athletes for having the nerve to protest. The frenzy even led some alt-right groups to lay claim to Papa John's as their pizza chain of choice.
On Thursday, an article on white supremacist site Daily Stormer featured a photograph of a pizza pie with pepperoni neatly arranged to resemble a swastika. "Papa John: Official pizza of the alt-right?" the caption read.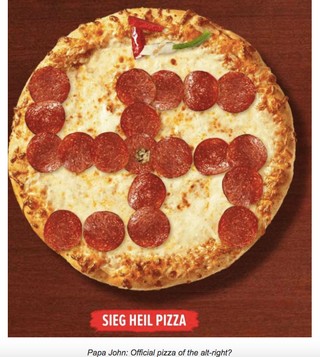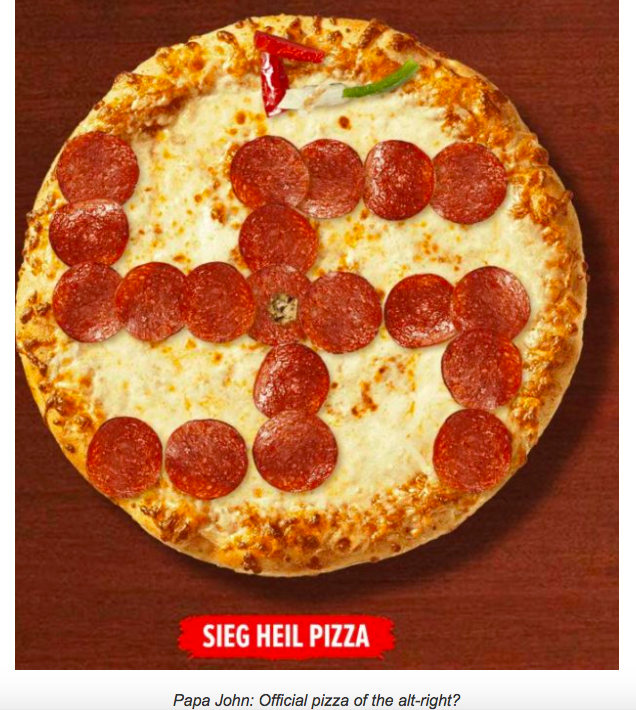 "I mean, you'd think these cucked companies would want to hide their raging hatred for these anti-American nig nogs, and continued pouring money into the Negro Felon League just to avoid pissing off the liberals," Adrian Sol wrote in the post. "But money speaks. And the money is definitely not on the NFL's side."
Papa John's has now been forced into damage control mode, wherein it is currently trying to dissociate from organizations such as the Daily Stormer. In an email to MUNCHIES Monday morning, Papa John's senior director of public relations Peter Collins disavowed the associations entirely. "We condemn racism in all forms and any and all hate groups that support it," Collins wrote in a statement. "We do not want these individuals or groups to buy our pizza."