Anti-abortion protesters outside the Marie Stopes clinic in Ealing, London. Photo by Steph Wilson
Outside a 1930s building in a west London suburb, a crowd of a hundred or so pro-choice activists in neon pink hi-visibility jackets erupt into cheers. Inside Ealing Town Hall, politicians from the local council have just voted to take the first step towards creating a "buffer zone" around the Marie Stopes West London Centre—a local abortion clinic that has targeted by anti-abortion protesters for years.
If implemented, it will be the UK's first buffer zone. Supporters hope that the case will set an important precedent for other local authorities to follow.
It's been a long time coming. Anna Veglio-White, who gave a speech to Ealing Council about the harassment and intimidation she'd witnessed outside the clinic, is, in her own words "overwhelmed—and ready for a drink".
Veglio-White has lived in Ealing all her life. In 2012, she founded Sister Supporter, a pro-choice group which has spent the last three years running an escort service for clinic visitors, holding counter-demonstrations, and lobbying for a buffer zone.
"It's pretty special what's happened here tonight," she tells Broadly. "People aren't always willing to put their necks on the line for what's right, and that's what the council have done."
---
Watch: Drone-Delivered Abortion Pills & the Fight for Reproductive Rights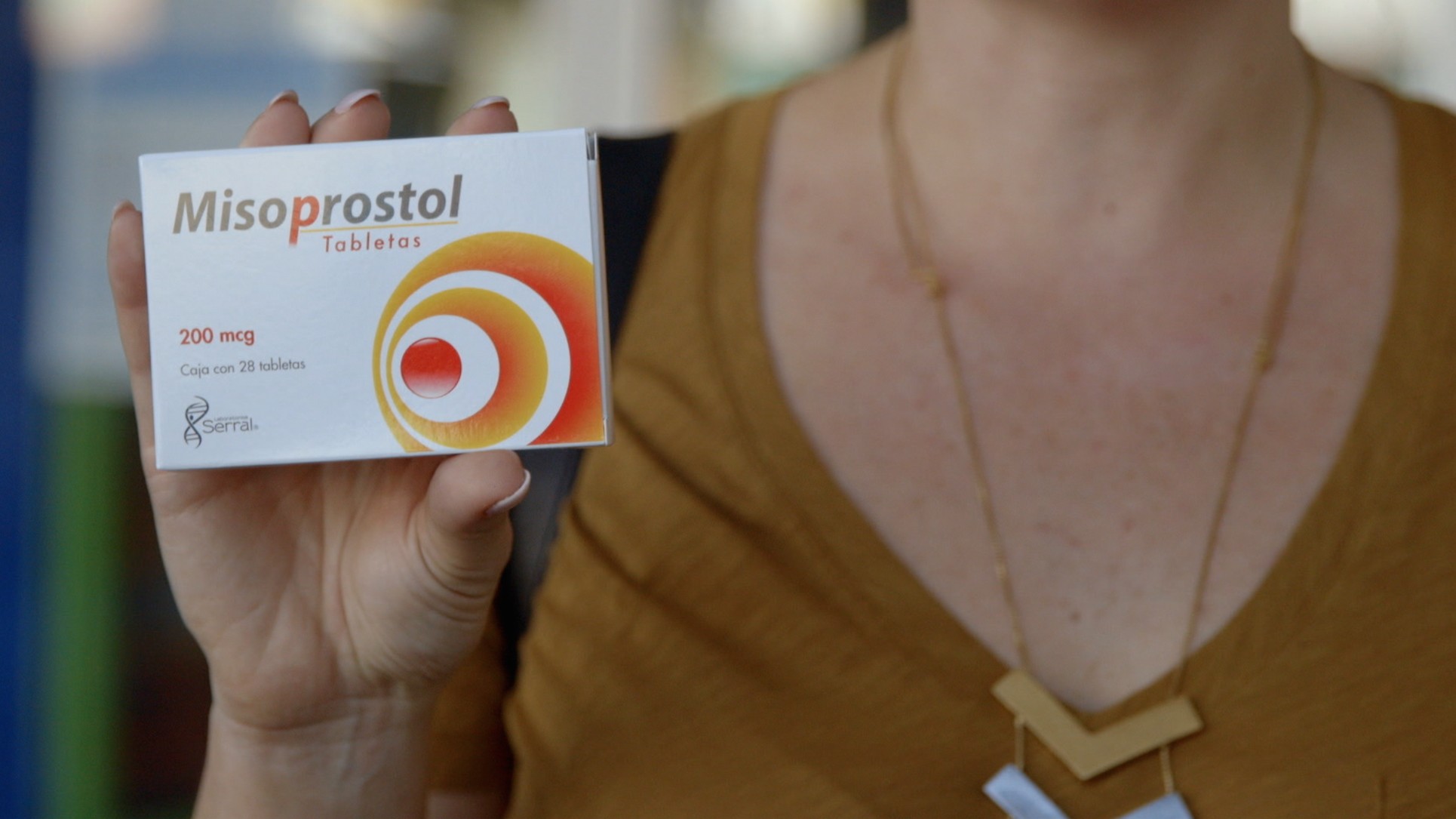 ---
A buffer zone would first and foremost protect the people who use the clinic. But it also means that sleepy, leafy Ealing—styled the "Queen of the Suburbs" in the 1900s—might have just made a radical leap forward for abortion rights in the UK.
Read more: Campaigners Lobby for 'Full Decriminalization' of Abortion in the UK
At the meeting, councilors and members of the press were given an evidence pack with examples of the intimidation and harassment faced by women visiting the clinic.
It included photographs of anti-abortion activists holding up distressing (and medically inaccurate) images of mutilated fetuses, video screenshots of a woman being followed by a man with rosary beads calling out "mom," and examples from a Marie Stopes staff logbook recording the aggressive protests that occurred outside their clinic.
One handwritten entry, dated April 24, simply read: "Client very tearful after being called a murderer."
Tanya Taylor, who helped put together the evidence pack, says she was at the clinic almost every Saturday for the last six months, with her dog, a "pro-choice pug," in tow.
"I once saw a woman so distraught over the protesters that she burst into tears and just ran away into the nearby park to get away," Taylor says. "Her boyfriend came and asked the pro-life crowd to leave, but they refused and she ended up missing her appointment altogether."
Before the meeting, Sister Supporter organized a rally outside the town hall, bringing together a large and excited crowd of pro-choice campaigners.
A member of Speaking of IMELDA, an Irish direct action performance art group whose members remain anonymous, said they wanted to show solidarity with the women who work at and visit the Ealing clinic. Many women from Ireland, where abortion is banned in virtually all circumstances, receive treatment at the West London center.
"Whether it's protesters outside clinics or the government at home making women leave the country, it's the same strategy: shaming and humiliating people who are making an incredibly difficult decision," the activist said.
The anti-abortion strategy of shame and humiliation was a recurring theme of the Tuesday night meeting. Labour Councillor Binda Rai, who formally proposed the motion, described the protesters' actions as "exploitation and emotional manipulation."
During her speech, Rai said that she had witnessed the Good Counsel Network, which organizes the protests, escalate its tactics over the past few months. "We've seen a growth in the number of protesters; we've seen a growth in the physical and emotional abuse women are subjected to."
After the hour and a half session, cheers rang out around the chamber when the motion passed almost unanimously, with 67 councillors in favour and two abstaining. But what next, after the initial relief and jubilation fades?
The motion commits the council to "fully explore every possible option and take all necessary actions within its powers to prevent anti-abortion protestors from intimidating and harassing women."
Sister Supporter has suggested Ealing Council use a Public Space Protection Order (PSPO), a controversial law which allows police within a specific area to fine and disperse people for activities that would not usually be considered criminal. They're often used around football stadiums on match days, for example—but have also been used to target homeless people and sex workers in the past.
Veglio-White says there's a crucial difference in the way Sister Supporter wants the council to use the law: The group says the evidence that was presented to Ealing Council may constitute proof of criminal harassment. (It has now been passed on to Metropolitan Police for review.)
Veglio-White believes that anti-abortion protesters have so far escaped arrest because women who have just undergone a termination rarely feel able to speak to police. "You're likely to have severe emotional and physical ramifications from an abortion," she explains. "You're hardly going to go and sit in a police station for hours and file a complaint about harassment. The Good Counsel Network will say they've never been arrested, but that's because no one is in a position to take them to task."
Clare McCullough, a spokesperson for the Good Counsel Network, said in a statement: "We do not agree with abortion in any circumstances but we specifically deny that we harass women. We do not call the women murderers or tell them that God will not forgive them, as was alleged in the meeting. Typically, we have a small group praying a distance away from the clinic and offer leaflets listing the help and support that's available to women."
The council will now have to go through a public consultation and then a committee report before implementing any recommendations. But Veglio-White says she's hopeful a PSPO could be in place within six months.
"I want Ealing to be the first domino in a huge wave of action."
But if and when the PSPO is up and running in Ealing, Veglio-White and her fellow Sister Supporters won't be hanging up their hi-vis jackets yet.
"In the weeks leading up to the meeting we've had so many people contact us saying, 'I live in Streatham, there's people at my clinic, can you advise us on how to get a PSPO?'
"Our intention is absolutely to set ourselves up as a kind of consultancy to provide people with the resources to get a buffer zone in their area. I want Ealing to be the first domino in a huge wave of action."
Local MP Rupa Huq has been working with Sister Supporter, and is also determined to turn Ealing's landmark vote into national policy. She will table an amendment aiming to establish buffer zones around all UK clinics to the Domestic Abuse Bill coming before Parliament this year.
It's fitting that October 2017 will mark 50 years exactly since abortion was legalized in the UK. Then as now, a group of women fought tooth and nail to enshrine their right to access a safe abortion, without harassment or intimidation, in law.
During the Ealing Council meeting, Councillor Lynne Murray talked about her memories of women dying in botched backstreet abortions before the 1967 Abortion Act.
"No one wants to go back to those dark days," she said. "But it is vital women continue to have access to abortion without shame or fear, and tonight we must proactively defend that right."
Correction: This piece has been updated to include Tanya Taylor's last name.