The Outlet Pass: Bradley Beal's Next Leap is Lurking in the Shadows
Also: Your favorite team might want to trade for T.J. Warren, Miami's 2-3 zone is antiquated but sublime, mapping out D'Angelo Russell's future in Brooklyn, Joakim Noah's beautiful banshee cry, and more!
Photo by Peter Foley - EPA
Patiently Waiting for Bradley Beal's Next Leap
Take a peek at Bradley Beal's statistics in just about any category over the past three seasons and your glass-half-full takeaway might be that he's more consistently great at being consistent than anybody else. From an analytical perspective, there's little to no variance in his production.
Context is anything but constant in today's ever-churning NBA, and there are different ways to measure Beal's growth than a quick glance at his numbers. Almost a year removed from his first All-Star Game, Beal is no longer John Wall's right-hand man and has (arguably) eclipsed him as the face of whatever these Washington Wizards have become. But, A) That's not necessarily a good thing—it's fair to theorize about the correlation between Beal's hierarchical rise and the Wizards inability to reflect it as an organization—and B) Numbers matter!
Beal's statistical leap came two years ago, in the fifth season of his career, and since then his minutes, points, assist percentage, usage rate, etc. have all plateaued—the Wizards scored 109.7 points per 100 possessions with Beal on the court last year; this year they're 0.1 points per 100 possessions better—while other important numbers are down (such as three-point percentage, which is a volatile stat that's also a career-low).
Last year, with Wall out, Beal experienced a narrative breakthrough, filling in for Wall while expanding his game to areas that directly made life easier for teammates. There was more play creation and a solid response to defenses that suddenly offered more attention. But spotting anything new or dramatically polished about his game isn't easy, which begs the obvious question (delivered with as much respect as possible for someone with Beal's talent): Is this it?
I don't think so—by a long shot—but it's understandable to drift the other way. At 25, in the seventh year of his career, Beal is fantastic but tantalizing. His game is smooth until he spikes it with rugged aggression, and his apex as a bucket-getter is topped by only a handful of players. Look hard enough and a few slight signs of improvement do indeed appear; if there's any one thing worth focusing on, it's his sudden urgency to attack the basket.
A third of Beal's shots are at the rim right now (a career high) and he's making nearly 70 percent of them (also a career high). That's...not nothing. He's now confident enough in his handle to just go wherever he wants, whenever he wants. Before he was traded to the Phoenix Suns, Beal's ex-teammate Austin Rivers was surprised by his knot-tight ball-handling until he saw it up close every day. "Obviously he's an elite shooter and scorer," Rivers told VICE Sports. "I just didn't know he had all the handle."
"He's the best scorer on our team," Wizards guard Tomas Satoransky told VICE Sports. "It's very difficult [to guard him], especially when he has spacing and he's attacking you in transition. He's got so many options and his step-back is top-three in the league. James Harden, him, and I don't know who else. But that step-back is on point."
All this is terrific, but it's still hard to extract Beal from the toxic environment he's currently leading. How would he do as LeBron's right-hand man in Los Angeles? Or as a first option for a competent organization that surrounded him with more sensical pieces and depth. (Like, picture him on last year's Toronto Raptors instead of DeMar DeRozan. Does that team get to the Finals?) Beal will never be as good as James Harden, but whenever I scale his production against his age it always feels like there's another tier he's destined to crack. It probably won't happen this year and may never occur next to Wall. And that's a shame.
"I think he has the capability of improving for the next, I don't know, four or five more years," Scott Brooks said. "His ball-handling is much better, his decision-making, his playmaking, his pick-and-roll game. Overall he's going to be one of the best two-way guards in the league."
Health willing (the man plays a ton of minutes), there's another leap lurking in Beal, somewhere. Basketball fans everywhere should hope it eventually sees the light of day.
I Love Joakim Noah's Banshee Cry
Joakim Noah is awesome. Whether he's getting fouled, politely informing the referee that an opponent has been standing in the paint for at least three seconds, or just generally wants to let the world know his layup deserves a trip to the free-throw line, that voice piercing through the ambience of an NBA broadcast is one of the most delightful treasures I didn't realize I missed until it re-entered my life.
On the court, so far, Noah has looked about as comfortable and fluid as should be expected. The bounce is gone from his defense and at times he tries to do too much with the ball in his hands. A majority of his minutes have been spent beside JaMychal Green instead of Marc Gasol or Jaren Jackson Jr., and Memphis's offense has been awful when he's on the court. But numbers schmumbers. Noah is the best.
Has Anyone Seen Reggie Jackson?
What is Reggie Jackson's role right now? We're officially spiraling towards a point where he makes no sense on the Detroit Pistons, and some might argue we're already there. The days of him running a consistently decent high pick-and-roll with Andre Drummond are so deep in the past they make Obama's presidency feel like it just ended. Jackson was never one of the ten best players at his position, but it's still hard to watch this type of decline in his prime. But when you add someone like Blake Griffin, concessions must be made. Nobody is feeling them more than he is.
Just about everything the Pistons do on offense revolves around Griffin; there's no oxygen for a ball-dominant scorer who's merely OK on spot-up threes. (Before Wednesday night's overtime win over the Minnesota Timberwolves—in which Jackson finished with 24 points and seven assists—Dwane Casey closed a string of tight games with Jose Calderon instead.) Griffin is essentially Detroit's point guard, while Jackson is an anonymous guy who trots up the floor, scuttles to the opposite corner, and waits for Griffin to make something happen. He doesn't set flair screens or cut along the baseline. He just stands.
In his first season with the Pistons, Jackson averaged 15.4 drives per game (fifth-highest in the league) and used 32.3 percent of Detroit's possessions when on the floor. Three years later, he's down to 9.0 drives per game (fewer than half of league leader James Harden) and his usage is 24.8. He's averaging fewer frontcourt touches than Reggie Bullock, and nearly half as many as Griffin. Jackson's seconds and dribbles per touch are also way down relative to the 2016-17 season.
Jackson didn't exactly set the world on fire before Griffin became his teammate, but his relationship with Drummond was sensical. Aside from rare instances where that two-man game emerges while Griffin spots up in the corner, those actions are on life support whenever all three share the floor. Jackson isn't bad, and the uncomfortable role he currently fills fails to accentuate most of the reasons why he's in the NBA. Why not have him run more dribble hand offs with Blake, actions that force the defense to rotate and allow Jackson to make faster decisions on the move? It's not what we're used to seeing from him, but to park his athleticism in a garage makes little sense.
Beyond bringing Jackson off the bench and staggering his minutes with Griffin as much as possible (an unlikely proposition considering how ugly Detroit looks when Jackson is on the floor without Griffin, even when Drummond is at the five), I'm not sure what the solution is. Jon Leuer's return gives the Pistons some more frontcourt flexibility, and maybe those two can develop some chemistry at the start of second and fourth quarters while Griffin rests, but that's probably not sustainable. Until some sort of change is made, opponents will continue to treat Jackson like he's a ghost.
Derrick Rose is so positive the ball is headed to Griffin in the post that he doesn't even think about defending Jackson. It's comical.
Big picture: Jackson is due $18.1 million next year, which eliminates every trade partner that hopes to spend money this summer. Maybe the combination of Goran Dragic's knee surgery and their looming trip to salary cap purgatory can convince the Miami Heat to take Jackson on in exchange for a longer salary, someone like James Johnson, who has a $16 million player option two years from now? For a variety of reasons: Probably not! Do the Phoenix Su..nevermind this exercise is already depressing. But there are only so many times Pistons fans can watch him bend over in the corner without wanting to put their foot through a television.
Damian Lillard's Escape-Dribble Pull Up is Everything
This move isn't quite on the same level as Kareem Abdul-Jabbar's sky-hook, Dirk Nowitzki's one-legged fadeaway, Michael Jordan's turnaround, or Pascal Siakam's whirling dervish, but Damian Lillard's escape dribble pull-up is one of the most aesthetically gorgeous finishing moves in all of basketball.
This isn't the best example, but you get the idea. It's impossible to defend and he can get to it anytime he wants, typically from the mid-range, where he's been lights out this season.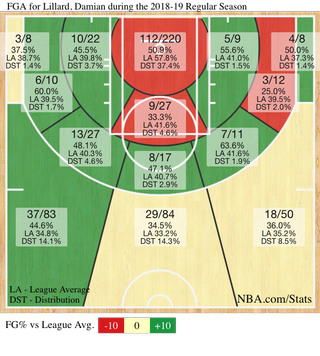 The 2-3 Zone is Now Heat Culture
I'm not sure what to make of this. The Miami Heat have a top-ten defense and allow the fourth-fewest wide-open threes per game. They also like to utilize a 2-3 zone and allow the fourth-most open threes per game. (Wide open equals no defender within six feet; open is no defender within 4-6 feet.)
The zone is gimmicky, an increasingly antiquated strategy that plays right into the hands of offenses that would love nothing more than to catapult from the outside. (Back in 2009, George Karl said: "My zone offense is to put three guys on the court who can make threes and have them make a couple.") The Heat, though, like to use theirs at the end of halves and close games. It's not the bedrock of what they are, but is far closer to their makeup relative to any non-tanking team in the league.
The 2-3 zone also isn't foreign to Miami. They ran it sparingly last year, but...still. Weird, right? For a team that won't lose on purpose, to willfully embrace a strategy that essentially represents tissue paper vs. an airplane propeller, it's somewhat confusing. And it's also kinda fun! Being different in an increasingly homogenous, copycat-obsessive league is cool...unless you're a Heat fan watching plays like those seen below:
A zone is idiosyncratic in 2018. It's also not the worst hill to die on, Miami's base defense, or what's to blame for their sluggish start to the season. They also aren't the only non-Rick Carlisle-coached team trying it out. Here's the New York Knicks getting gutted by the Indiana Pacers (they switched out of their zone on the next play, but generally use it quite a bit):
It's at once a baffling oddity, commendable venture, and white flag. Nearly twenty years ago, when the NBA changed their rules to allow it, teams often broke out the zone whenever they couldn't stop the other team. It was a band-aid. Today, with half the league jacking up at least one three-pointer for every three shots, it's more like self-mutilation. But the Heat seem fine with it. They've won every game I've seen them use it in, and Erik Spoelstra should big-balls dance his way off the court if the Heat stifle the Rockets with it tonight.
T.J. Warren's Newly Intriguing Trade Value
Rest in peace to the mental block that prevented T.J. Warren from being comfortable behind the three-point line.
Only 25 and discreetly locked into one of the NBA's most team-friendly contracts (a $50 million deal that runs through 2022 and actually decreases by $1 million next year before popping back up in 2021), Warren has ameliorated the one slice of his game that's kept him under the radar ever since he entered the league.
"It was a secret weapon," Suns head coach Igor Kokoškov jokes. "He didn't know he has it."
This season, Warren has already made 48 threes, which is two more than the last two years combined. His current three-point rate is double his previous career high, too, and—apologies for burying the lede but—they're going in 44.4 percent of the time! (Among all players who launch at least four threes per game, only Steph Curry, Bojan Bogdanovic, Danilo Gallinari, and Joe Harris have been more accurate than Warren, who entered this season making just 28.3 percent of his career threes.)
To course correct the issue, Warren spent the summer in Raleigh, North Carolina, working out with his best friend and trainer Trevor West (David West's nephew).
"Me and him, we was working out all summer together trying to fix the shot, because I always had the good touch, but it was always a mental thing," Warren told VICE Sports. "It's kind of just one of those things like 'Man, why shoot threes if I'm shooting this percentage around the rim?' And then you see where the game is going and you just say 'You know what? I'm tired of people telling me what I can't do. I'm gonna adjust to this and show people that I can do this while doing what I'm really good at, my bread and butter, which is around the rim.' I just wanted to prove to myself that I could do it."
The upgrade is startling and has transformed Warren—already someone who's remained efficient while increasing his scoring average by at least three points every year of his career—into a completely different type of problem for opponents who were happy to duck under screens and ignore him off the ball. Defenders are now forced to chase him over picks and funnel him into the paint, which is where he wants to be anyway.
"Guys are trailing me now, so it's kind of opened everything up," Warren said. "When you see the opponent start to respect your shot, that's a good thing."
His growth into an undeniably valuable offensive weapon should make him attractive to good, non-Suns teams that feel they need the punch from all three levels that Warren can now provide. The contract is long, but long contracts at a relatively low number are juicy. And even though Warren is a fine complement next to Devin Booker, Mikal Bridges, Deandre Ayton, and the rest of their young core, Phoenix may want to (further) tank this season away by shedding one of their most intriguing trade chips—and someone who really props up the offense—for less expensive future assets. As someone who isn't known for his passing, Warren may not be long for Kokoškov's system, either.
"At the level he played in high-school and college, he was such a dominant driver. And young American players who can go to the basket and turn the corner and attack the rim, they don't feel they have to develop [the three-point shot]," Phoenix's head coach said. "You realize at this level, if you're decent, which [Warren] is—very good three-point shooter—then there's going to be more space for him to drive the lane. If somebody's open, he should make the extra pass and that's how we play basketball."
The Houston Rockets, Utah Jazz, Dallas Mavericks, New Orleans Pelicans, Orlando Magic, Charlotte Hornets, Detroit Pistons, Minnesota Timberwolves, and Sacramento Kings should have interest. These teams all want to make the playoffs and Warren can help them get there. But are any willing to give up a first-round pick for someone who'll cut into their long-term cap space (particularly this summer)?
Warren's perspective on the matter is fixed: "I'm with Phoenix, and I'm happy to be here. I'm focused on turning everything around and getting wins for this organization," he told VICE Sports. "That's my main focus and my everyday focus."
What is D'Angelo Russell's future in Brooklyn?
I've hesitated to write this section for a few weeks but can now say with pseudo-confidence that D'Angelo Russell is not bad. After they dropped approximately 193 straight games on the last possession, the Brooklyn Nets somehow own the longest winning streak in the NBA (seven in a row!). Since it began, Russell is a team-high +53, averaging 18 points and eight assists, with 47.3/39.0/100 shooting splits. He's quarterbacking picture-perfect pick-and-rolls, drilling step-back threes, and, in spurts, taking over games.
Not all is gravy, though. Russell's only attempted three free throws, still can't finish around the rim, and, in the last seven games plus the entire season before that, Brooklyn's offense is insanely worse when he shares the floor with Spencer Dinwiddie, who just signed a three-year, $34 million extension with the team. On the other end, even though Brooklyn's defense has been decent when Russell is on the court and really bad when he sits, he still has miles to go. Russell has a bad habit off the ball of worrying more about his man than basic help concepts; he positions himself as if scouting reports don't exist. Seen below: Kris Dunn is a career 30.6 percent three-point shooter. Why let him space the floor?
But the good is finally outweighing the bad at the exact right time. Russell is a restricted free agent this summer. He turns 23 in February and consistently exhibits the playmaking intuition that convinced the Los Angeles Lakers to select him second overall. Right now he has the same usage rate as Kawhi Leonard and DeMar DeRozan, a top-ten assist percentage, has made more threes than Bradley Beal and Kyrie Irving, and ranks 22nd in offensive Real Plus-Minus (13th among point guards). Turnovers are an issue, but Russell is steadily maturing as a lead ball-handler who can get to his spots, leverage his size, and take what the game gives him. It's hard not to be seduced by his patience, or the way he moves back-line defenders with his eyes. Even in big spots against good defenses, the guy looks extremely comfortable right now.
Assuming Allen Crabbe opts into his $18.5 million player option, the Nets should still be able to open up one (second-tier) max slot with Russell's $21 million cap hold on their books if they renounce all their other free agents (including the useful veterans and Rondae Hollis-Jefferson, who really can't shoot but is the only player on this roster strong/big/quick enough to bother Durant, Kawhi, LeBron, Giannis, etc.).
From there, signing Russell to a deal that's similar in length but greater in worth to the one they just gave Dinwiddie makes sense. (Just throwing this out there, but $50 million over three years seems fair?) Trading him before the deadline is unlikely for a team that wants to (and can) make the playoffs, and losing him for nothing wouldn't be ideal, considering that contract would be a trade chip and, again, Russell is only 22 years old. Cap space is nice, but Brooklyn's front office didn't look bullish on their chances of landing a star when they let Dinwiddie's extension cut into their room. If the Nets don't land a meaningful free agent, re-signing Russell lets them see what that backcourt can do alongside Caris LeVert and Jarrett Allen without too much overlap between their looming paydays. (LeVert and Allen hit restricted free agency in 2021 and 2022, respectively.)
It may very well be that LeVert and Allen are the only two players on today's team who're still around when Brooklyn wins its next playoff series. It's also possible that the foursome's collective internal growth pushes them further much sooner than anticipated. (Again: Worst-case scenario, Dinwiddie's actual contract and the hypothetical agreement with Russell can be trade assets best viewed as a bridge to whatever era is next. Maybe their third contracts are with Brooklyn, but locking everybody in probably won't translate to the type of ceiling they want, anyway.)
If Russell receives an outrageous four-year offer this summer, be it from Phoenix (he's good friends with Devin Booker), Orlando (rubs chin), or a surprising suitor (Indiana?), Brooklyn can sleep well with what it already has and not feel any pressure to match. They can keep a few useful cap holds on the books and still shop around for Russell's replacement. But if Russell gets squeezed—as most restricted free agents are—then Sean Marks should extend a generous but short contract, one that limits their risk while letting the club watch Russell develop in their system for another couple years. His recent play deserves that much.
Delon Wright: Magician
We'll end on the closest thing Delon Wright has to a signature move, this brilliant double cross that just about always trips up whoever's guarding him.