The illusion of trompe l'oeil meets 19th and 20th century American architecture and 21st century fabrication techniques, in a new temporary ceiling designed by architect studio FreelandBuck for the Renwick Gallery at the Smithsonian American Art Museum.

The piece, called Parallax Gap, was the winning entry in a competition to design an installation for the Renwick's largest room, the Bettie Rubenstein Grand Salon.
FreelandBuck's installation will be a 2,500 sq. ft canopy that hangs 15' above the floor. It will apply principles and techniques associated with architectural drawing and bring them off the page (or screen) and into the three-dimensional space. These will become nine different ceilings designed to reference various American architectural styles from the 19th and 20th centuries.
"By constructing three-dimensional drawings at building scale, we are also trying to open up multiple ways for architecture to be engaged and understood—both as literal objects in space and illusionary elements that can produce effects, meanings and surprises," explain FreelandBuck co-founders David Freeland and Brennan Buck.
As for the American architectural styles that will be included, Freeland and Buck say that they're taking some inspiration from the Renwick itself. They note how it was designed in the 1860s using a style called Second Empire, a style influenced by French and Baroque architecture, the periods of Louis XIV, Italian Renaissance, and Napoleon I.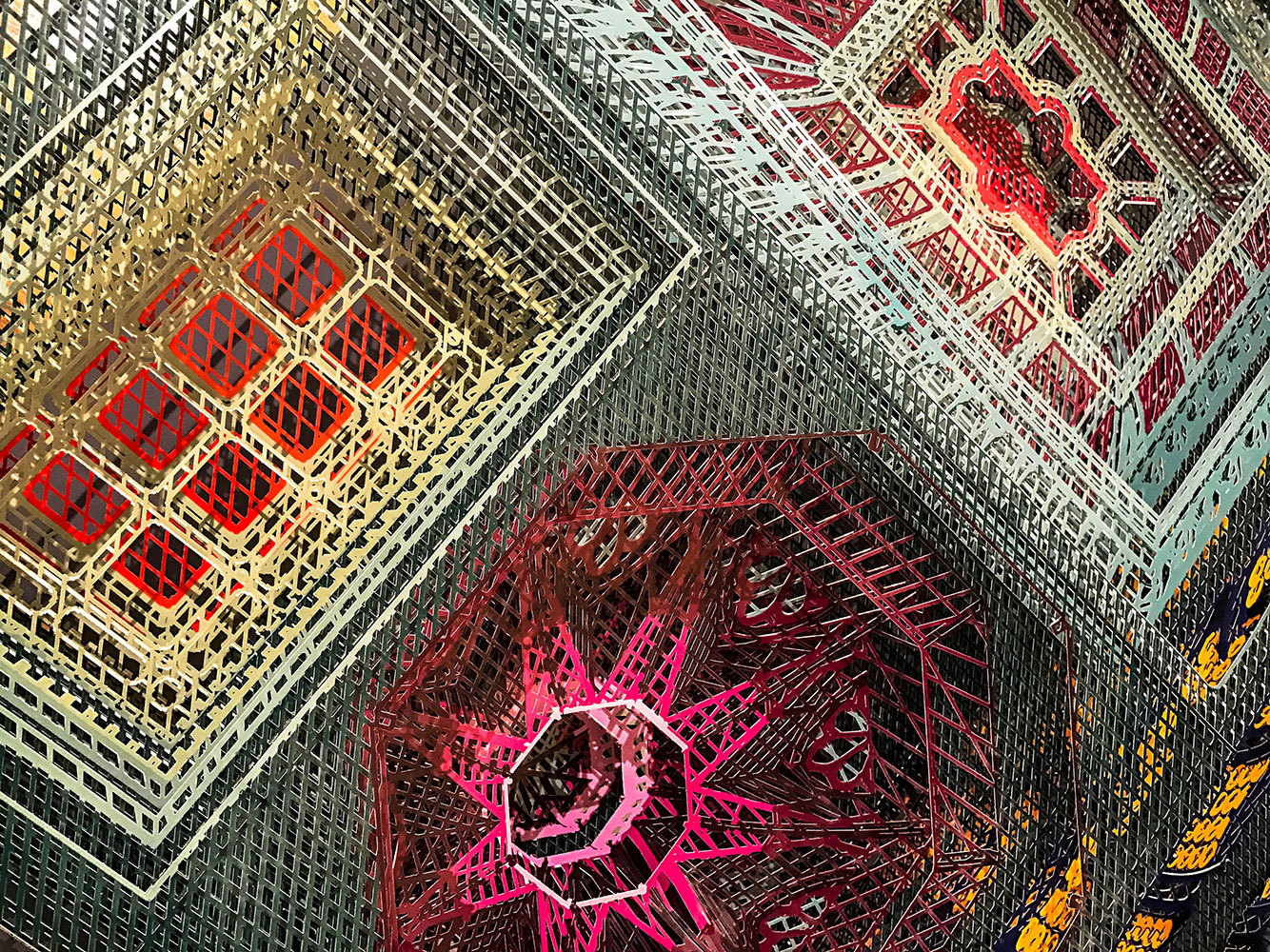 For their installation, they want to reflect this intriguing era with the multiple ceilings "serv[ing] as a field guide to American architecture at that time." So they will reference the Renwick along with ceilings from buildings like the 1933 Art Deco Cincinnati Union Terminal, the 1915 Palace of Fine Arts, San Francisco, and more.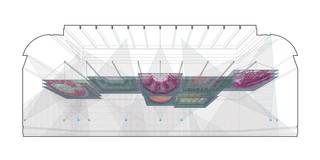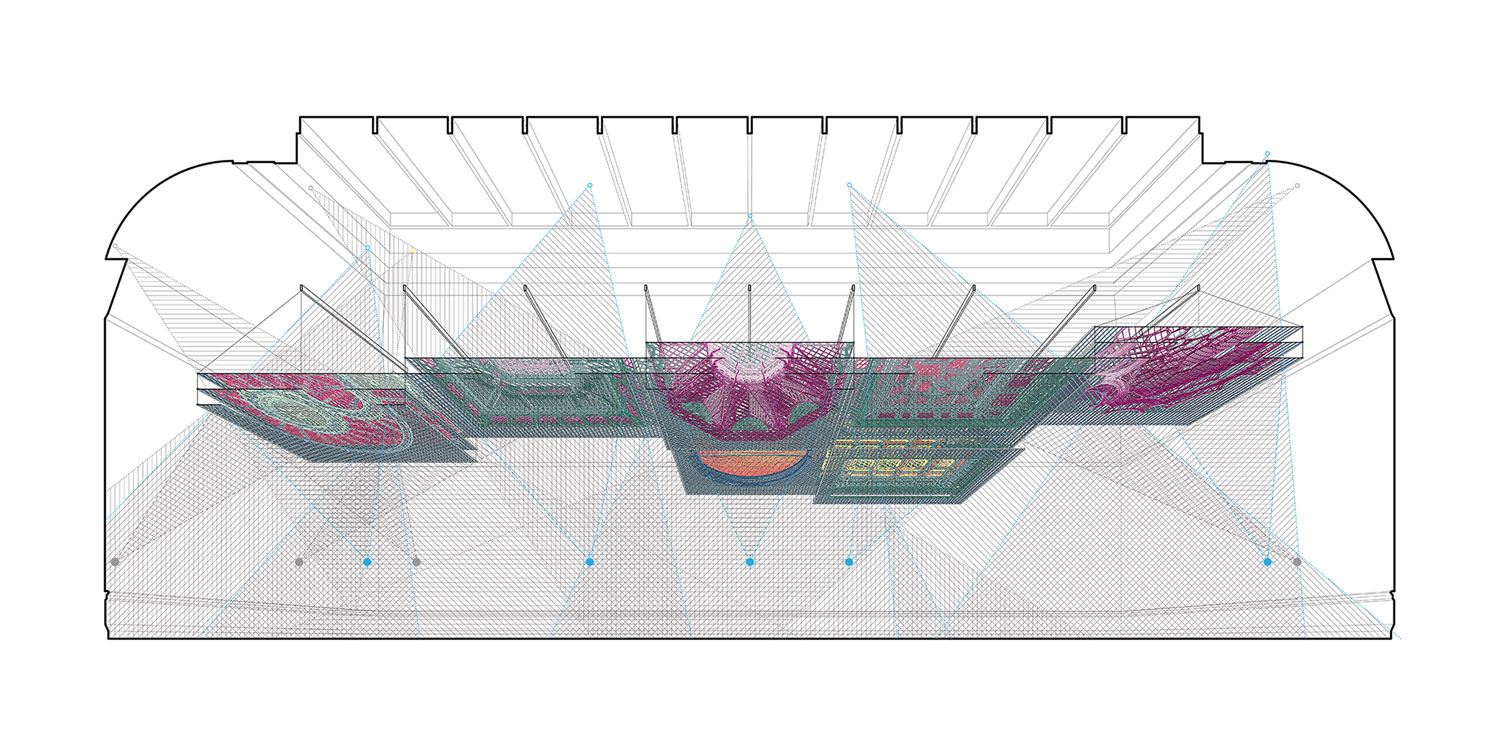 Along with these nods to American architecture, Parallax Gap will also utilize an older technique from architecture and painting, the trompe l'oeil famously used in Renaissance decorative ceilings. An example is the work of Italian Andrea Pozzo, whose murals on flat church ceilings, when viewed from the ground, give the illusion of a 3D dome covered in angels. Another example is the Painted Hall by James Thornhill at the Royal Naval College in Greenwich, London. Although from a later period, again it's Baroquely painted on a flat ceiling to give the illusion of depth.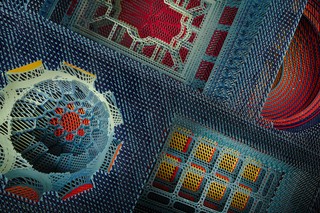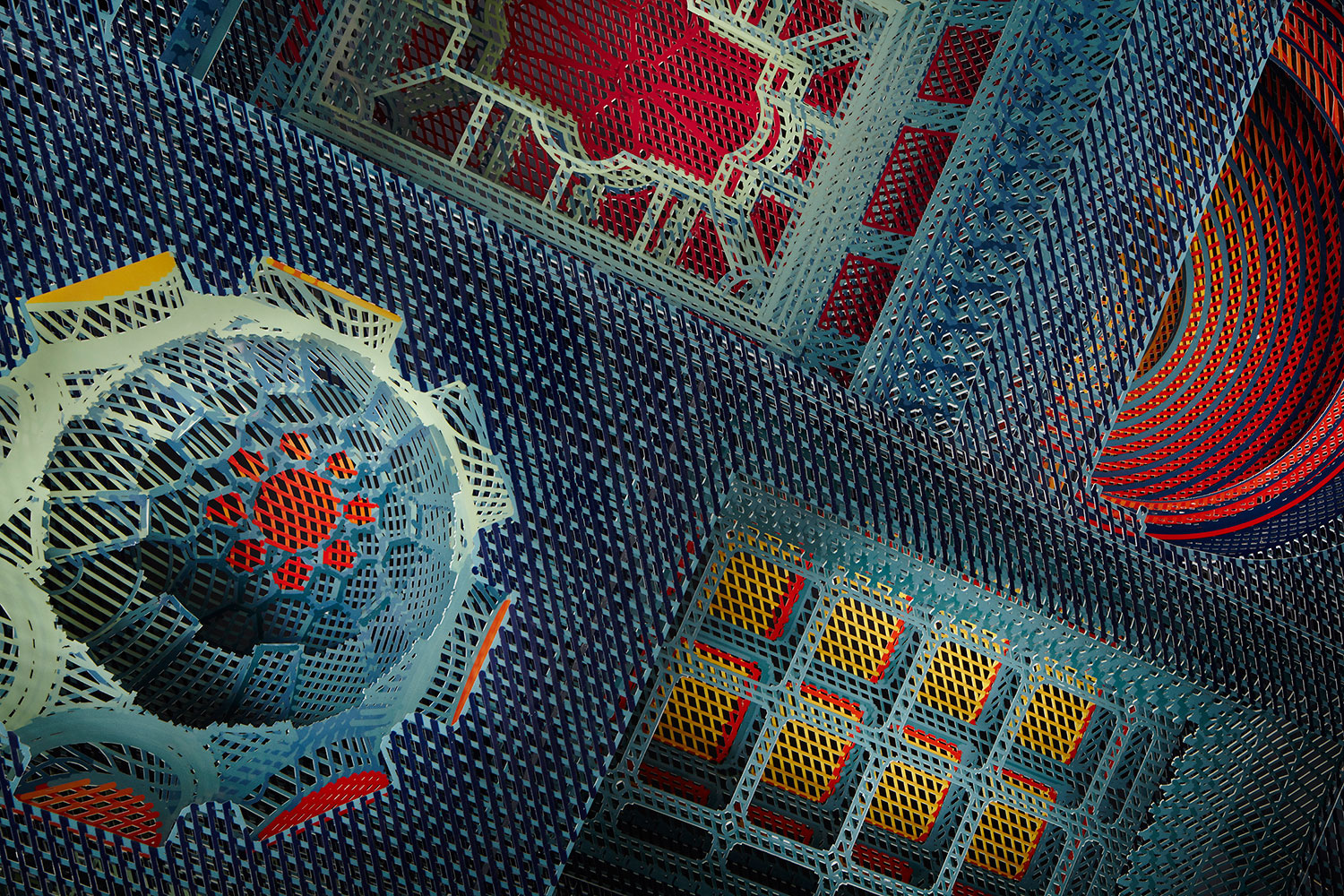 "Rather than add a lower drop ceiling, we were hoping to extend the limits of the room upward— trompe l'oeil came immediately to mind," notes FreelandBuck.
The pair explain that the piece will be built similar to a tent, each ceiling printed on panels of fabric and cut out. These will then be sewn together and supported by an aluminum framework which will hang from the ceiling via a truss.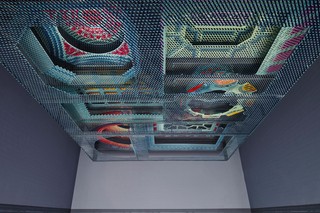 Using these overlapping layered synthetic fabrics, Parallax Gap will create a more abstract representation of trompe l'oeil. Its geometric designs creating a variety of vanishing points and perspectives that will shift as visitors move around the space. Creating a parallax effect and sense of displacement. By doing this it will also reveal the discrepancies in the illusion, in a sense undoing it—which is all part of the idea.
"Despite its fame, trompe l'oeil is often thought of as a cheap trick, an architectural one-liner," notes FreelandBuck. "The criticism of a trompe l'oeil master like Andrea Pozzo, even during his time during the Italian Renaissance, was that his illusions only worked when viewed from a single point in space. From other points of view, his extending ceilings and illusionary domes looked flat or malformed. But there is a case to be made that this deformation is exactly what Pozzo was interested in—revealing the limitations of and gaps in the then-mysterious science of perspective construction.
"It was these inconsistencies that interested us; we think trompe l'oeil is a more robust and even contemporary technique than it might seem. Given the constant stream of visual illusion a contemporary audience encounters every day through images, film, video, or virtual reality, producing the illusion is commonplace. The gaps and glitches are much more fascinating: figures appear suddenly out of scale, space flattens out, or an entire dome seems to rotate in space. The Renwick installation amplifies and coordinates these gaps, opening up the illusion to creative interpretation and leaving the viewer with a visual puzzle to solve."
Parallax Gap will be on view at the Renwick Gallery from July 1, 2017 to February 11, 2018. You can find out more about the project at the Smithsonian American Art Museum exhibition page and at FreelandBuck's website.
Related
Remembering the Strangest Architecture New York Never Built
This is Your Brain on Beautiful Architecture
Brave New Britain? One Architecture Student Reimagined the UK's Spectacular Future