In the wake of the Parkland school shooting, facing pressure to protect their cities from gun violence, 10 mayors from Florida's Miami-Dade and Broward counties are suing Republican Gov. Rick Scott over a law they say blocks them from passing local gun control ordinances.
The law, signed by Scott in 2011, bolstered state protections for firearms and empowered the Florida legislature to punish mayors who try to enforce stricter gun laws. Mayors who undermine the state law could be personally fined $5,000 and even lose their job, while cities or towns can face up to $100,000 in legal damages. Although 43 states have "preemption laws" that make it hard for cities or towns to pass their own gun regulations, Florida's 2011 law seeking to hold local officials liable was the first of its kind. Other states, including Mississippi, Kentucky and Arizona, have since followed suit with similar laws.
The 45-page lawsuit was filed Monday in Weston — 24 miles from Parkland, where a teen gunman opened fire at Marjory Stoneman Douglas high school on Feb. 14, killing 17 people and sparking a gun reform movement led by the student survivors.
Weeks later, Scott signed an omnibus bipartisan bill that included a few gun control provisions, including banning bump stocks in the state of Florida, raising the minimum age for long-rifle purchases, and creating a three-day wait period for firearm sales. Signing the bill cost Scott his longtime relationship with the National Rifle Association, but it didn't do what the students asked, and local leaders from cities in Miami-Dade and Broward say it doesn't do enough to address gun violence.
"We get phone calls every day: 'What are you going to do?'" said Miramar Mayor Wayne Messam at the press conference announcing the suit on Monday.
In Coral Gables, city officials want to ban assault weapons. "We don't want those weapons to be carried in Coral Gables [or] sold in Coral Gables," said Mayor Raul Valdés-Fauli. According to the lawsuit, Valdés-Fauli was threatened with removal following his efforts to ban AR-15s in Coral Gables after the Parkland shooting. The effort was abandoned after the city attorney warned of the enormous financial consequences.
Miami Beach Mayor Dan Gelber wants to ban guns from City Hall. "The idea that we cannot control our own space is astounding," said Gelber at the press conference. "At my own City Hall, someone can walk in with a concealed weapon, and there is legally nothing I can do about it. Nothing."
Weston City Commissioner Tony Feuer says that the current law violates local municipalities' First Amendment rights.
Pompano Beach, Weston, Lauderhill, Miramar, Miami Gardens. Miami Beach, South Miami, Coral Gables, Pinecrest, and Cutler Bay are the cities that have passed resolutions to sign on to the suit against Scott. The two cities most affected by the Feb. 14 massacre, Parkland and Coral Springs, are currently missing from the list of plaintiffs. According to WPLG Local 10 News, Parkland is not considering joining at this time, and Coral Springs is working on its own lawsuit.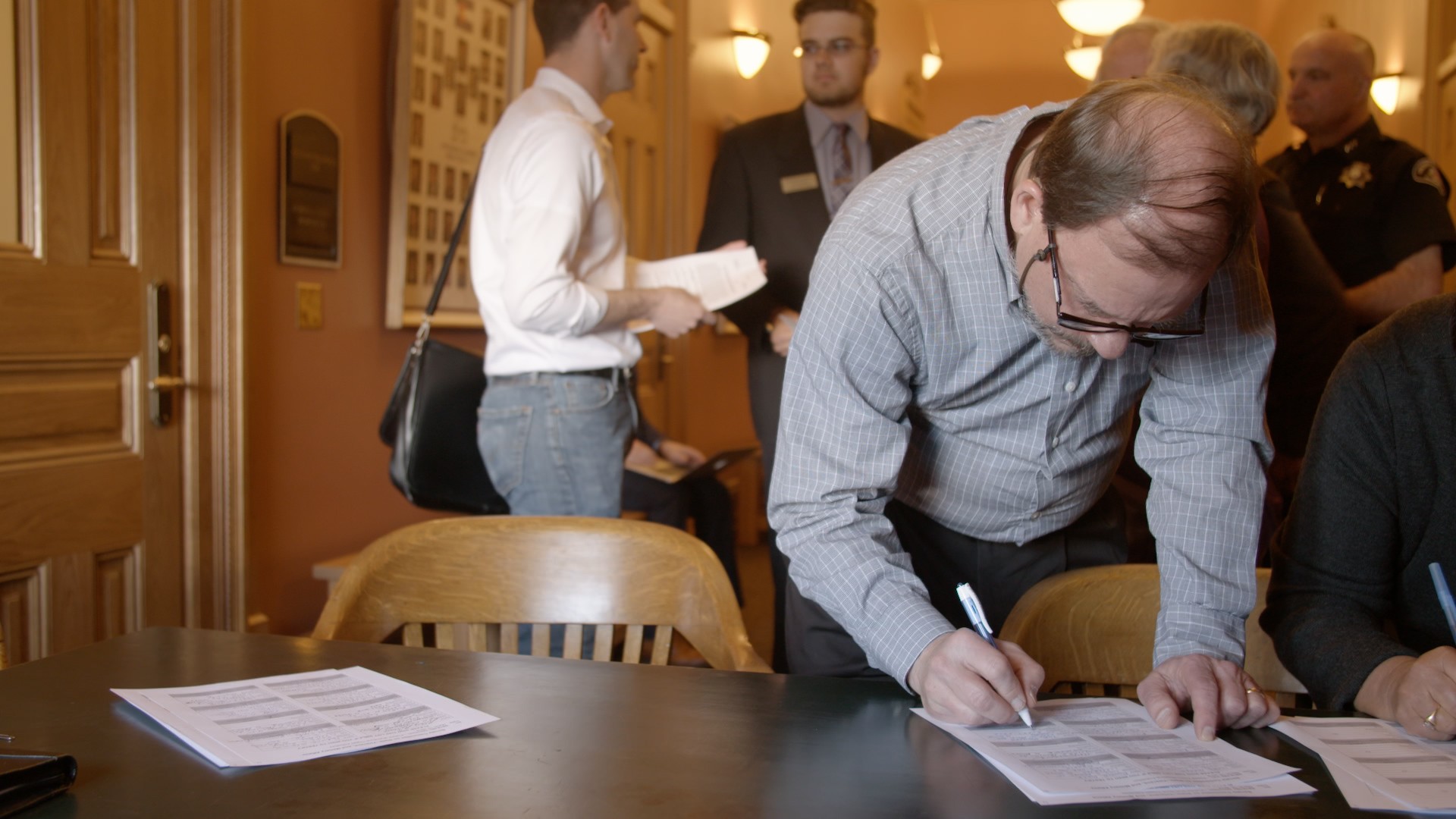 Cover image: Florida Gov. Rick Scott spoke to the media at the Hillsborough County Sheriffs Department, in Tampa, Wednesday, Feb. 28, 2018. (Monica Herndon/The Tampa Bay Times via AP)