James Harden is a runaway favorite to be named the NBA's Most Valuable Player because that's what happens when you redefine hero ball, score more points than anybody else, and are the best player on the best team. But so long as LeBron James is the most dominant basketball player in the world (which he still is), every MVP debate—including, if not especially, this one—must take his uninterrupted eminence into consideration.
Harden and LeBron have spent the past six months supplying us with plenty of memorable moments that don't have a parallel—from Harden's 60-point triple-double to LeBron's eye-watering evisceration of Jusuf Nurkic (each deserves applause until all of our palms turn red)—and we know their race for MVP won't age poorly like Bob Fosse over Francis Ford Coppola at the 1973 Oscars.
Assuming Harden wins, no person who lived through this season will glance back 30 years from now and think anyone was robbed. Approaching the debate through a pro-LeBron lens is less about pitting two great players against each other (which I of course do later in this column) and more about contextualizing an awe-inspiring, unprecedented individual season that impresses in a way Harden's does not.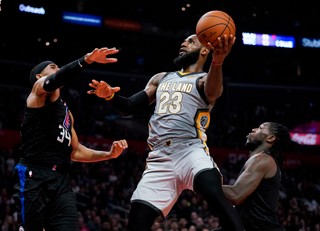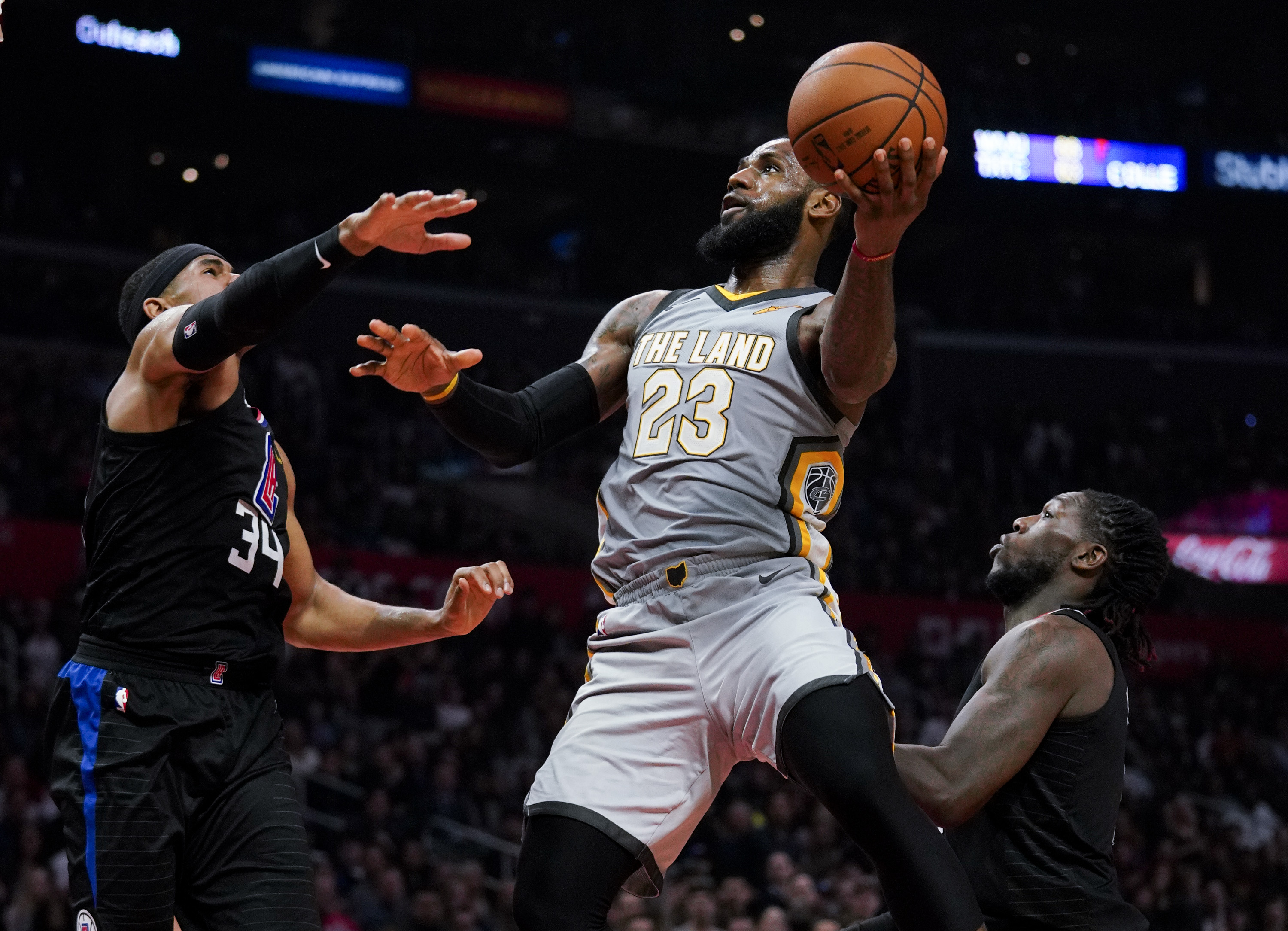 LeBron's team currently sits third in the Eastern Conference despite enduring several nightmarish setbacks—from egotistical off-court theatrics to various physical injuries—over the past few months. Replace him with literally any other player (Harden, Steph Curry, Kevin Durant, Anthony Davis, Giannis Antetokounmpo, Terry Rozier, whoever) and the Cleveland Cavaliers would not only fail to crack home-court advantage in the first round, but it's likely they'd still, in late March, find themselves scratching and clawing for a seat in the playoffs.
You can argue LeBron deserves a share of the blame for some of the on and off-court turmoil Cleveland went through this year, but nobody has done more with less to conquer the innumerable obstacles he has. (A few quick examples: the third and fourth-leading scorers on this Cavaliers team are Kyle Korver and Jeff Green, John Holland and Ante Zizic are in the rotation right now, etc.)
Bypassing age or all the miles he's ran, LeBron's power (particularly of late) has been transcendent enough that capping off his historic 15th season with a fifth MVP award shouldn't be dismissed out of hand—if for no other reason than to parse out just how awesome he (and Harden) have truly been.
Again, I think Harden will/should win his first MVP this year—here's how his numbers compare with LeBron's through the whole season—but for the purpose of constructing an argument for anyone else, holes need be poked into the favorite's case, so here goes nothing: Harden's sidekick is Chris Paul, a first-ballot Hall of Fame point guard who leads the entire league in Real Plus-Minus and is just about always on the floor whenever Harden is not. The Rockets are 5-3 in the eight games Harden has missed, and they outscore opponents by 5.4 points per 100 possessions when he sits, while their offense stays in the top seven.
As remarkable as Harden is and has been all year long, his situation is beyond ideal and his margin for error in the regular season is pretty damn wide. From the system (on both ends) to how every single role player makes his life easier (on both ends), there's no excuse for Harden not to be excellent. And he is! But if he won this award in 2015 or last season—both should've been his, in my opinion, and his fellow players agree—would candidates, like LeBron, whose teams would easily sink into the lottery if they weren't on the roster, be more openly discussed as having a chance?
For the fourth year in a row, Cleveland's entire framework has been fueled by LeBron's greatness. His teammates do complement him, yes, but their relationship to him is less mutualistic than Harden's with his own supporting cast. Cleveland doesn't generate corner threes, finish in transition, or even push off opposing missed shots when LeBron isn't out there. It's a different organism. Their second unit can tread water early in the second quarter against an opposing bench, but this team would drown if he missed a week or two.
He's averaging 30.1 points, 10.3 assists, and 10.2 rebounds since the trade deadline, an 18-game span. Nobody has a higher assist rate, Joel Embiid and Harden are the only two players with a higher usage percentage, and Donovan Mitchell is the sole individual averaging more minutes.
For the entire season, LeBron is one of three player with at least 6,000 touches and his impact in the clutch is astronomical. Despite ranking 23rd in three-point percentage as a team, the Cavaliers have the third-highest winning percentage in the league when competing in games that have a scoring margin that's fewer than five points with five or fewer minutes remaining. (Only the Rockets have a more efficient offense.)
LeBron is the first, second, third, and fourth reasons why. Twenty-two players have logged more clutch minutes than he has, but nobody has more points. Also, nobody has a higher usage or a higher assist rate. (Think about that for a second...) LeBron's True Shooting against defenses that are more locked in than at any other point in the game is 62.8. This is laughable nonsense, and as his support system crumbles and changes and crumbles again, he remains the most reliable body in sports.
Not all is perfect, though. For the first time in his career, LeBron's team has had a higher net rating when he's on the bench than on the floor. This despite Cleveland's offense—which has featured such luminaries as Derrick Rose, 36-year-old Dwyane Wade, a hobbled Isaiah Thomas, Green, and more—trailing only the Warriors and Rockets with LeBron on the floor. When he sits they drop to 20th.
(Cleveland's offense in the fourth quarter goes from first with James to 30th without. This doesn't factor in garbage time but, still, lol.)
Defense has been another story, where extensive segments of the season have been chill mode x 10,000. Not only do the Cavs own the worst defense in the league when LeBron is on the court, but when he rests they leap up to fourth, per CTG. That's obviously not entirely his fault, but isn't a great sign, either.
Some of it can be explained by Cleveland's three-point defense. When LeBron's on the court, opponents make 39.4 percent of their threes (the 30th ranked Sacramento Kings allow 38.9 percent). When he's off, that number plummets to 34.8 percent (slightly lower than the second-ranked Boston Celtics). To make this feel like even more of an anomaly, Cleveland's opposing three-point rate is actually lower with LeBron than without.
The film suggests some of this is bad luck and some of it's because he gambles for steals, doesn't close out hard/at all on open shooters, or keep his man in front of him, which opens up advantageous drive-and-kick opportunities. Also, defending a ball screen with LeBron can be confusing, since Cleveland doesn't execute a switch-everything scheme unless he suddenly wants them to.
Now let's look at two possessions from Wednesday's win against the Toronto Raptors. In the first play, LeBron's man, Pascal Siakam, hits an open corner three, but his defense is still nearly perfect.
The ball is entered to Kyle Lowry in the post, where the Raptors are ready to run their signature snug pick-and-roll. Jakob Poeltl runs across the lane to pick off Jordan Clarkson and then roll for a lob, but LeBron knows what's happening, rotates over, and takes it away. Lowry kicks to Dorell Wright, who swings to Siakam in the corner.
Heading into the game, Siakam was 5-for-33 from the left corner and 8-for-28 from the right corner, AKA he's been an atrocious outside shooter. Teams have been leaving him open all year long, and LeBron is right to close short, give Siakam a cushion, and take away any drive to the basket (especially in this lineup, where Cleveland's two sources of rim protection are LeBron and Green).
LeBron made the right play and got burned. It happens. But a few minutes later he makes an inexcusable mistake. It's the last play of the first half and Toronto forces a mismatch by pushing off Cleveland's miss. George Hill is guarding DeMar DeRozan and LeBron is on Fred VanVleet. Instead of staying in between VanVleet (who's never missed a corner three in his life) and the ball, he loses track of Toronto's backup point guard and slides up to double DeRozan.
That's bad, and plays like this are far too frequent for LeBron to be considered anything more than an average defender right now. Poor effort (even if it's for understandable reasons) has made him look mortal. This doesn't mean his ceiling on that end is dramatically lower than it used to be (chase-down block dynamism, one-through-five versatility, and Magnus Carlsen's foresight will be unleashed when it matters most) but, for the purpose of judging his regular season, he hasn't been good enough.
Even still, LeBron's overall influence is hugely positive. He defines the Cavaliers, a team that will still be favored in any playoff series until the Finals simply because defeating him four times in a seven-game series remains one of the hardest tasks in NBA history.
Harden has been magical. His body of work feels like a steroid-injected, analytically-deduced apex that's been catapulted into another stratosphere by a carefully constructed habitat that fits his skill-set tighter than a tattoo. Hats off to him for being amazing.
But all that LeBron has managed this season—at 33, in his 15th year, leading the NBA in minutes while on track to play in all 82 games for the very first time—will age like the distinct historical artifact that it already is. He's been MacGyver crossed with Hercules. How many players have ever led the general public to legitimately believe they're not only commanding on-court action, but also pulling strings in the front office and diagramming entire game-plans in their spare time?
And even when everything looks wrong—as it has several times this season—who can honestly look at this guy and not immediately convince themselves that it will all eventually be OK, for no better reason than his existence? I don't know what the objective definition of an MVP is, but that's gotta be pretty close. LeBron won't win the award, but it's not hard to see why arguing on his behalf is still such a reasonable thing to do.