No. 1
REBOUND 29: Caris LeVert, who apparently thinks he is a late-game hero, drives to the rim and tries a pump-fake-y bank shot. He misses, Dwight Howard heroically jumps over another guy who is boxing him out, catches the ball, and takes a foul. It is honestly the strangest moment in this thing, because it involves one player no one could possibly care less about, Caris LeVert, deciding that the weight of the world is on his shoulders and that it is time for him to prove his mettle and just fucking failing colossally, while another player, who will probably be in the Hall of Fame, seals the game for his team just by hustling for a rebound.
No. 2
REBOUND 14: Jeremy Lamb throws up a terrible, just unbelievably terrible shot, terrible even by the standard Jeremy Lamb has set for himself in the NBA, which is not great. Howard, who set the screen for this garbage and has rolled into perfect rebounding position, rises the fuck up, grabs the ball, and slams that shit down nice and clean, three defenders surrounding him. For a second, you forget he is Dwight Howard, the NBA player with the most baggage, and accept that he's kind of cool and stuck in a really weird situation where he has to play with Jeremy Lamb. It's honestly mysterious.
No. 3
REBOUND 21: Kemba Walker, who is having a not so great game, misses at the rim in a pick-and-roll with Howard, who cleans it up and slams it home.
No. 4
REBOUND 17: Walker misses a floater and Howard is there. He bats the ball around like a giant cat and taps it in. Howard seems to not give a shit about his legit good play. Michael Jordan has truly broken his spirit.
No. 5
REBOUND 25: As Charlotte's announcers tell everyone at home that the team has crossed the points threshold and everyone in the greater Charlotte area will be getting free Papa John's, Rondae Hollis-Jefferson gets distracted by the promise of sweet, bready 'za and misses over Frank Kaminsky. Howard, who loathes savory carbs, is not swayed for a second and grabs the board.
No. 6
REBOUND 12: Walker misses, Howard jumps over Jarrett Allen and grabs the board, Allen loses his cool and fouls Howard, who finishes over the contact. At another point in his career, Howard would have flexed, yelled "Superman," and dry-humped something. Now, he just hangs his head low and strolls to the line. You can see him as a grown-up now and honestly? It's not totally appealing. He seems vaguely destroyed, the Dan Bejar of basketball.
No. 7
REBOUND 11: Walker misses a step-back, Howard grabs it and puts it back in. This is a good, honest put-back. Show it to your kids to encourage good work ethic.
No. 8
REBOUND 28: In a one-possession game, Nets forward Caris LeVert tries a turnaround baseline jumper to seal it for Brooklyn. It does not work. Instead, it is rebounded by Howard.
No. 9
REBOUND 23: Walker misses again, by an awful lot. Howard grabs the miss, which doesn't even hit rim, and is fouled almost immediately. It is fucking painful to watch this—it is a terrible shot, a good board, and a cynical hacking to negate the effect of that board all in one foul swoop. It disgusts me in the aggregate, but the board itself is pretty good, I suppose.
No. 10
REBOUND 19: We turn to the Charlotte broadcast: "Nine offensive rebounds is a season high for Dwight Howard. His career high is eleven."
"Eleven… how many years ago was that?"
What is with the Hornets HOME SQUAD absolutely roasting has-been Dwight Howard as Rondae Hollis-Jefferson misses a shot that Howard retrieves with ease? Is the entire Hornets organization against him? Have the team doctors been poisoning him? Does the masseuse slip razors under his skin? Has Michael Jordan been using his oxygen masks as a humidor?
No. 11
REBOUND 7: Marvin Williams misses a teardrop that really shouldn't have gone in, or even been thrown up in the first place. Howard grabs the board and brings it down in a big, powerful crouch stance, protecting the ball and the board as if it were his child. Surprisingly tender.
No. 12
REBOUND 5: Allen Crabbe misses a free-throw-line jumper, Howard powers up for the grab over a Nets defender. Workmanlike stuff.
No. 13
REBOUND 16: Walker goes to take a three-pointer. He stops at the three-point line before he does it. An eternity seems to pass, and in the space of that eternity, Howard realizes that Walker is about to shoot a three-pointer and gets into prime box-out position. He low-key shoves Quincy Acy out of the way and grabs the board. It is at this point I notice his shoes are terribly purple.
No. 14
REBOUND 9: Howard challenges a floater from fellow Laker washout D'Angelo Russell. The floater draws rim, Howard catches it. Poetic, in its way.
No. 15
REBOUND 4: Hollis-Jefferson crosses up Howard, draws a hearty "OOOOHHHH" from the Groupon-filled Barclays Center, and misses a wild-ass circus-y layup attempt. Howard calmly lets the board fall in his hands while RHJ spazzes out on the other side of the hoop.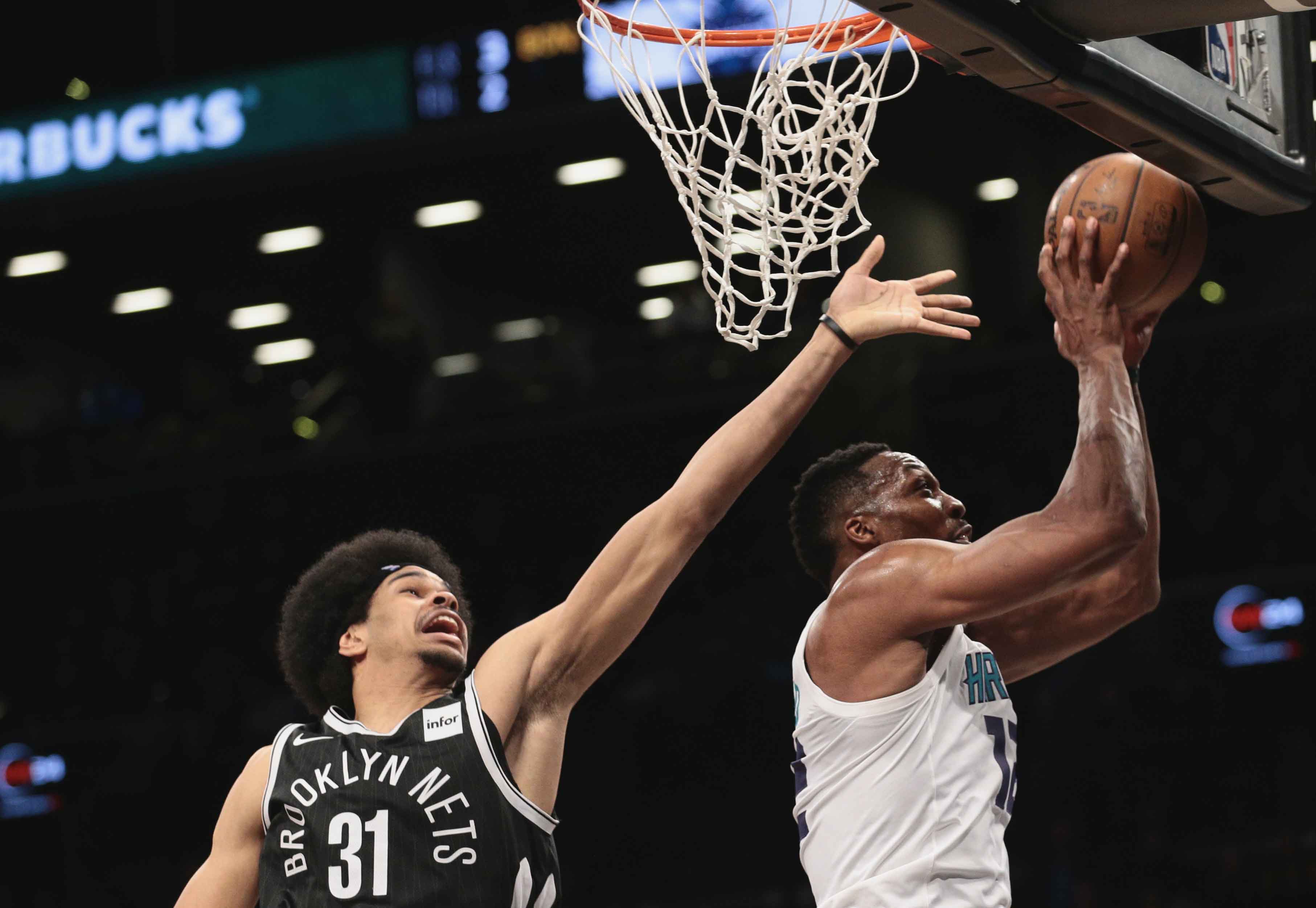 No. 16
REBOUND 3. Marvin Williams throws up a wild shot that Dwight boards and takes back up. He is fouled, which represents a mixed success for him, a notoriously spotty foul shooter.
No. 17

REBOUND 6: Allen Crabbe misses a leaning three, a shot he has never once made, not even in practice. Howard is in a pretty uncontested space, but still has to stretch for the board. You have to admire how routine he makes it look.
No. 18
REBOUND 24: Joe Harris, that horrifying monster, drives to the rim and is soundly blocked by Howard, who recovers the board easily. Harris's true eyes, those of a hideous bat, emerge, and he hisses at his enemy.
No. 19
REBOUND 13: Lamb drives and throws up one of his patented terrible shots at the rim. It skies out, Howard catches the miss with straight arms, ARGUABLY gets fouled from behind, and misses the put-back by, like, a mile.
No. 20
REBOUND 26: D'Angelo Russell misses a foul shot, Howard gets the rebound. As far as foul-shot boards are concerned, it's actually a pretty hard retrieval: Howard has to box a guy out and nestle it against the backboard.
No. 21
REBOUND 20: Hollis-Jefferson back-irons a midrange jumper, Howard grabs the board. Painfully routine on all accounts.
No. 22
REBOUND 18: Brooklyn's Joe Harris, a default Create-a-Player—his name is "Joe Harris," for Christ's sake—back-rims an up-and-over. Howard grabs the insanely routine defensive board.
No. 23
REBOUND 30: The game clock winding down, DeMarre Carroll, who is on the Nets now apparently, misses a layup that Howard grabs for his 30th board. Maybe gunning a little but hey, who are we to judge?
No. 24
REBOUND 27: D'Angelo Russell, straining to win a close game, front-irons a midrange shot that falls right into Howard's arms.
No. 25
REBOUND 1: Walker blocks Russell's jump shot, and the ball falls into Howard's hands. You don't see a lot of blocked jumpers that drift sadly into the hands of a waiting big man, so you have to appreciate this from a novelty perspective, but from a skill perspective, it's a matter of pure luck for Howard.
No. 26
REBOUND 2: DeMarre Carroll bricks a three and it falls into Howard's hands as a matter of course. This shot was created off an offensive rebound, so, in a way, it actually represents a rebounding failure on Howard's part.
No. 27
REBOUND 8: I worried the thing I am watching these on was on the fritz, because like our first block of the night, this ALSO involves Kemba Walker blocking a jump shot, and the ball drifting gently into Howard's hands. I could not tell who took this shot, I swear the announcer said his name was "Brian Smitger," but there is no Nets player by that name. Yet.
No. 28
REBOUND 15: Howard catches a missed foul shot from Carroll. Honestly bullshit, shouldn't even count as a board.
No. 29
REBOUND 10: Walker runs the rim, misses his layup. Michael Kidd-Gilchrist grabs the board, goes back up with it. Howard grabs THAT board—a pretty hard one, all things considered—but then he gets stripped by Quincy Acy and the Nets get it going the other way. If you were going to argue that one of these boards wasn't even properly a board, you would probably go with this one. You could argue that's REALLY a board for Acy. Honestly, home scorekeeper needs to fudge that. What are we paying him for!?
No. 30
REBOUND 22: NBA mislabeled their video of this, it is not a Dwight Howard rebound, it is a DeMarre Carroll tip back. This is, by technicality, the worst board in this whole collection, because I do not see it as a board at all, but as a clerical error.