Fava Bean Escabeche
No need to shell your favas: leaving them on helps them to retain all that flavor you're adding in this recipe.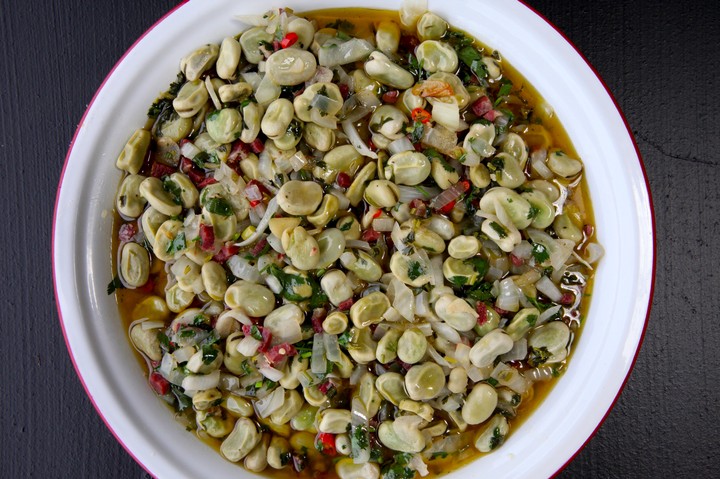 Photo by Farideh Sadeghin
Makes about 2 quarts
Prep: 10 minutes
Total: 25 minutes
Ingredients
2/3 cup very good olive oil, plus more to serve
Jamon Iberico: "As much as you can afford," diced into 1/4-inch pieces
2-3 garlic cloves, thinly sliced
1 large yellow onion, diced
2-3 dry or fresh red chile peppers, thinly sliced
1/3 cup apple cider vinegar
1 (28-ounce|793 grams) bag frozen fava beans
kosher salt and freshly ground black pepper, to taste
1/3 cup apple cider vinegar
1 bunch fresh cilantro
2 teaspoons granulated sugar
2 lemons
Directions
1. Heat the olive oil in a large saucepan over medium-high. Add the jamon and cook until the fat has rendered, a bout 5 minutes. Add the garlic and cook until lightly browned., about 3 to 5 minutes. Toss in the onion and chilies and cook until the onions are soft, about 8 minutes. Remove half of the mixture from the pan and reserve.
2. Add the fava beans and a hearty pinch of salt to season. Add cracked pepper "until your arm hurts".
3. Add the vinegar and 2 cups of water to the pot. Bring to a boil.
4. Chop up the whole bunch of fresh cilantro. Throw 1/2 bunch (the stem side) in the pot along with the sugar. Reserve the other half (fresh side) of the cilantro separately on a plate on the side.
5. Zest the lemons, set zest aside on the plate with fresh cilantro.
6. Turn off the heat. Let it cool completely. Then put in the reserved garlic and onions along with the chopped cilantro and zest into the pot. Then squeeze juice from the lemons into the pot. Keep a pot of it in the fridge.
7. To serve, take out a few scoops and drizzle some olive oil over it.