A tour of The Armory in years past has produced healthy amounts of selfie opportunities as witnessed on Instagram. This year's most-photographed and socialized piece came in pastel colors, through from Jeppe Hein's mirrored balloons for König Galerie. The shiny, reflective surfaces of sculptures or mirrored artworks attract social media attention for their ability to capture the viewer, even within a spectacle-filled art fair context. Cue the #artselfie.
At this year's Armory Show, there were a handful of artworks that contained fragmented, mirrored compositions that offered meaning in their reflective overtures. They integrated one's cultural heritage or embedded political messages; that is, these artists used the basis of reflective art, metallic materials or mirrored canvases, less in a gimmicky call for attention than to reflect on the world around them in personalized and profound ways.
At the Cardi Gallery booth from Milan, a mirror painting from Michelangelo Pistoletto is on display. The Arte Povera artist is best known for his metallic paintings from the 60s, where he would photo silkscreen life-sized images of people onto highly reflective surfaces to welcome the viewer into the work. The reflection was a means to capture the environment and to make the art more accessible.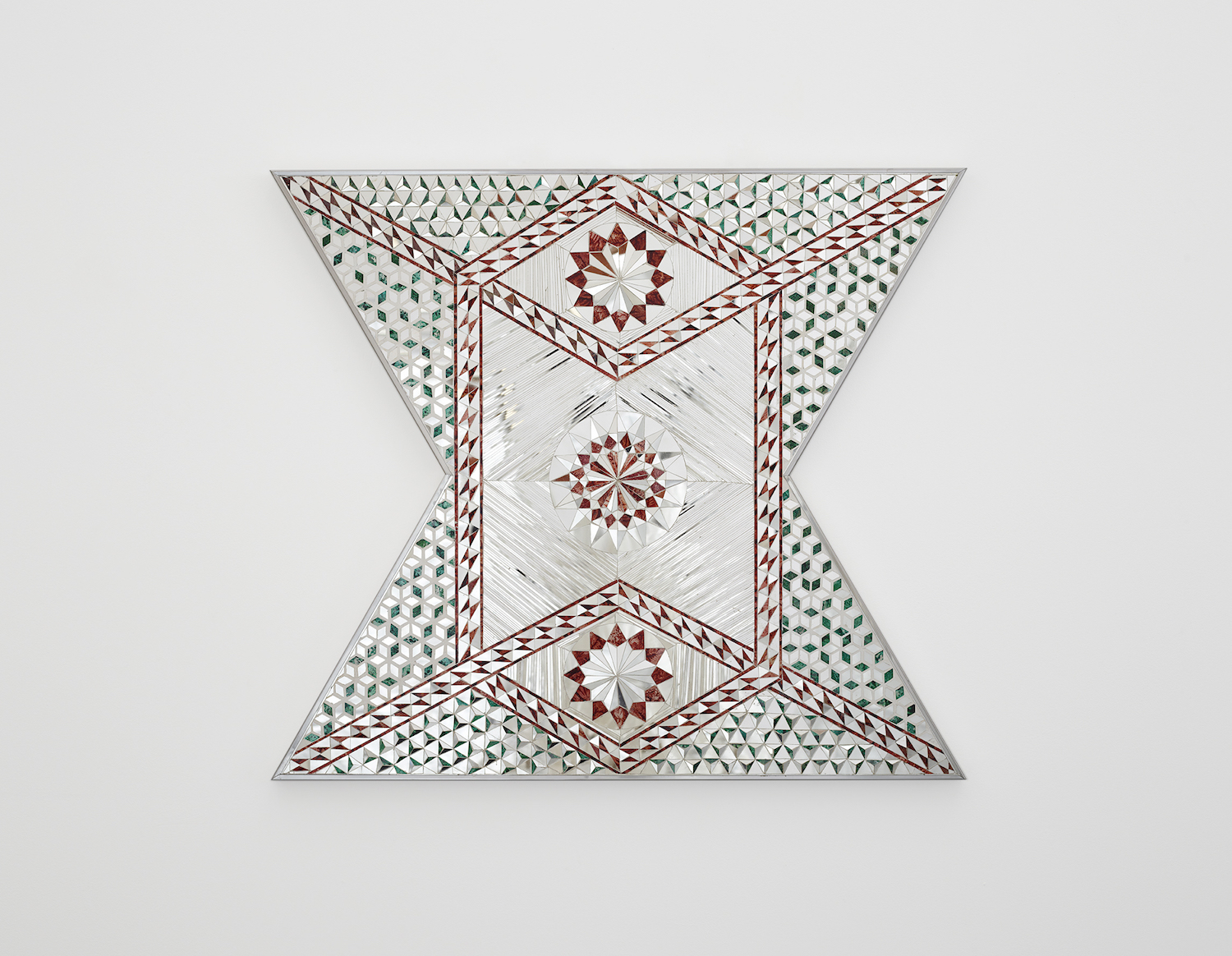 Moving down the aisle to Haines Gallery from San Francisco, a set of mirror and reverse-glass paintings on plaster on wood shimmer in the distance. On display are the Convertibles pieces from the venerable Iranian artist Monir Shahroudy Farmanfarmaian. The 90-year-old has spent half a century creating mirrored mosaics, reverse-glass painting, and works on paper that pull from Persian interior decoration and 20th Century reductive abstraction. Each work on display reflects one another and the viewer into a more intimate space and consciousness. Through the formation of each piece's shape, we see a spirituality play out, the infinity of a circle, the pentagon's five senses, the triangle lifting human consciousness.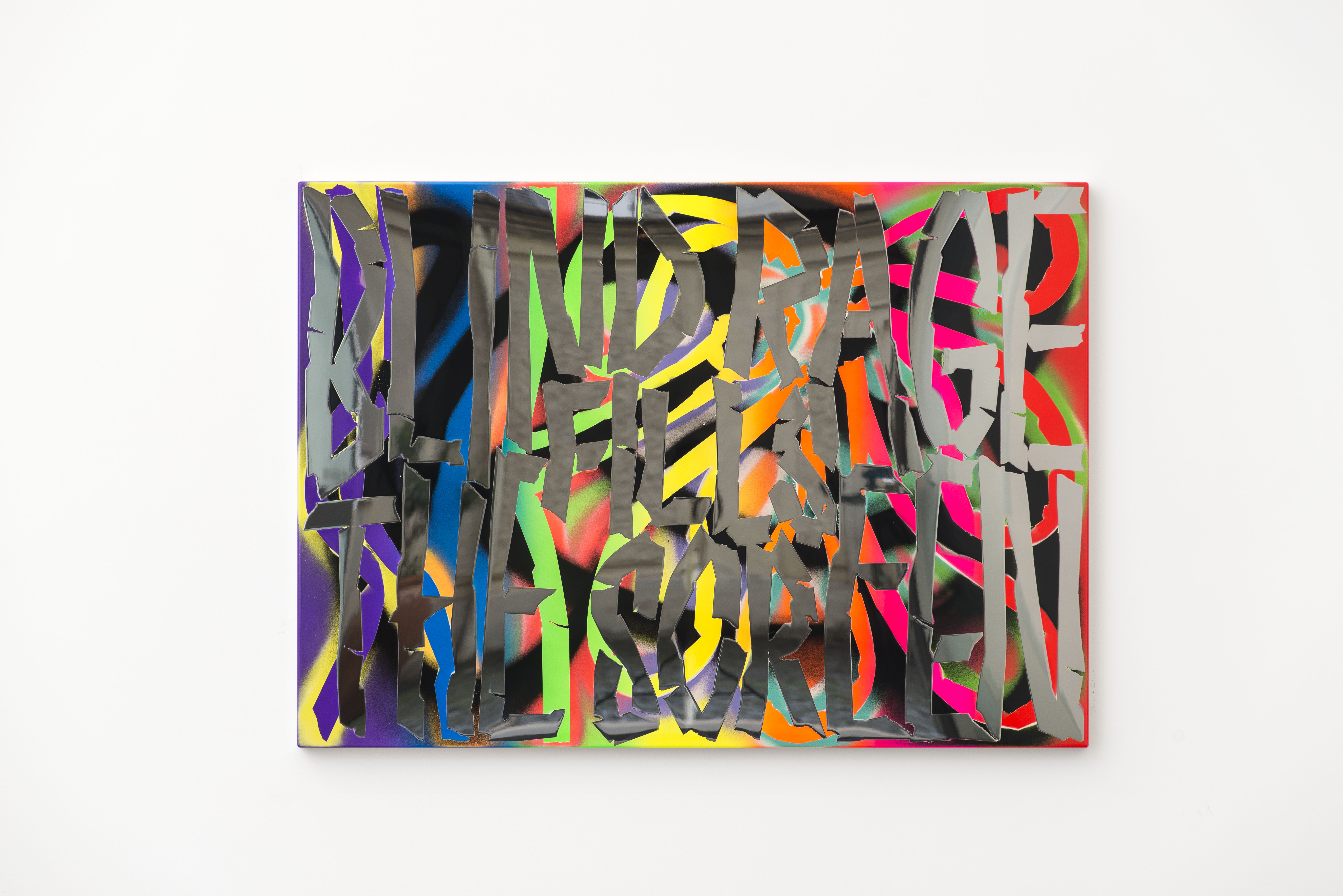 On the other side of the fair, a partition wall at the Galleria Lorcan O'Neill booth from Rome holds a colorful Eddie Peake piece that reads Blind Rage Fills The Screen in lacquered spray paint over polished stainless steel. In the artist's statement, he writes, "My endeavor is for the surface of my work to be perfect, whilst carrying an imagery that has a dark psychology and emotional narrative that lingers behind what is immediately visible." Upon a careful read of Peake's work you will confront cutout words that are foreboding and insistent like the piece titled Shut Your Mouth. He says, In particular, they are an attempt to articulate the ambiguous and confusing space between verbal language and non-verbal language, and the discrepancy that occurs when one is translated into the other, for example when trying to convey an emotion with words."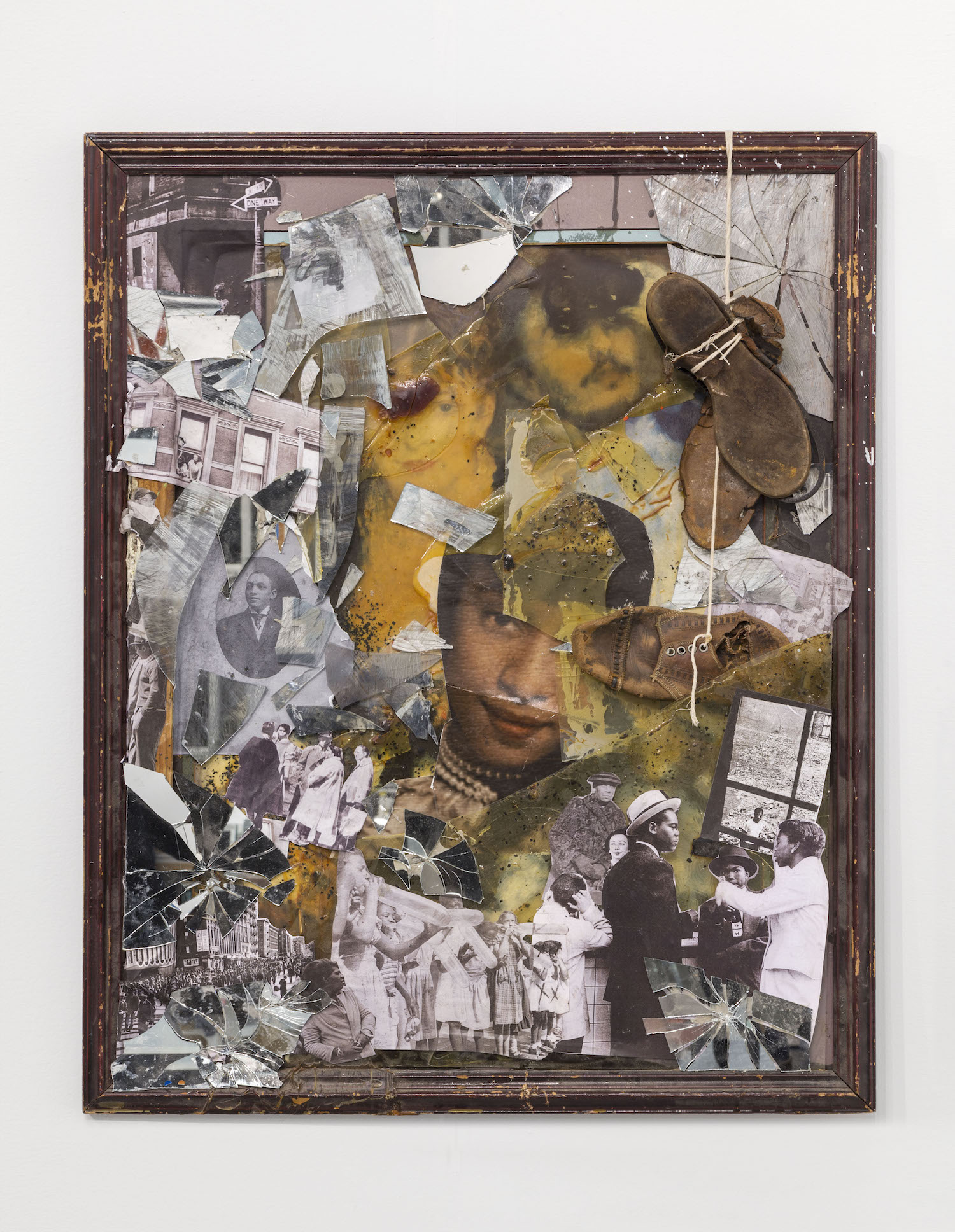 The New York artist Abigail DeVille is known for sculptures and installations that are focused on the themes of racism and gentrification. Her works, often homages to the Bronx where she was born and raised, culls found materials from that neighborhood into her artworks. She is an artist dedicated to unearthing forgotten narratives. Her works on display at the Parisian Michel Rein gallery booth sparkle precariously. In La Loge Harlem, 2017, DeVille constructs a narrative with mirror shards, historical photographs, shoes, and string. The piece glitters from a distance drawing the viewer in to intimate but broken scenes of a Harlem that was once a bustling bedrock for the black community only to slip into economic decline over decades. Her work seems to announce that her own identity, too, has suffered from the oversight.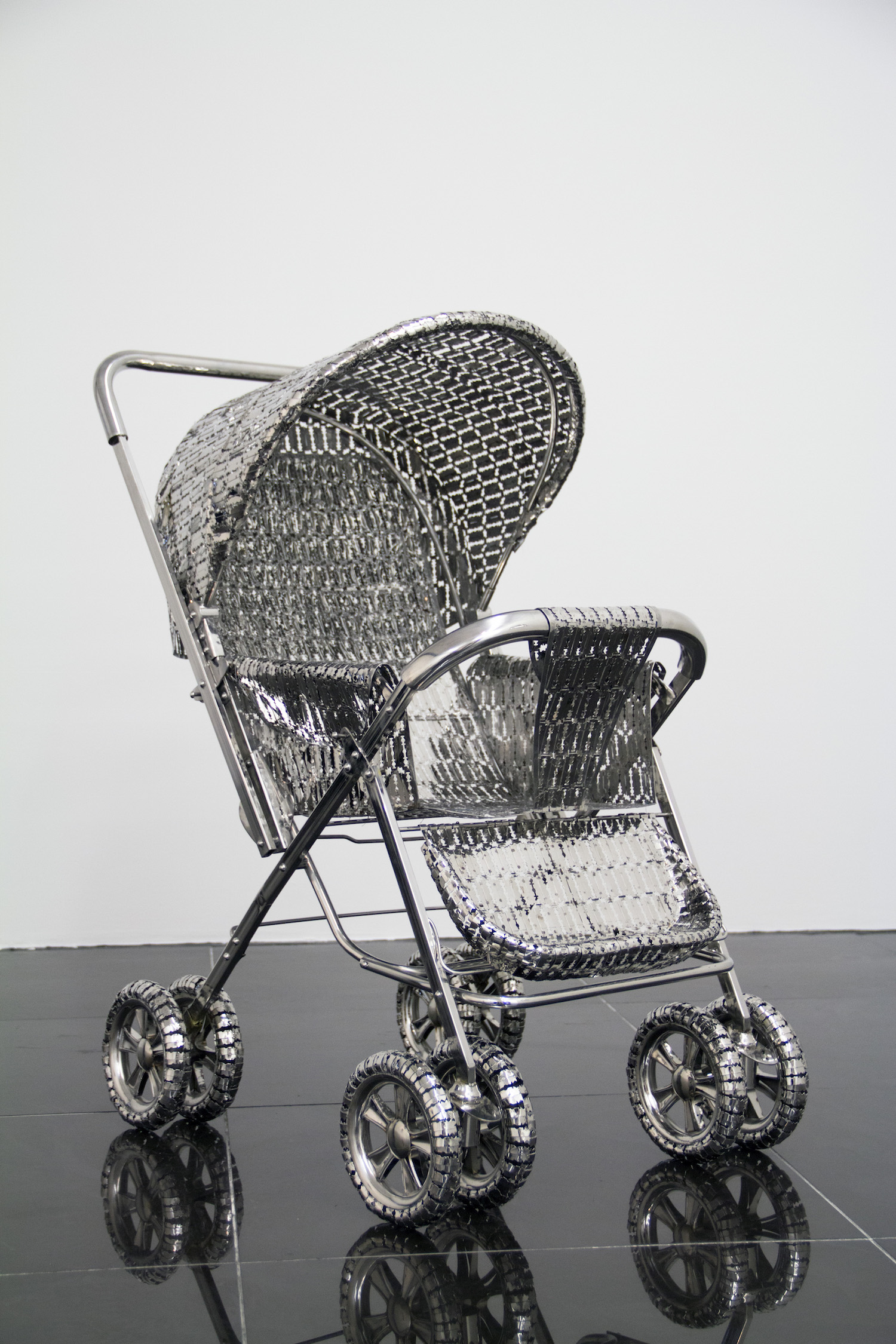 Lastly, in a completely unexpected way, a stainless steel stroller made completely of welded razor blades shimmers across the aisle in the London-based Pi Artworks gallery booth. Tayeba Begum Lipi is a Bangladeshi artist whose works recall early memories of purchasing sparkling new razor blades to assist midwifes in the births of 12 siblings' growing families. At first glance, one can assume a sinister and angry undertone in her work but learning about the cultural implications surrounding the concepts of her works invites new complex meaning. Her artist statement reads, "Tools of precision and security, the blades transform quotidian objects into items imbued with luminosity and an atypical beauty."
In a scan for glimmer and shinny surfaces in a sea of art, these disparate artists use the power of the reflection as an effective tool to communicate identity. Not all reflective surfaces need to entice or encourage vanity, but they can be important sites for the transference of memetic power.
Related:
Here's All the New York Art Fair Sh*t You Don't Want to Miss
Take a Studio Tour with Mirror Artist Monir Shahroudy Farmanfarmaian