Since 2010, no sports team has brought more pain to its fans. Three Presidents' Trophies and zero trips beyond the second round of the postseason is an unprecedented run of playoff futility. Just when you think the Capitals have run out of ways to reach into your chest and pull out your heart, they conjure back-to-back overtime losses. At home. After jumping out to 2-0 first-period leads. In both games.

The Capitals aren't losers, they are artists. This is what they want.
It's time we stop blaming these losses on choking and start considering that the Capitals have been tripping over their dicks for nearly a decade because the script calls for them to trip over their dicks. They want you to suffer. They laugh about how they've gone and done it again and no one is the wiser. They hate you. They read your sad tweets and chuckle heartily while counting their money.
There's no other way to explain the Capitals' 5-4 overtime loss to Columbus on Sunday night. It has become obvious. Capitals playoffs losses started just like The Fast and the Furious movies; they were forgettable and similar to things you've already seen in the genre but over the years they've become so desperate to top the previous version that you half-expect the Caps to lose Game 3 because a submarine captained by Charlize Theron bursts through the ice just as Alex Ovechkin is about to bury a game-winning goal in overtime.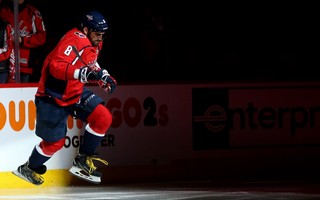 Look at all the key plot points from Game 2 and tell me the Capitals aren't doing this on purpose.
The Caps led 2-0 after the first period of Game 1 and lost 4-3 in overtime. In Game 2, they took a 2-1 lead into the first intermission and lost again. Blowing a pair of leads with 40 minutes to play only seems sadistic when you dig a little deeper.
In the regular season, the Capitals had 29 leads after the first 20 minutes and lost in regulation zero times. Their only loss in that situation occurred in overtime, when hockey switches from five-on-five to a three-on-three carnival. Regular-season dominance devolving into postseason ineptitude is nothing new, but the Capitals decided to become the sixth team in NHL history to lose the first two games of a best-of-seven series at home in overtime.
When everyone is waiting on another second-round loss, the Capitals gave you something unexpected a round early. That's just good writing.
There were enough twists and turns throughout Game 2 to fill another failed Caps postseason run, which could be the production team's tacit acknowledgement that this will be the franchise's swan song so they need to empty the tank. You don't have Vin Diesel jump a demolished parking deck unless you know the end is near and don't care about maintaining any illusion of reality.
Philipp Grubauer was in the unenviable role of Guy Filling The Paul Walker Void but was replaced by Braden Holtby in the role of CGI Paul Walker You Know Isn't The Same Guy But You're Happy To See Him Again. Tom Wilson was in the Jason Statham role, capable of doing something heroic—like saving someone's baby—or something awful—like murdering a beloved character. In this case, Wilson was the latter, leaping into a second-period scrum and earning a two-minute penalty that led to a game-tying power-play goal by the Blue Jackets.
Then Devante Smith-Pelly takes what had to be an intentional holding the stick penalty in the offensive zone that led to another Blue Jackets' power-play goal, making it 4-3 with a minute to go in the second period. This wasn't obvious foreshadowing at the time but it is brilliant writing, because they were able to hide what was coming so well.
The third period had all the trappings of previous Capitals' failures—Ovechkin getting stoned on a breakaway, Nicklas Backstrom shooting a puck directly into a kneeling goaltender that was completely unaware the shot was coming, the Capitals dominating in shot attempts but mysteriously being unable to put one puck past a goaltender with a career postseason save percentage below .900 entering the game.
This was it, a playoff defeat like previous losses but with a few twists. That's all you want with a franchise like this—big stars having their moments, the usual beats you've come to know and a couple of added elements that keep you off-balance. You never have a hard time suspending disbelief because as far-fetched as everything is, it's grounded in reality.
But then, the Capitals went too far. They revealed to the world this entire endeavor has been staged on a level of Shakespeare and WWE.
The Capitals had a 4-0 edge in power plays in the third period of a playoff game, which simply doesn't happen. It would be like The Rock driving a car off a cliff and suddenly the car flies into space and docks with a ship that has Kurt Russell waiting on board. Officials force-fed the Capitals a chance to tie it, and T.J. Oshie did just that on the third power play—pulling the curtain back.
Matt Niskanen contributed to the unmasking by taking a tripping penalty for no reason at 3:51 of overtime but it wasn't until the bitter end that we could see this rich tapestry of failure for what it truly was.
Matt Calvert's winning goal came off a Holtby rebound, but the Oscar-worthy writing only became clear on replay, when you see him score while illegally holding Jakub Jerabek's stick—a callback to Smith-Pelly's infraction that led to the Columbus goal that made it 4-3—and not only go unpunished, but get rewarded for it. You had to stand and applaud with tears in your eyes as the screen faded to black.
The Capitals fruitless offside review was just a fun post-credits scene that whets the appetite for the next installment.
There's just no way to top this. This is the end of the line. Anything short of Ovechkin taking the ice for Game 3 in a Blue Jackets jersey muttering "family" while snuggling with John Tortorella isn't worth watching if you're a Caps fan.
But you will. You'll tell yourself you need to see how it ends already knowing full well how it ends. At this point, you have no one to blame but yourself. The Capitals exist to punish you and you exist to be punished by the Capitals. You'll talk yourself into watching the reboot a few years down the road with a newer, younger cast in the hopes things will be different.
They won't. This is your fate—to be furious.