1. 101 Best EDM Songs
Skrillex? Aviicii? Diplo? Yes, yes, and yes! See who made our list for the 101 best EDM songs of all time.
2. Daphni
The enigmatic producer returns with his latest mix album, Fabriclive 93. This hour-long collection of bright, shimmery tunes includes some Daphni originals. Stream the whole thing right now on NPR.
3. Juan Atkins and Moritz von Oswald
This techno masterpiece from Juan Atkins and Moritz von Oswald is the perfect cap to your weekend, and you can hear it exclusively on THUMP.
4. The world's most beautiful festivals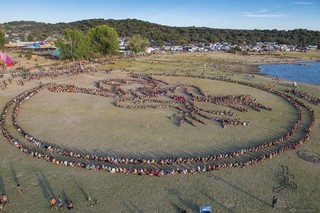 Mixmag rounded up 20 of the world's most astonishing festivals. We've got so much FOMO right now.
5. From day jobs to DJs
It's really important as a creative artist to have the freedom to say no. If you transition too early and you're depending on gigs for every penny, you can end up whoring yourself out, and playing places you don't want to.
We spoke to six DJs and producers about how they made the leap from their professional working lives to creating and performing music full time.
6. The dance music dictionary
What words from the dance music world should be added to the dictionary? Mixmag has a couple of ideas.
7. Luttrell
On the latest THUMP exclusive stream, we spoke to Luttrell about his shimmery new EP, which you can hear right now.
8. SHYBOI
Dig in to this heavy set, recorded at Brooklyn's Groovy Groovy party.
9. The Nines
We take a look at this Dallas nightclub, where BDSM meets Burning Man.
10. Jana Rush
The Wire has the exclusive stream of Chicago progressive footwork producer Jana Rush's debut album.