Scallop Pad Thai Recipe
The classic Thai dish, with scallops.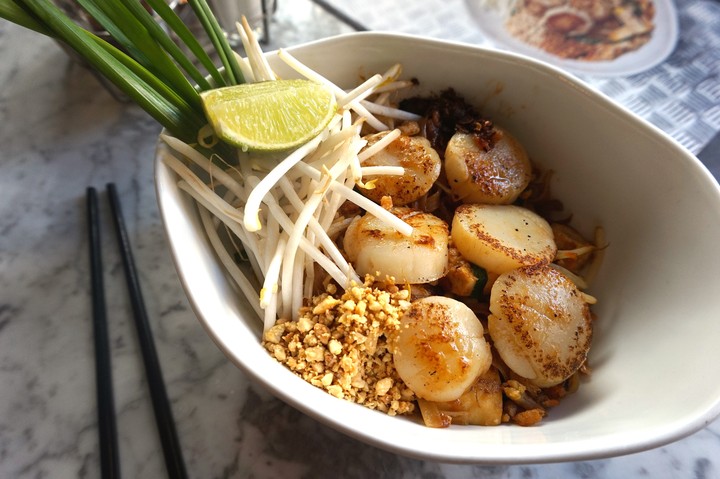 Photo by Angela Hui
Servings: 1
Prep: 10 minutes
Total: 25 minutes
Ingredients
2 teaspoons|25 grams vegetable oil
4 ounces|100 grams scallops
kosher salt and freshly ground black pepper, to taste
1/2 ounce|15 grams tofu, sliced
2 1/4 teaspoons|10 grams Thai sweet radish
2 teaspoons|5 grams ground dried shrimp
2 teaspoons sliced shallot
3 1/2 ounces|100 grams fresh flat rice noodles
1 1/2 tablespoons pad Thai sauce
1 3/4 ounces|50 grams beansprouts
1/2 ounce|15 grams Chinese chives
1 egg, lightly beaten
2 teaspoons|15 grams ground peanuts
1/2 teaspoon|1 gram chili powder
lime wedge
Directions
1. Heat the oil in a large skillet over medium-high. Season the scallops with salt and pepper and cook, flipping once, until golden, 2 to 3 minutes. Add the tofu, radish, dried shrimp, and shallot.
2. Add the noodles and pad Thai sauce and stir until combined. Add half each of the bean sprouts and chives, plus the egg and cook until the egg is cooked, about 1 minute more.
3. Transfer to a bowl and garnish with the remaining bean sprouts, chives, peanuts, and chili powder and serve with the lime wedge.
Stories