GaymerX East 2017 Ends With An Eloquent Call for Community
Speaker Katherine Cross ended the LGBTQ-focused game conference with a fiery speech about the importance of community in these trying times.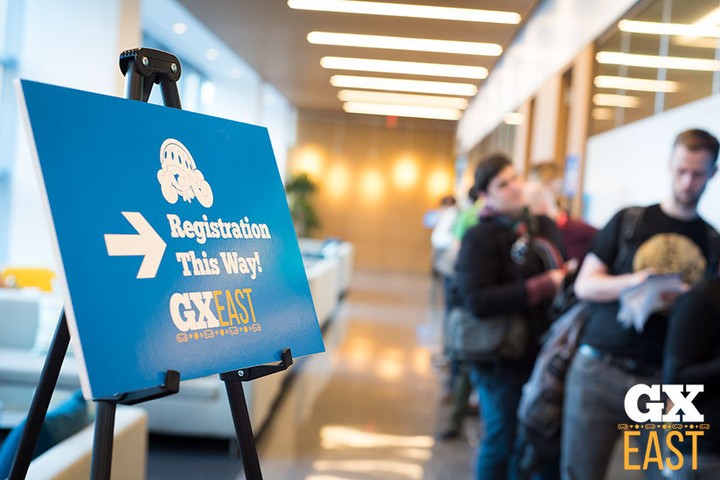 Image Courtesy GaymerX
Disclaimer: I am friendly with much of the staff that runs GaymerX, and with Katherine Cross, the speaker in question in this piece.

Once again this year, I had the honor and pleasure of attending GaymerX East (and hey, I even did a fun little panel!) And, like the inaugural GaymerX East one year ago, it was a much-needed oasis of warmth, community, insightful programming, and community in the sea of shit that has been 2017 in America.
In fact, that's how speaker Katherine Cross began her address at the closing ceremonies, "This year has been unequivocally exhausting," she said, after mentioning her Tennyson-assisted comments from last year's talk: "I exhorted you all to strive, seek, find and not to yield."
"The sequel nobody asked for! 2017: 2016 harder!" She exclaimed to laughter.
"The love in this space, the affirmation, the capital C Community—that is true."
Cross pulled no punches in her assessment of a grim, depressing political year, even if we do get some good Picard memes out of it. But she was bullish on never letting the lies and propaganda of the alt-right obscure the truth about the strength of community, nor to let it collapse or ruin what we have.
"The love in this space, the affirmation, the capital C Community—that is true. It's a glimpse of a world we know is possible, and you must hold fast to that truth, to what you know in your heart amid all the noise and infighting and horizontal hostility that you know is there. Cut through the haze to the core of love and truth and self knowledge that we see here today. That is why you do it. Whether it is making games, drawing art, writing, or organizing conventions like this. Or even simply showing up."
You can watch the full talk here on Mixer (Cross comes onstage around 43:19). It's highly recommended if you need a little inspiration on a difficult (or even not-so-difficult) day.