You can accuse PUP of half-assing a lot of things (general hygiene, for starters), but let it be known that when it comes to making music videos, the band uses their whole Canadian ass. They've twice been nominated for Juno awards for Video of the Year, once for their animated "Dark Days" video and another time for "Guilt Trip," which featured a pre-Stranger Things Finn Wolfhard. There's also the non-Juno nominated but still good-as-hell "If This Tour Doesn't Kill You, I Will," "Reservoir," and "Sleep in the Heat." And now, on "Old Wounds," they've once again teamed up with their go-to director, Jeremy Schaulin-Rioux, for an insanely immersive video game experience.

The video, which is actually an intricate web of 73 videos with 34 possible endings (most of which involve the band members getting murdered or turned into skeletons), allows the viewer to choose their own adventure in an old-school, Sega-style game. In one version, maybe you'll end up getting probed on an alien spaceship. In another, you might just sit and wait for a pizza to be delivered. You might even find yourself getting roasted by us at Noisey: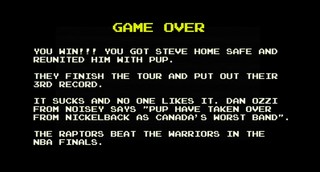 The whole thing took two days to shoot but three months to compile, according to Schaulin-Rioux. "[It] was pretty much the same as all the other PUP videos, so we figured we'd try our best and hope to get lucky and have it work. We probably should have tested it all before we spent all the time shooting and the three months editing," he says.
There are many, many more little fun discoveries to be made in this thing, but the best way to find them is to stop reading and start clicking around. See ya in two hours. (Also, PUP are on tour soon with Thursday, The Menzingers, and Cayetana. Dates here.)