We've entered the last long stretch of winter, meaning you only have a few more weeks of canceling your plans for a date with your couch before the spring practically begs you to go outside with its sunshine and blooming flowers or whatever. As your binge-watching reaches an all time high until the fall, I ask you to make sure your watch list includes titles that at minimum pass the Bechdel Test.
If you're unfamiliar with the Bechdel Test: In 1985, cartoonist Alison Bechdel published a strip titled "The Rule" (see below) in her comic Dykes To Watch Out For, in which one woman explains to another that she'll only watch a film if it meets three requirements:
It has to have at least two women in it.
They have to speak to each other.
The topic of the conversation has to be about anything other than men.
And like that, the Bechdel test was born. Bechdel later said that the idea came from her friend, Liz Wallace. As such, the test is often referred to as the "Bechdel–Wallace test."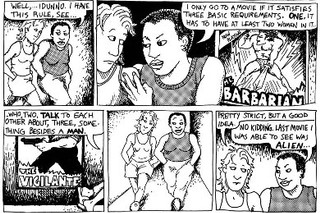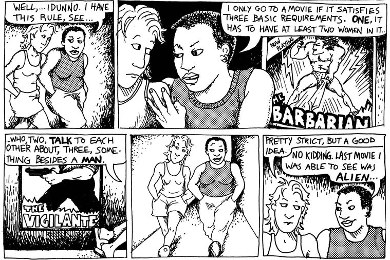 Of course, the test is somewhat arbitrary and by no means a way to designate whether a film is feminist, but if we're watching movies that can't be bothered to include two women talking about literally anything but men, we're letting filmmakers get away with a pretty big disservice to their audiences.
Sadly, the pickings were slim for films that both pass the test and made their way onto Netflix this month, with very little diversity in the pool. Nevertheless, here are seven of them.
1. Personal Shopper
Maureen (Kristen Stewart) is a personal shopper for a high-profile celebrity named Kyra in Paris, the city where Maureen's twin brother died. While there, Maureen stays in her brother's old house where she begins to sense a spiritual presence she believes to be him. The film passes the Bechdel Test many times over with conversations between Maureen, her employer, and her brother's former girlfriend.
2. Edge of Seventeen
This comedy follows high school junior Nadine (Hailee Steinfeld), who confides in her teacher (Woody Harrelson) that she is suicidal. Since the death of her father, Nadine believes that her best friend Krista has been the only good thing in her life. But when Krista starts dating Nadine's popular brother Darian, Nadine feels more isolated than ever. Edge of Seventeen passes the Bechdel Test in conversations between Nadine, her mother, and Krista.
3. Jaws
In this classic 1975 thriller, residents of a beach town grow anxious as casualties from shark attacks grow frequent. A mad shark hunt ensues as tensions between the police department and the mayor's office escalate over whether or not to shut down the island's beaches. The film only passes the Bechdel Test due to a short conversation between Ellen Brody (the police chief's wife) and a local motel owner Mrs. Taft.
4. Pretty in Pink
1986 cult classic Pretty in Pink follows Andie Walsh (Molly Ringwald) as she navigates romance inside her cliquey high school. When she is asked to prom by the preppy Blane McDonough, Andie decides to go, to the dismay of her best friend Duckie who is secretly in love with her, causing a fight between the two. While many of Andie's conversations with her girlfriends revolve around boy drama, there are a few that do not, meaning Pretty in Pink passes the Bechdel Test.
5. Hairspray
Tracy Turnblad is a high school student living in 1960s Baltimore where The Corny Collins Show, a local dance show, has her hooked to the TV. The manager of the TV station that airs the show, Velma, is a racist woman who only allows Black people on the show once a month. When Tracy auditions to be on the show, she is initially rejected by Velma for her size and her support for integration, but is later put on the show by Corny Collins himself. Tracy works with some members of the cast to fight for integration.
6. Velvet Buzzsaw
Set in the power hungry art world of Los Angeles, this Netflix original follows a critic, a gallery owner, and an assistant as a series of works by an unknown artist turn out to have supernatural powers eager to seek revenge. Starring Jake Gyllenhaal, Rene Russo, Toni Collette, and Zawe Ashton, the film easily passes the Bechdel Test.
7. Our Idiot Brother (Available 2/26)
While a man named Ned, the idiot brother in question here, appears to be the main topic of this film, his three sisters who must figure out what to do with him once he gets out of jail are equally as important to the film's plot. Starring Paul Rudd, Elizabeth Banks, Zooey Deschanel, and Emily Mortimer, Our Idiot Brother shows us that good can come of chaos—even if it takes us a while to recognize it.