This is an opinion piece by Crystal Zhang, an environmentalist whose work is focused on the protection of China's wetlands.

In Nanhui, Shanghai, a safe haven for migratory birds is being destroyed to make way for a 'nature park.' Reed-filled ponds are being replaced with a man-made greenbelt and waterways. Nearby, an ongoing land reclamation project is burying one of Shanghai's last remaining wetlands.
All of this is happening in a place that has received international praise for piloting a "sponge city" program, which relies on features like rooftop gardens, porous pavement and strategically-placed waterways to prevent flooding. Yet, despite Nanhui's "sponge city" label, some of the last wetland ecosystems in the area are being decimated.
Over the course of one human lifetime, breakneck development has devoured China's coastline. Between 1950 and 2000, more than half of the country's coastal wetlands vanished. Then, from 2003 to 2013, it shrank by an area 81 times the size of Beijing.
Land reclamation, or the transformation of wetlands and other bodies of water into hard ground, is the biggest cause of this destruction. Skyrocketing real estate prices along the coast have meant it's often much cheaper for local governments to create land from the sea than to purchase existing real estate. But the country's coastal ecosystems have paid a steep price.
Fifteen years ago, a major chunk of what is now Nanhui was underwater, including most of Lingang, the largest of China's 30 acclaimed "sponge cities." Between 1999 and 2006, a 73 square kilometer landfill project was completed at Nanhui Dongtan. The reclaimed land was subsequently used for agriculture activities, including aquaculture and rice farming, but large portions remain undeveloped.
---
Check out more videos from VICE:
---
Native species have returned to area, carving out homes in the reclaimed land. Reeds have grown back over much of the landfill, and Nanhui Dongtan has become a major stopover for migratory birds. The reed parrotbill builds its nests in the area, and the black-faced spoonbill can be seen fishing at Nanhui Dongtan in the winter. A total of 15 CITES (or the Convention on International Trade in Endangered Species of Wild Fauna and Flora) endangered bird species have been spotted in the area.
But plans are underway to transform a chunk of Nanhui Dongtan that countless bird species now depend on into a man-made "nature park." Last spring, developers began pulling out native plants in preparation for construction of a greenbelt and new waterways. A second landfill project twice the size of the first was initiated in 2012 and is still underway, with plans to convert the area for agriculture use. Coastal ecosystems are once again being buried.
While momentum for wetlands protection is growing in China, this mandate has not yet reached the Nanhui Dongtan mudflats. The deadline for Shanghai to draw up its environmental protection zones, or "ecological red lines," already passed on Jan. 1 and Nanhui Dongtan was not included. A State Oceanic Administration ban on commercial land reclamation projects implemented on Jan. 1 does not apply to Nanhui Dongtan because the landfill project was started before 2018.
One prominent local NGO has urged that at least 1000 hectares of wetlands at Nanhui Dongtan receive full protection. The NGO emphasizes that Nanhui's wetlands not only perform irreplaceable ecological functions, but the diverse bird life is also a major draw for tourists to the area. So far, developers have not heeded the call.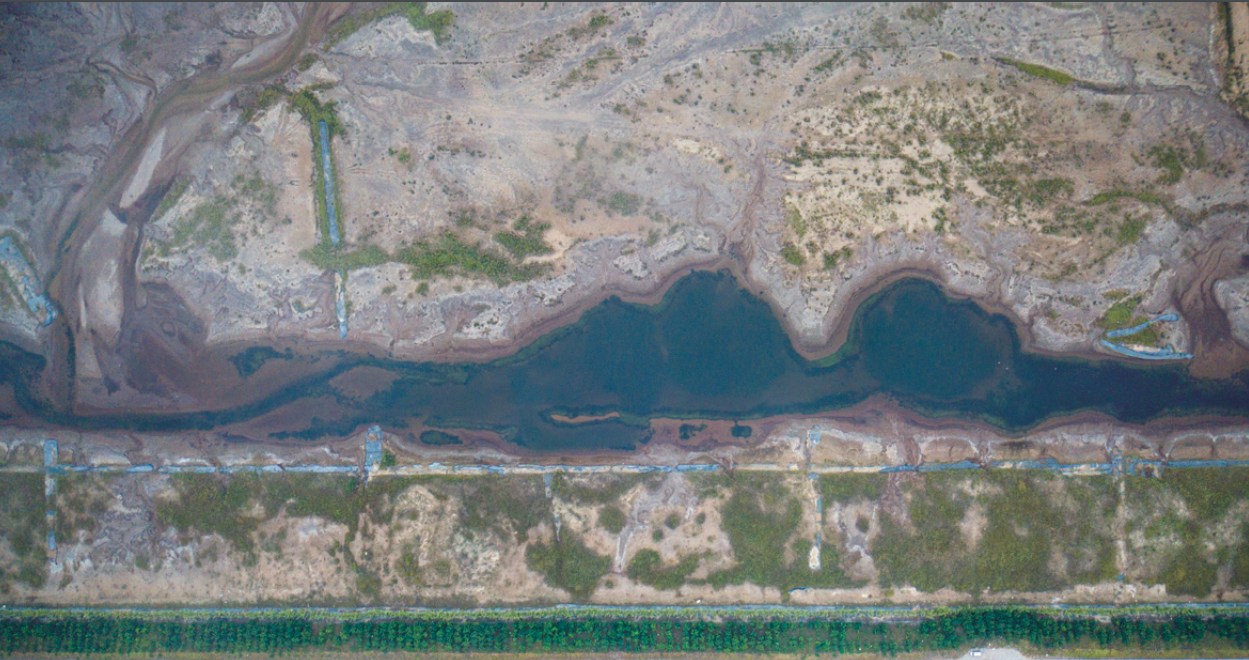 Ironically, Nanhui's famous "sponge city" is an attempt at mimicking the functions that wetlands perform worldwide. Wetlands act as natural flood barriers and filter pesticides and other toxins from the water, necessary in low-lying Shanghai where surface water pollution is particularly severe.
But building a city in the sea has an ecological impact that no 'sponge city' design can reverse. No matter how "eco-friendly", roadside planters, rooftop gardens and isolated patches of green cannot sustain the same ecosystem functions as a well-protected wetland park. Wetlands destruction at Nanhui Dongtan and similar land reclamation projects all down China's coast must be immediately halted and the wetlands included within China's "ecological red lines." In its current form, Nanhui's "sponge city" merely hides the irreversible ecological damage that has already taken place.