Vegan Caesar Salad
See, we told you Caesar salad could be healthy. Okay, sort of healthy.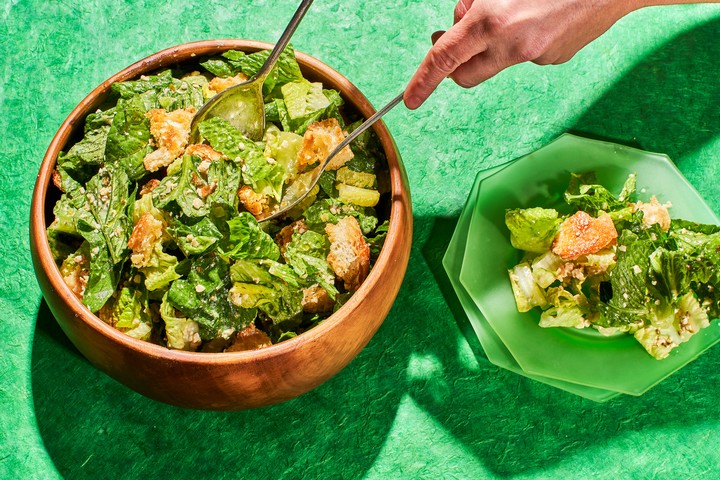 Photo by Heami Lee
Servings: 4
Prep: 1 hour soaking
Total: 1 hour 20 minutes
Ingredients
5 cups|140 grams stale bread, chopped/torn
⅓ cup|90 ml extra-virgin olive oil, divided
kosher salt and freshly ground black pepper, to taste
1 cup|150 grams raw cashews, soaked for 1 hour
1 tablespoon|13 grams capers
5 tablespoons|60 grams fresh lemon juice
1 tablespoon|19 grams Dijon mustard
1 tablespoon|4 grams vegan Worcestershire sauce
1 teaspoon white balsamic vinegar
2 heads romaine lettuce, chopped
Directions
1. Heat oven to 350°F. On a baking sheet, toss the bread with 3 tablespoons of olive oil, salt, and pepper. Bake until crispy and golden, about 10 minutes, then cool.
2. Drain the cashews, discarding the water, and transfer the cashews to a blender along with the remaining olive oil, capers, lemon juice, mustard, Worcestershire sauce, vinegar, and 1/2 cup water. Blend until smooth and season with salt and pepper. Makes about 1 ⅓ cup dressing.
3. Toss the lettuce with the croutons and dressing and serve immediately.
Stories