After Mike Pence's Walkout, Here's How to Support NFL Players
The NFL player protests against police brutality continue create controversy on and off the field by the president, vice president, and more.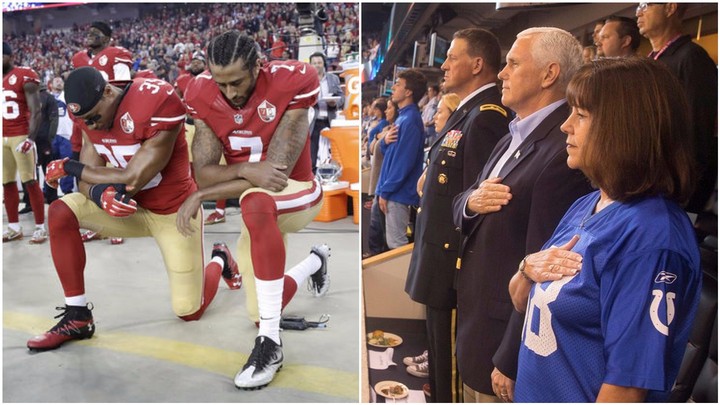 Images via White House and Flickr.
On Sunday, Vice President Mike Pence walked out of a game between the Indianapolis Colts of his home state and the San-Francisco 49ers (Colin Kaepernick's former team), after players kneeled during the national anthem. Shortly after leaving, the former governor of Indiana logged into Twitter to issue a screed against the protesting players.
President Trump, who criticized kneeling players before, later claimed responsibility for Pence's actions at the game, saying that the Vice President left the event at his request.
Critics of Pence questioned his motives for attending the game, since players for the Colts have either knelt or stood linking arms each week during the season. Many are calling it out as an expensive PR stunt, one that American taxpayers will have to foot the bill. According to the Washington Post, the travel expenditures for a roundtrip in Air Force 2 alone would cost at least $250,000, which doesn't include the price of his motorcade and travel arrangements for his entourage of about 50 staffers.
Following the events on Sunday, Dallas Cowboys owner Jerry Jones said that players on his team who do not stand for the national anthem won't be able to play. Also, the Miami Dolphins head coach, Adam Gase, has implemented a new policy that forces players to stand during the anthem or wait in the tunnel.
If you feel that NFL players deserve to exercise their right to free speech on the field during the national anthem despite pressure from high-ranking political figures or members of the NFL, here's how you can show your support. Sign this petition by social justice organization Color of Change to tell the NFL to support a player's platform for racial equality and criminal justice reform.
Stories