The UN's Sustainable Development Goals Aren't Just for 'Developing' Nations
The ambitious SDGs are more relevant to everyday life than most Americans might think.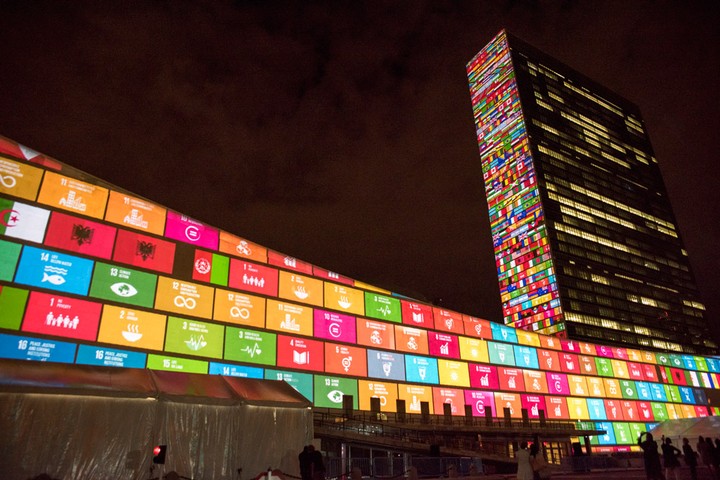 Image via UN.
The United Nations Sustainable Development Goals -- also known as the SDGs -- sound as if they fall into the blurry category of global aid efforts— those that take place far away in the "developing world," right? Ask a group of informed, politically aware Americans and chances are they won't be able to name a single SDG or be familiar with the campaign. And the UN itself has recently been in the crosshairs of political leaders in the US and Europe, and continues to wrestle with a challenging public perception. Americans are generally familiar with issues like the water crisis in Flint, Michigan; food stamps; lack of access to basic healthcare; or poor educational outcomes in many low-income areas. But, these challenges, which affect people across the US, every day, are in fact sustainable development challenges. And the SDGs look to address these exact issues.
Unveiled by the UN in January 2016, the SDGs are a set of 17 interlinked goals aiming to end poverty, ensure health and education for all, promote gender equality and a fairer distribution of income, and protect the environment, notably by — yes, ambitiously — ending climate change and conserving ecosystems and biodiversity. The goals are universally applicable for both developing and developed nations, which is why, they are really quite relevant to the US.
So, how is the US doing so far? The latest SDG Index, which basically ranks countries on how well they are meeting the 17 goals (because let's face it a bit of healthy competition always helps), ranks the US 25th out 192. So, yes, the US, the world's richest and largest economy, with the world's leading technologies and institutions of higher learning, is doing better than a large bunch of countries when it comes to the SDG. So what's the fuss?
Research shows that there are a number of risks involved in dismissing these goals as more relevant outside the US. First, even countries on track to accomplish the goals by 2030 (when the 17 goal to-do list is supposed to be met) are still very far off meeting all the SDGs.
The US is falling behind other countries on a range of indicators relating to quality-of-life, economic opportunity, and environmental management.
In fact, studies monitoring the progress of countries worldwide stressed that while many high-income countries perform well in areas such as economic development, many still fall short of achieving a good all-round SDG performance. A recent study assessing how OECD countries (basically high-income economies) are doing when it comes to the SDGs found that they all "face major challenges – in meeting several SDGs. On average, OECD countries are "red" on more than one third of the goals, meaning that they are red on at least one of the underlying indicators for those SDG."
---
Check out more videos from VICE:
---
What's clear, is that the SDGs have brought the talk of universality to the forefront of development debates and basically, completely disrupted the world's approach to development.
With the SDGs, development is no longer a concept and practice only in one part of the world, the so-called 'developing' or the global South. As such, issues that are often associated with the 'developing world', are now everyone's issues.
For example, child marriage might only seem a relevant issue to tackle in places like Niger, where 76 percent of girls are married young. And although the numbers at home are nowhere near that dire, they are alarming. With child marriage legal in the US, nearly a quarter-million children at least as young as 10 married between 2000 and 2010 according to Unchained At Last, a group working to end child marriage.
Ultimately, we are all developing, and for high-income economy countries, especially when it comes to sustainability and the environment.
Which SDGs do high-income economies struggle to meet? Those specifically linked to (unsurprisingly) climate-change mitigation. More specifically, the greatest challenges to OECD countries "exist on climate change (SDG 13), ecosystem conservation (SDG 14 and 15), and sustainable consumption and production (SDG 12). Several OECD countries are rated "red" on SDG2 because their agricultural systems are unsustainable, and some countries are rated low because of very high rates of obesity, which we interpret to be a measure of malnutrition. […]" the report explained.
Issues that are often associated with the 'developing world', are now everyone's issues.
Specifically, the US "is falling behind other countries on a range of indicators relating to quality-of-life, economic opportunity, and environmental management," according to the recent report 'Achieving a Sustainable Urban America', nowhere is this more obvious than in cities across the US, which are home to 62.7 percent of the US population.
But ultimately, in our globalised world, ignoring SDGs in one country, can have a significant impact on other countries' ability to achieve the SDGs. And the US isn't doing so well in these rankings.
Some are easily calculated and monitored, like per capita greenhouse gas emissions or international development finance. President Trump's executive order banning international NGOs from providing abortion services or offering information about abortions if they receive US funding, was a pretty clear blow to other countries' ability to achieve the SDGs, for example. With unsafe abortions, a major cause of maternal mortality, it put international healthcare workers in the difficult position of deciding whether to continue to offer family planning care that includes abortion at the expense of a critical funding stream, impacting at least two of the SDG, 'health and well-being' (SDG 3) and 'gender equality' (SDG 5).
READ MORE: Here's How You Can Support the UN's Goal of Eradicating Poverty Worldwide
But many are not. Such cross-border effects might include demand for environmental resources in rich countries that accelerate environmental degradation in developing countries, or the effect of rules and standards for international trade.
And despite the universality of the SDG, they aren't an alibi for high-income countries to spend their resources on themselves. Because, despite the healthy dose of competition brought by the rankings of SDG Index, the goal of the SDG is for everyone to be winners.
Fortunately, with the 2030, it's not too late to act to achieve the SDGs (and get first place).
You can check out how well your city does when is comes to the SDGs. And September 25 is a global day of action on the SDGs, find an event or opportunity near you.
Stories