Apple's yearly iPhone keynote event kicked off today inside the Steve Jobs Theater. There was no shortage of sweeping views of the company's brand new building set to "All You Need is Love" by The Beatles. This year marks the 10-year anniversary of the pocket computer that has changed almost every aspect of our lives, and, as expected, Apple celebrated with several new products.
Apple unveiled three new iPhones, a 4K HDR Apple TV, and an Apple Watch with cellular capability. But let's get serious: all you want to know is the crucial details about Apple's newest phones, the iPhone X (pronounced "ten") the iPhone 8, and the iPhone 8 Plus.
Wireless charging, better battery life
Using a wireless charging stand, the iPhone 8, 8 Plus and the iPhone X will have wireless charging capabilities with wireless charging devices that use the Qi Wireless standard (the same standard used in Samsung devices). Apple has also made its own wireless charging pad, the AirPower, which can charge Airpods, the Apple Watch and its three new phones at the same time. According to Apple, the battery on the iPhone X will last two hours longer than the iPhone 7. Wireless charging mats will be sold separately and the AirPower will be available in 2018.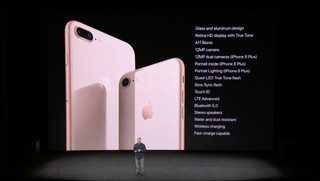 No more bezels, no more home button
The iPhone X's most noticeable change is the removal of the bezels above and below the iPhone's screen, thus fulfilling Jony Ive's dream of creating an iPhone that looks like a solid sheet of glass. Gone is the iconic home button that we came to love in models past. This means that the phone doesn't use TouchID, Apple's fingerprint unlocking technology. In past models, the Touch ID button caused independent repair companies headaches because replacement buttons had to be synced with Apple's proprietary "calibration" device, known as the Horizon Machine.
With the iPhone X, users will have to swipe up to unlock…
Face ID will know you, inside and out
The iPhone X will allow users to unlock their phones using their face. Using a "true-depth camera system," Apple said the iPhone X's sensors can detect your face, even in the dark. Apple said the phone will unlock only if you give it "attention," meaning that in theory the phone won't accidentally unlock if the new camera system simply happens to see your face from afar. Users can give third-party apps access to Face ID, and you can also use your face to pay for things using Apple Pay.
This new technology has understandably led people to raise a few questions. Can police compel you to unlock your phone just by looking at it? Will Face ID work with all skin tones? "The chance that a random person in the population could look at your iPhone X and unlock it with their face is about one in a million," said Phil Schiller, Apple's Senior VP of Worldwide Marketing. "Now, of course, statistics are lower if that person shares a close genetic relationship with you. So, for example, if you happen to have an evil twin, you really need to protect your passcode and your sensitive data with a passcode. Hopefully, you don't."

The privacy conscious should at least consider the fact that Apple has built a new "Neural Engine" chip that processes Face ID on the phone itself, meaning there won't be a centralized database of the faces of iPhone owners.
Animoji
The iPhone X introduces something new called "Animojis." Now that FaceID has memorized your visage, you can use iMessage to send animated emojis that you control with facial expressions.

OLED screens
The iPhone X is switching out the old LCD screen for OLED, which removes backlight and preserves battery life. The new screen features more color than before on its 5.8 in Super Retina display and its 2436-by-1125 pixel resolution offers more contrast than previous models.
Stereo speakers
On all three new models, new stereo speakers on the bottom and top of the phone will be 25 percent louder and with better bass than the iPhone 7, Apple said.
Portrait mode on both sides, a redesigned dual camera system
All three phones will contain dual 12-megapixel cameras. The 8 Plus and the X will feature dual rear cameras with optical image stabilization on both sides. Both the front and back of these models will also have portrait mode, and claim to produce better lighting. In the iPhone X, a true 2x digital zoom will create sharper details and better low-light photos.
You can order the $999 iPhone X on October 27, which ships on November 3. The iPhone 8 ($699) and iPhone 8 Plus ($799) can be pre-ordered Friday, and will be available on September 22.